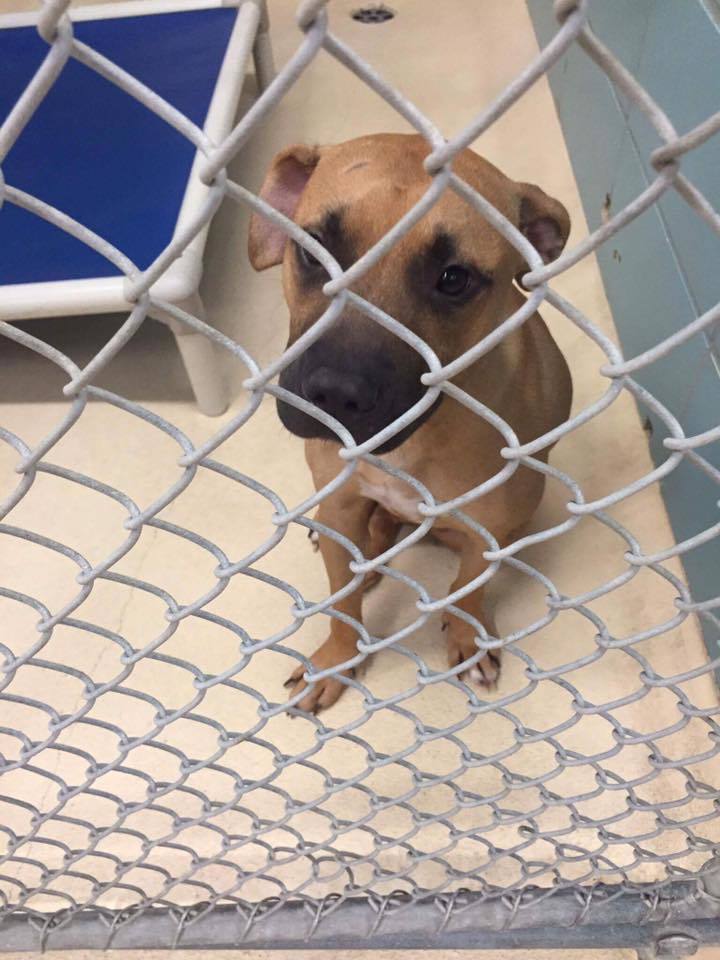 Update: Buster was adopted on September 7.
When Buster was put on the kill list at the Hillsborough County Pet Resource Center in Tampa, Florida, volunteers knew that they needed to start networking him quickly. He was posted on their rescue Facebook page, Rescue Me Tampa, with the other dogs who were on the list to be killed when their kennel was needed the next day.
Unfortunately for Buster, the shelter notes stated that he had been surrendered because he growled and showed his teeth at a child. That information can make the difference between a dog getting adopted or rescued — or dying. In Buster's case, that information was especially tragic because it was incorrect. Luckily for Buster, his owner saw the posting on Facebook and posted a long comment correcting that misconception.
Her post made it clear that she was heartbroken at giving him up. She wrote: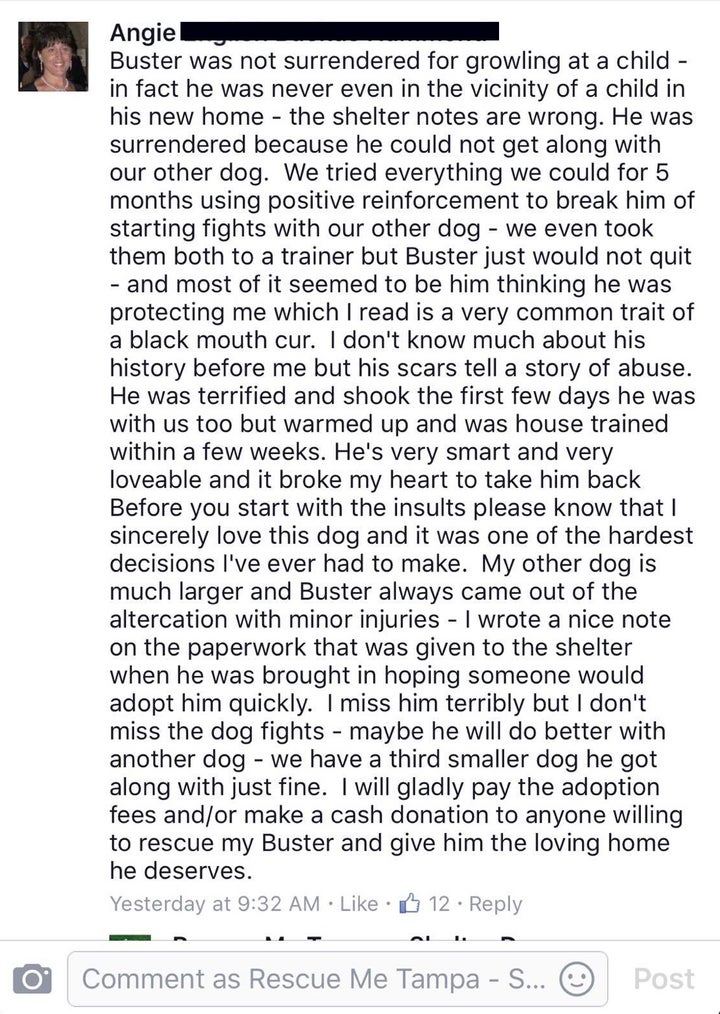 The original article describing Buster's plight was updated with this information. By 9:00 a.m. the shelter had received around 20 emails from people wanting to help save him. He was adopted the next day. Buster's next hurdle will be getting used to a new family and a new situation.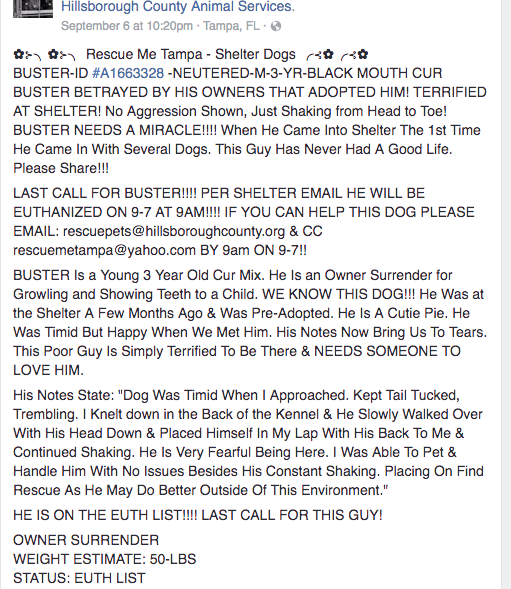 Too many dogs from this county shelter are returned shortly after adoption because the adopters didn't know enough about how to introduce shelter dogs into a new situation. The volunteers desperately wish that the shelter would offer more information to adopters about how to be successful when bringing a new dog into a home. The biggest rule? Be patient. Don't allow dogs to meet immediately. Give the new dog time to decompress and feel comfortable in the new home. An excellent article about integrating a new pet into a home is "Decompressing Rescue Dog."
Buster has been saved, but at least one dog who escaped being killed today is still on the kill list. If his kennel is needed tomorrow, he will be killed. Thunderbird is a handsome young dog. But he has a few strikes against him. Thunderbird is a black dog in a country where the highest percentage of shelter dogs killed are black. He is also listed as an American Staffordshire terrier. While he is heartworm negative, he is a high energy dog.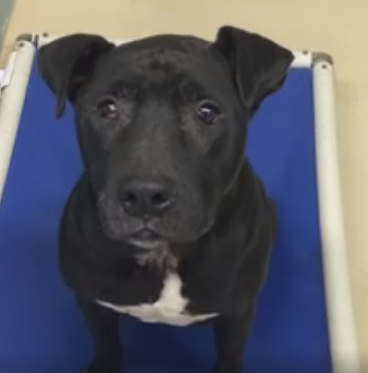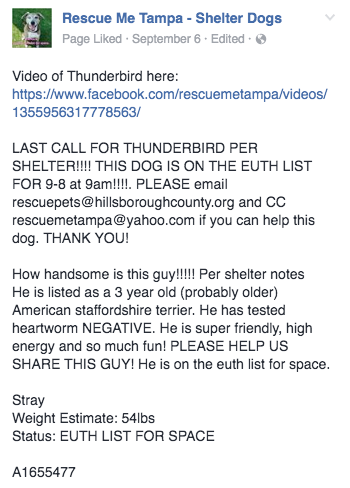 But Thunderbird is also really friendly. His video shows that he is eager to sit on command — especially when treats are being offered! Watch his video to see how he sits patiently, wagging his tail nonstop.
Thunderbird needs to be saved before 9:00 a.m., Sept. 9, 2016. If you can save Thunderbird, send an email to rescuepets@hillsboroughcounty.org and rescuemetampa@yahoo.com by 9:00 a.m. Sept. 9, 2016. In the subject line write: DO NOT EUTH Thunderbird ID#A1655477. In the body of the email state your contact information. You must be able to pick Thunderbird up by 3:00 p.m.
He is at the Hillsborough County Pet Resource Center, 440 N. Falkenburg Road, Tampa, FL 33619. The phone number is 813-744-5660. The shelter is open daily from 10:00 a.m. to 7:00 p.m.
Dogs like Thunderbird are killed in shelters every day. A medium-sized black dog — there are several in every county shelter. Each one deserves to be noticed, and each one deserves to be loved. The volunteers at Rescue Me Tampa and the shelter workers give the dogs a little bit of love while they are there.
Before You Go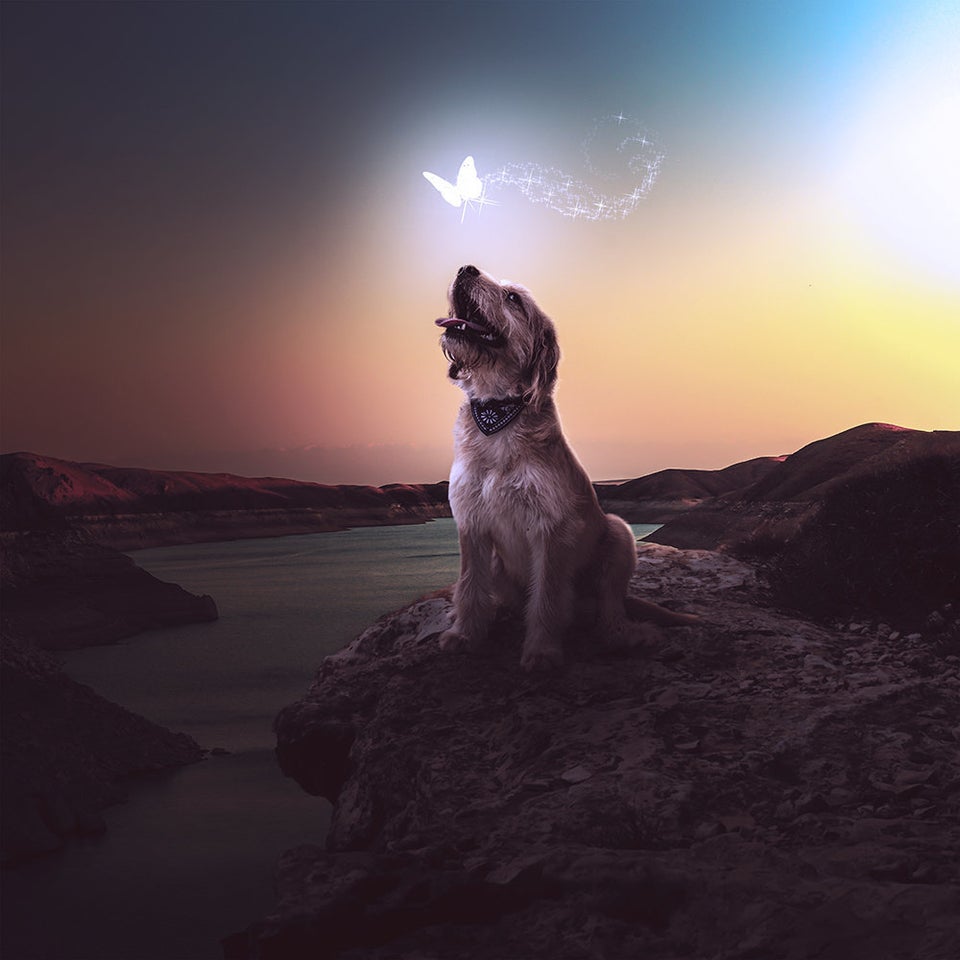 Photographer Uses Photoshop Skills to Help Shelter Dogs
Popular in the Community