Young & Entrepreneurial is a series of articles where we interview and write about young individuals innovating, venturing out, taking risks and disrupting the world. This is the 23rd post in the Young & Entrepreneurial Series. To read previous features, visit our Facebook page here. If you want to stay up to date with this series, sign-up for our newsletter here.

Spending one year in Silicon Valley can make a big difference in the lives of students about to graduate from university. For then National University of Singapore (NUS) students Siu Rui Quek, Lucas Ngoo and Marcus Tan, their one-year immersion in Silicon Valley through the NUS Overseas College program would inspire them to use technology to solve problems at a large scale.
This technology would end up being in the form of Carousell, a peer to peer, C2C mobile marketplace that they started in 2012. Since then, Carousell has become the number 1 lifestyle application in Singapore and has a presence in Taiwan, Indonesia and Malaysia. Last year, they also raised a $6M financing round led by Sequoia Capital, the firm that has backed legendary companies like Apple and Google.
Siu Rui, who leads Carousell Product & Community, shared, "If you look at WhatsApp, they were a 35 man team serving 400 million people worldwide. That was the kind of impact we wanted to create. At that time, we were just business students and computer engineering students. Coming from Singapore, you only aspire to work for the bigger companies but Silicon Valley changed that for us."
It was also around this same time that they stumbled upon a personal problem of having so many gadgets lying around their room from buying things from Amazon while they were in the US. While the trio initially tried using Yahoo auctions and Ebay, they felt that buying and selling could be much simpler with a mobile platform--the idea for Carousell was born.
Startup Weekend Singapore 2012

A mobile platform for buying and selling would end up becoming the team's pitch during Startup Weekend Singapore in 2012. There were over 80 teams that competed in the Startup Weekend competition, with only 20 teams going to the final round.
Siu Rui shared, "Turns out that we were idea number 22 but luckily 2 teams consolidated and dropped out of their idea and we were the last team to be able to work on our idea."
The Carousell team would end up winning the entire competition and this would kickstart their entrepreneurship journey. They would graduate a month later and would go full steam ahead building the product, and eventually launching their IOS app on August 2012. However, it wouldn't be that smooth a ride.
Never take no for an answer

The team's first rejection would come from a professor who handled the selection for a $10,000 NUS Grant that they had hoped to secure to kick-start their product development. While most teams would have given up right there, the Carousell team did something else. Siu Rui shared, "They said the idea was not new and asked us why we were doing this. But we decided to go after the professor and literally do an elevator pitch to the professor answering why we were doing this and why we really believed in this."
The next day, the professor decided to give them a $7000 grant to kickstart the development of the Carousell app.
Marcus, who leads Carousell's Design & Community, shared, "We were first time designers and developers. We didn't really have formal training on how to design or develop a social app. We had to learn how to use Photoshop, read about product and design and do a lot of user testing."
Early on, the team would start out with user interfaces and mockups that they would take to flea markets in Singapore asking them if they would use the app. They also started thinking about other problems they could solve from a mobile experience.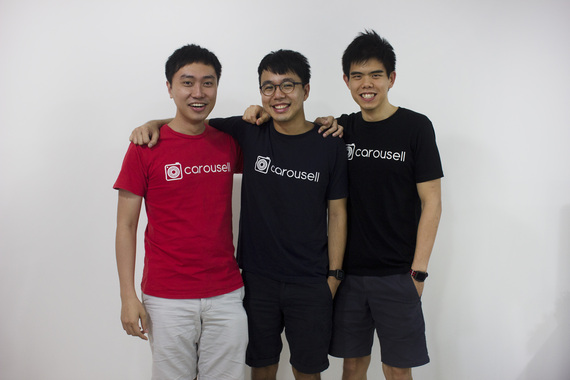 The Carousell Founding Team
Early Engineering Challenges

Lucas, who leads Carousell's Engineering and Development also recalls the first day they launched the app after it got approved to go live in the App store. He shared, "there was a spike during the first day so it crashed our sever because we didn't fully prepare for it. We had to drive down to one of the rooms in NUS and migrate our server to a better hosting provider."
However, this spike wouldn't last. While the initial hype from the Startup Weekend and the support from NUS helped with the initial spike, the next 3-4 months would be flat growth for Carousell. Siu Rui shared, "There was a day where we only had 7 signups. That was depressing but thankfully we looked deeper and saw how we had 400 active users."
At this same time, NUS had also connected the Carousell team to Vinnie Lauria from Golden Gate Ventures whose expertise lied in growth hacking and community building. He immediately saw a retention problem and helped the Carousell team set up transactional emails. The team quickly integrated Sendgrid and push notifications that would incentivize users to revisit the app. Then another big realization hit them.
Siu Rui shared, "We were starting to grow again when we realized that we had no Android app and as a result were cutting our addressable marketplace by half so we set out to build one." Three months later and the team launched their Android app on January 2013.
Number One Lifestyle App in Singapore

Starting out, the team had focused on targeting small communities like the female blog shops community in Singapore, where they had identified a problem of people selling wrong sizes--they needed an easier way to communicate instead of using Facebook groups. Marcus shared, "We reached out to them, and they migrated to Carousell, and were a big part of our early adopters."
This was followed by a partnership with Singapore Press Holdings' ST Classifieds, helping them gain even more traction. Before they knew it, Carousell had shot up and became the number one lifestyle application in Singapore. Siu Rui shared, "Up to today we haven't spent a cent on marketing but we're still the number one lifestyle application."
Key to their success was being part of the ecosystem of Block 71. Lucas shared, "Initially we tried to do a lot of things ourselves. We tried to learn a lot of things and pick up things on our own. But we had the whole community of Block 71 so we reached out to the other startups on scaling challenges and that actually helped us."
Scaling up

While the first two years saw the founding team along with two other members doing the bulk of the work, Carousell would eventually need to grow its team to meet the demand of their product as they scaled regionally.
Siu Rui shared, "When we were trying to start hiring our first few people, we had this bias for people like us, the hacker and hustler type. We were quite averse to bringing people in who had prior experience. But we overtime learned that it is valuable to bring in people with experience and eventually after 2 and a half years after we started Carousell, we brought on our first really experienced engineer."
Bringing in more experienced people helped Carousell scale to new markets as they entered the Malaysia market, followed by Indonesia and Taiwan.
Siu Rui added, "If you look at Singapore, there are only 5 million people so we decided that in order to create more impact and to inspire the world to start selling, we needed to open up new markets internationally."
Successful Regional Expansion

The reason why Carousell has been so successful in their regional expansion is because of a few main reasons that Marcus highlighted, "First, it was finding the right team and teammates. That was the first thing in our list. How do we get someone who understands our product, and understands our culture and values."
He added, "Second, we had to localize the product and the currency. Then we had to find someone who could speak the language and knew people in the area. We needed someone who understood the different demographics in a multiracial country."
This rapid growth didn't come without its challenges. Siu Rui shared how the team is still constantly learning how to engage all its team members and communicate better with their remote teams.
He shared, "How do you make them feel like they're part of the family? We're trying hard but I don't think we still have the full answers." Currently, the team tries to fly in their remote members once every 2 months for a week or so to mingle with the rest of the team.
While admittedly it has also been a challenge as Carousell has grown so quickly, doubling the size of their team in the last 6 months, the team hopes to continue growing their family in the next few months with their focus on expanding to even more countries.
From first-time entrepreneurs to Sequoia-backed Startup

In just three years, the team has gone from 3 inexperienced first-time entrepreneurs to a startup with over 40 employees with venture capital funding from Sequoia Capital.
Siu Rui said, "Sequoia has backed legendary companies. This was validation for us and our team's hard work."
Marcus shared, "We used to build the product during the early days then the role has evolved to driving the mission to our teammates and articulating to our family why this mission is important and driving down the culture of solving problems."
While it used to be just the three of them, Carousell has become a family of entrepreneurial individuals wanting to inspire the world to start selling. Marcus added, "We learn from every person that joins our family. Their experiences and how much we learn from them inspire us as well."
Sticking to the mission

Carousell was created with the goal of helping as many people buy and sell their things and it hasn't looked back.
Marcus shared, "It really inspired us how a product that we just wanted to build for ourselves has impacted so many people and is touching so many people's lives." He told us how a lot of first time sellers coming to Carousell, who are very young start becoming entrepreneurial because of Carousell.
Marcus even shared with us his own experience selling his used camera that was just collecting dust in his house, to a university student that wanted to learn photography. He shared, "It hit me at that time that not everyone can buy first hand. That was something that really touched me. Something that was collecting dust at home could actually make an impact and bring joy and help someone else develop a new skill."
Lessons on Starting a Startup

Siu Rui started out with, "Keep learning, you don't know what you don't know."
Lucas added, "Keep exploring. When we first started, we never knew that we would launch in Taiwan. Going forward, we don't know how big Caoursell will be; just trust that it will be really really big and just keep working."
For Marcus, it's about understanding that the startup journey is not a sprint but a marathon. "Start simple, don't hesitate and keep going. It's something where you need perseverance to keep going."
It's been more than 3 years ago when this team first decided to jump into doing Carousell full-time right after university. Six months after they first started and they still weren't sure that anyone cared about Carousell aside from their 400 active users.
Siu Rui closed with, "Don't prematurely kill your idea just because in 3 months or 6 months you didn't see any results. It took us 1.5 years before we saw any form of rapid growth in Carousell. Staying on because you're passionate about something is very important."
Want to start selling or buying? Learn more on how you can get started by visiting the Carousell website here.
Enjoyed reading the article? We hope you could click the share button and help us inspire the next-generation of entrepreneurs. You can also find previous features on our Facebook page here.
David Ongchoco is a student entrepreneur and avid storyteller from the Philippines studying at the University of Pennsylvania majoring in what he likes to call, LIFE. He is currently working on expanding his nonprofit organization YouthHack. It's David's goal to make an impact in the lives of as many people possible while constantly learning new things every single day. David can be reached at david@youthhack.net.

Related