Young and Entrepreneurial is a series of articles where I've decided to interview and write about young individuals disrupting the world. By sharing the stories of these individuals, I hope to inspire youth from all over the world to follow their passions, to take the road less traveled and to disrupt the status quo. This is the 20th post in the Young and Entrepreneurial Series. To read previous features and to stay up to date with future features, like our Facebook page here.

Everyone loves traveling because of the endless possible adventures and experiences that traveling offers. I recently got the opportunity to interview the founders of Adventure Bucket List, a startup that aims to empower travellers, allowing them to discover and book things before they arrive by aggregating all the adventure activities out there into one website. They also provide activity providers with an extensive network so that travelers can discover their offerings more easily.
They recently had a soft launch of their booking software in specific regions and have been rapidly on boarding companies. They plan to continue expanding to new places through both partner travel ties and by creating their own market place for travel activities.
How the trio got into entrepreneurship

Everything started when the trio all entered the same entrepreneurship pitch competition back in 2014, where Ryan ended up winning first place and Blake was awarded runner-up. After Blake and Rita showed interest in joining Ryan, the Adventure Bucket List team was born.
At the same time, all three founders were very entrepreneurial early on, each one of them recalling different moments in the past where they tried starting their own business.
Blake started out by sharing, "When I used to competitively ski, I was sharpening and waxing my skis all the time. I knew people who would go to ski shops to get their skis sharpened, but those shops would charge up to $50 and never actually did a good job. So I put up an ad at my local ski hill to sharpen and wax people's skis for $25. Next thing I knew I had dozens of people calling me and indirectly had started my first business."
Rita also shared, "Walking door-to-door selling Girl Scout cookies when I was 8 years old, I found it to be quite fun and rewarding. From then on I was always looking for unique ways to work on my own. I started selling jewellery at craft fairs, detailing cars, walking dogs, and picking wild berries on the mountains behind my house to sell at the farmers markets."
Finally, Ryan shared, "I have been interested in starting my own company since a very young age. The challenge and the rush associated with starting a company has always appealed to me. The tipping point for this was when I came up with the idea for Adventure Bucket List and how it could help people traveling around the world. When an idea comes to you and you are so passionate and it is literally all you think about, it seems irrational to not pursue it."
The Entrepreneurship Journey

One of the most memorable moments for the three young founders was when they won the Startup Show Down in Vancouver, where the Plug and Play Tech Center was looking for startups to join their summer accelerator program. This was the key that helped the Adventure Bucket List team really accelerate their growth because Plug and Play offered investment money and 4 months of mentorship and networking in Silicon Valley.
Rita shared, "We felt like those people who get their names called on The Price Is Right, except that we weren't just winning a car. Our lives actually changed that day because we got our first significant investment and validation that this idea was really worth something. "
Ryan also shared the joys of seeing and using the Adventure Bucket List online software for the first time. He shared, "No one knows how much time goes into that initial launch. It was so rewarding to see it materialize."
Blake added, "Getting our first VC firm to invest in the company was also an amazing day. We had been fund raising for a few months and were starting to question our abilities a bit but kept our head down and pushed forward. I was just wrapping up a call and Ryan came up to me to tell me that we got the investment."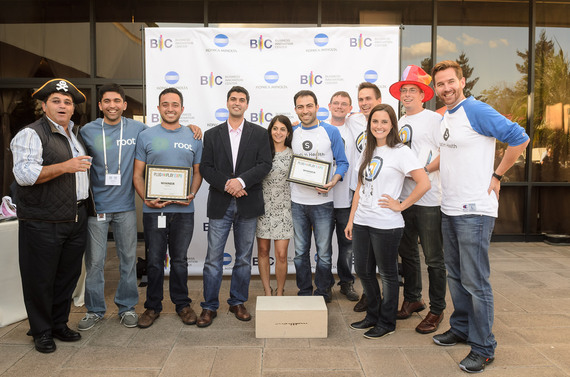 Group photo of the Adventure Bucket List team with the rest of the winners of the Plug and Play Expo
Startup Challenges - "Running a startup is a bit of a roller coaster"

Blake started out by talking about all the highs and lows of running a company. But he also emphasized the importance of perseverance and remaining positive.
He shared, "It is critical that you persevere and remain positive every step of the way because your team feeds off of your energy and the culture you establish. You can't let one little hiccup affect you nor can you let one win allow you to get too far ahead of yourself."
Another big challenge that the Adventure Bucket List team faced early on was the fact that none of them had a technical background to build their software. All three of them were business people. However, after a lot of searching and patience, they were eventually able to find a team of developers. Rita shared, "we have built up an amazing team of developers who we get along with so well and with whom we share so many common interests. It's great to be able to take the night off after a busy week and spend time as friends."
Lessons and Advice to Aspiring Entrepreneurs

Ryan started out by emphasizing the importance of having a thick skin and being able to rise up after being turned down. He shared, "Get used to hearing the word no. It will become your new best friend. One of the big differentiators between startups that make it and ones that fold is the level of persistence in the face of rejection. If a potential investor does not fully understand what you are solving or competitors seem to pop up, these types of things cannot stop you from building your company."
At the same time, Rita talked about the importance of finding key advisors and mentors who have been in your shoes before. She said, "It's extremely important to be open; share you ideas and ask questions. Find people in your industry who have been through this process and they can help you succeed."
All three founders have their feet set in growing Adventure Bucket List and really improving the quality of life of their friends and people around the world. There's definitely a lot of promise for these three young and entrepreneurial individuals and the rest of the Adventure Bucket List team.
Let the adventures begin!
Check out this video of Adventure Bucket List CEO Ryan Stobie explaining their product
David Ongchoco is a student entrepreneur and avid storyteller from the Philippines studying at the University of Pennsylvania majoring in what he likes to call, LIFE. He is currently working on expanding his nonprofit organization YouthHack. It's David's goal to make an impact in the lives of as many people possible while constantly learning new things every single day. David can be reached at david.ongchoco@gmail.com
Related