This article is part of the Young & Entrepreneurial series that features young startup founders and entrepreneurs. You can see past features here.

Student entrepreneurship is one of the hot topics right now. While we've all heard about the magical stories of Stanford students being able to start companies right in their rooms with Silicon Valley investors right in their backyard, more and more students in the East Coast are starting to hop into the startup craze. However, being a student entrepreneur is one of the hardest jobs anybody could have.
As an aspiring student entrepreneur and a community ecosystem builder myself, I wanted to see how universities are supporting student entrepreneurs. After writing an article about WayUp Cofounder JJ Fliegelman, I was able to get in contact with their main investor General Catalyst. After hopping on a Skype call with General Catalyst, I would soon get the chance to speak with the 25 year old General Catalyst Partner Peter Boyce III who started Rough Draft Ventures, a student-run VC firm in Boston.
Fast-forward 3.5 years later since Rough Draft was started, they've now backed just under 50 teams that have raised over $130M collectively. Peter along with the 'super-hero' crew of ten student-partners help these startups in a variety of ways.
I ended up speaking with Peter for an hour about the genesis of Rough Draft Ventures, the value they provide startups, what he has learned, his advice to aspiring entrepreneurs and how he initially got into this world of startups.
The Genesis of Rough Draft Ventures

It was during his time at Harvard where Peter saw how hard it was for student entrepreneurs to balance the everyday grind of being a student while also running their company. At the same time, he saw how many students would either not pursue their idea due to the lack of funding and support or decide to fully commit to their idea and dropout. Where was the in-between?
He shared, "I worked with a bunch of friends on an accelerator program called HackHarvard which helped students build their companies; some of the startups ended up going to Y Combinator while some of them dropped out to raise their seed round."
Peter felt that often teams just needed a little bit more help in order to really take their idea to the next level. He added, "I basically spent a bunch of my time thinking about the right model of programs that could support students who were interested in entrepreneurship. So senior year, I went to talk to General Catalyst since they were big supporters of technology startups and we worked together to come up with rough draft so we could help students who were founding companies."
Upon graduating, Peter would join the General Catalyst team to continue working on the program.
How can we help student-entrepreneurs have a higher chance of success?

Given the complex dynamic of being a student-entrepreneur, Rough Draft Ventures really tries to focus on solving the problems these student-entrepreneurs face by helping them overcome the early challenges of starting a startup.
Peter shared, "The promise of translating product into a company requires so many things that folks have never done before. Figuring out how to setup a bank account, getting incorporated, raising money, finding an office space, hiring--these sound so trivial but as smart as these founders are, this is unchartered territory."
In response to this, Rough Draft has a founder handbook that has all the different blog-posts, websites and resources aggregated into one. Additionally, Rough Draft also tries to provide runway for these students to work on their ideas for a few more months than they normally could. This is done through the pre-seed funding Rough Draft provides and the additional resources they have secured from partners like Amazon, Stripe, Github, Dropbox, Gusto, Hubspot and a bunch of other companies.
Peter shared, "We basically tell them we want to use your tools to help students build their companies. We then collaborate with them to offer student rate packages to extend the runway so they can work on their idea for a few extra months."
Aside from the resources and services, Rough Draft puts a big focus on community and mentorship. With a cross-campus community that includes student founders and student partners from Harvard, MIT, Babson, Northeastern, Tufts, Boston University, Boston College, Olin and a few other schools, the reach of talent and collaboration is taken to a whole new level.
Peter added, "Suddenly, student founders gain access to a much larger network."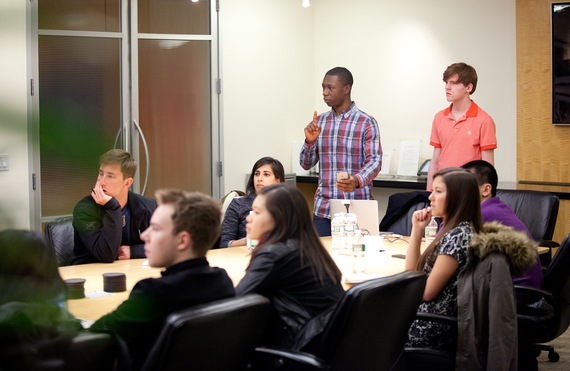 Student Entrepreneurs pitching to Rough Draft Ventures Student-Partners (Photo taken from Erik Jacobs)
The Value-Add of Rough Draft

The conversation then shifted to specific services and examples of Rough Draft really helping student founders take their startup to the next level. Peter shared, "When they need expertise in a certain area, we connect them with somebody from the general catalyst team. Founders hop on a call with one of the experts here and it does so much to enable them."
Peter expounded by giving the example of press outreach and how a lot of student founders never really had a press call or never wrote a press release. He shared, "We have a press kit 101 package that we can hand to students and say these are the strategies and material."
Furthermore, Rough Draft organizes office hours on specific topics to help provide students with tangible takeaways and skillsets they otherwise wouldn't have learned in class. For quick questions, Rough Draft also has a Slack group where founders can just hop on and chat with each other, including alumni founders. Peter shared, "for example, if somebody is interviewing for Techstars, they can hop on slack and say, hey we have an interview coming up for tech stars, has anyone done the program before and can offer some advice?"
Rough Draft Success Stories

Peter gave examples of recent success stories like Mark43 as proof of Rough Draft's work. He shared how Mark43 started with students working on a school project that eventually turned into a startup with Rough Draft being one of the first to back them. Where are they now? They just finished raising their Series A round.
The other success story Peter shared was Cymbal, a music discovery app powered by your friends. Peter shared, "This was a young team out of Tufts University. They wanted to create a mobile community for music, an Instagram like experience for sharing music. It was their senior year, and they were a team that wanted to take their jobs in Facebook and Google since they had return offers. So how do we convince them to work on their idea?"
Peter ended up taking them aside during a community dinner and introducing them to some of the founders Rough Draft worked with so they could learn more about the program. The end result? Cymbal ended up raising their seed-round and the founders are all now in New York working full-time on Cymbal.
Aside from these two examples, three Rough Draft backed-startups participated in YCombinator's most recent batch: Tetrascience, CloudStitch and Omboard IQ.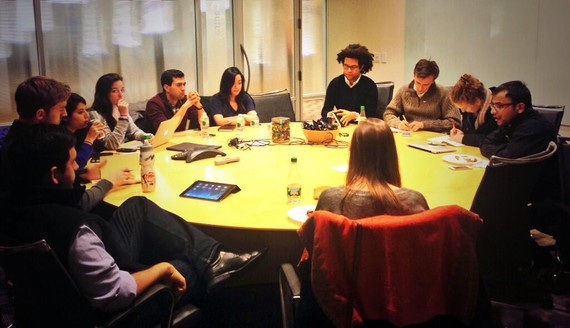 The inter-college community of Rough Draft is one of its biggest value-adds (Photo taken from Rough Draft)
From Building Things to Empowering The World's Future

While Peter enjoys building products having started a computer consulting business at 14 years old, he has found his love in working along side folks that want to build things and helping them achieve their goals and dreams.
I asked him if he plans on potentially leaving VC to start a startup, and he replied, "I love working alongside entrepreneurs and find the key ways that I can be helpful to them. I see Rough Draft ventures as my startup; I kind of built it from the ground up."

He added, "I think about my mom who is a horseback riding instructor and her decision to be a horseback riding instructor as opposed to being an Olympic rider; She gets to train and help teach the best riders in the world as opposed to being the best rider herself. She gets to meet many more people that way and she derives her happiness and livelihood from doing that."
Finally, looking back at what Rough Draft has become after its founding, Peter shared, "It wasn't clear at that time how big this could become. I was literally on the verge of failing one of my classes as we were getting Rough Draft of the ground and I remember emailing of my professors a Tech Crunch article about Rough Draft and I was telling him, you have to give me credit for this because I've been working on this even more than my classes."
Whether or not he got credit for that TC article doesn't matter anymore because Peter has built something worth more than any class he took--a support system and network for the student entrepreneurs who'll be revolutionizing our world.
Check out this video below featuring Peter in an interview with OneWire:
David Ongchoco is a student entrepreneur and avid storyteller from the Philippines studying at the University of Pennsylvania majoring in what he likes to call, LIFE. He is currently working on expanding his for-purpose organization YouthHack. It's David's goal to make an impact in the lives of as many people possible while constantly learning new things every single day. If you have any interesting startup stories, David can be reached via Twitter @DOitChoco. You can also email startupinsider.official@gmail.com.