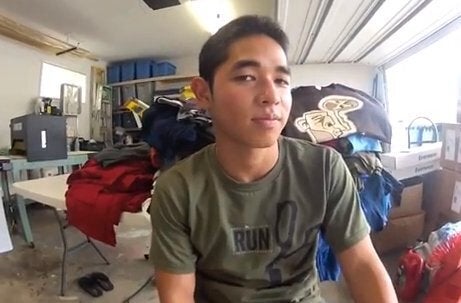 Mark Zuckerberg may be the toast of Silicon Valley and Wall Street, but there's another constituency saluting him these days: young entrepreneurs roaming the halls of America's high schools.
Zuckerberg also started a successful business while still in high school -- Intelligent Media Group, which offered software that could recommend songs based on people's music habits. If he had sold to interested buyers such as Microsoft and AOL rather than deciding to upload the software online for free and attend Harvard, he might not have been ringing NASDAQ's opening bell Friday. Instead, he's become the poster boy for teens who dream of starting $100 billion companies. "Anyone can do it if they have the drive for it," said Jack Uesugi, 16, owner of a1000x, a Wahiawa, Hawaii-based apparel brand and community of artists. "All these businesses popping up from young entrepreneurs showed that anyone can become successful, even at a young age."
The beauty of high school entrepreneurship is that it can not only help teens find passion and profits early in life, it can help the socially awkward, shy, unpopular -- even bullied -- to overcome personal obstacles and become "the rock stars of their time," said Steve Mariotti, founder of Network for Teaching Entrepreneurship. "Starting your own business and finding your comparative advantage is a wonderful way to find self esteem by being unique at something."
According to the Kauffman Foundation, 40 percent of people ages 8 to 24 want to start a business at some point. And Mariotti's research estimates that more than 50 percent of high school students dream of starting their own businesses.
Li agreed that entrepreneurship is becoming more popular among teens. Just as he parlayed his interest in environmentalism into a business, he said, "I think more kids want to affect the world and start something. A lot of kids don't want to be a salaried worker. Everyone should be able to use their potential and become what they want to be and make a difference in the world."
Whether they start out shy or outgoing, teen entrepreneurs inevitably get a confidence boost from running their own business. "One of the things I looked for when reviewing the video entries was how well the teen 'sold' his or her business, and that can only come from being confident about who you are and what you represent," said Janine Popick, CEO of VerticalResponse. "I gave both Jason and Jack a perfect score on their abilities to 'sell' their company because I could see that they were sure of themselves and genuinely passionate about what they do. As an entrepreneur, you absolutely need confidence in yourself and your business, no matter how old or young you are."
Uesugi, who tied for second place in the competition, described himself as fairly shy in the past, particularly when it came to his artwork. Starting a1000x, which prints, sells and markets limited-edition clothing featuring the designs of local artists, and donates a portion of all profits to social causes, helped him break out of his shell. "It was super hard to introduce myself to the artists and explain the business to them," he said. "But I kept putting myself out there and got better at it. It was definitely a confidence boost."
After starting a business, "my social skills have definitely gotten better," Li said. "I was always outgoing, but iReTron boosted my self esteem. I can talk to anyone about my company -- say hi and spark a conversation just like that. When you start a business, you get comfortable with meeting new people. It taught me how to socialize. I was always pretty open, but this taught me how to be outgoing in the right direction. It's like taking a step into the adult world, where you get to talk to adults and professionals."
But while popularity may be a byproduct, it wasn't Li's motivation. Like Zuckerberg and his anti-Wall Street hoodie, Li thinks true entrepreneurs shouldn't seek to fit in. "I didn't start the company in hopes of becoming popular at my school. That was never my goal. I don't believe it should be anyone's goal to become popular from something. People who start their own organizations, who pioneer something like this, don't care what other people think."
More important than being liked is being influential. "After all this, a lot of friends were talking about how they could get involved and help me," Li said. "People may see what I'm doing and want to do the same."
Uesugi also believes that teens should "do what you really want to do, and if that's not cool with other people, you shouldn't worry about it."
Since he started his site almost six months ago with 10 followers and two artists, Uesugi has more than 2,500 followers and about 15 artists. a1000x has helped to clarify his future goals. "It's about following what you love to do, and for me, that just happened to be business and art. I didn't know what I wanted to do with college or career, and now I know I love being able to work with artists. This helped me find what I'm passionate about."
Meanwhile, Li is progressing with his goal of lessening e-waste, having accepted more than 5,000 used cell phones and other electronics since iReTron started in July 2011. "I think iReTron's potential is very high. Unlike most companies, it helps everyone. That's what's so special about the company's model," Li said. "I plan to keep expanding it while I'm in college. It could become a multimillion-dollar company. It's a big goal, but I'm sure I can do it. And I could start a second company."
Here's to the next legion of young billionaires.