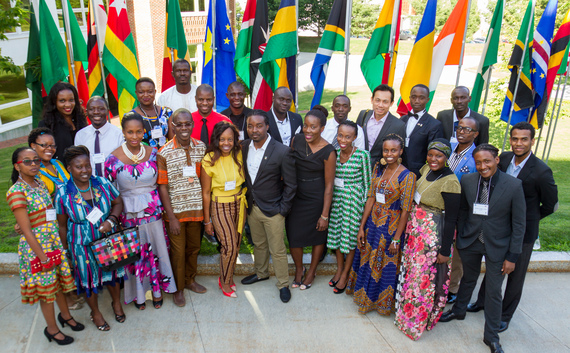 In July, President Obama visited Nairobi, Kenya. At the Global Entrepreneurship summit, the President declared that "Africa is on the move" and urged African entrepreneurs to pursue innovative projects to stimulate economic development on the continent. Obama also noted that "Women are powerhouse entreprenteurs.
A few weeks later President Obama met with a group of 500 young African leaders in Washington, people who had arrived through a scholarship program started by the President to encourage development in Africa. They were in the U.S. as part of The Mandela Washington Fellows Program. That's the centerpiece of President Obama's Young African Leaders Initiative (YALI for short), a State Department-led program that works to provide opportunities to "spur growth, strengthen democratic systems and enhance peace and security."
This is the second year of the program. More than 30,000 Africans apply for the fellowship but only 500 are accepted to study at 20 different American colleges and universities for 6 weeks of leadership training and mentoring in business and entrepreneurship, civic engagement and public administration.
The members of my group were between 25 and 35, and hailed from 17 different African countries. And they were one of the most impressive groups of people I've met. They included doctors and engineers, teachers and community leaders, journalists and renewable energy developers. My time together with them focused on teaching and guiding these talented individuals through a class called "design-driven entrepreneurship" where we dug into innovative business creation through a human-centered design process.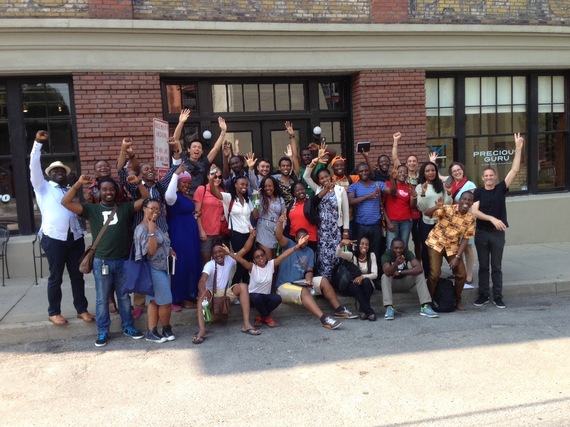 In addition, they immersed themselves in the Upper Valley community through stay at home visits with people in the area. They also engaged in community service by volunteering at places like The Haven, a homeless shelter and food pantry, and Willing Hands, a garden and food production-distribution service for those in need.
All of the African Fellows are entrepreneurs in their own right: Kondo Moussa is founder of the weekly printed newspaper, L'Express de Bamako, and president of the NPO Giving Back Mali. Jamila Mayanja is the CEO of Smart Girls Uganda and founder of a franchise company called J Mobile Laundry Services. Washikala Malango of the Democratic Republic of Congo is founder and co-director of the Alternative Energy Technologies Distribution Company (ALTech). Cynthia Ndubuisi owns a social enterprise called Kadosh Production Company, in Nigeria to help women farmers produce recycle cassava waste. Each of the other 21 fellows are just as impressive.
Our hope was to help them move up to the next level in their entrepreneurial careers. We did that with a 6-week focus, first with a short course on design thinking, and then a month-long course where we applied human-centered design principles and techniques to business startups. In line with Dartmouth College's current emphasis on experiential learning, we made sure the fellows had lots of time to try and practice the various design techniques, working collaboratively on seven different business projects. At the end of the month, they pitched a panel of Tuck Business School professors and Dartmouth leaders.
The business ideas and pitches were astounding, to be honest. I've witnessed my share of "real" startup pitches. The ones by the fellows were better than 90% of the ones I've seen. The real secret sauce, aside from the design techniques and the Business Model Canvas we used as a tool, was a relentless focus on people. People gave the ideas and designs a clear focus; people helped them understand the various partners and allies they'd need. The ideas ranged from helping poor farmers in Chad to raising the social economic status of poor street garbage pickers in Tanzania.
The Dickey Center of International Understanding at Dartmouth did an amazing job in creating this vibrant and experiential curriculum. It seems to me like this is too good to offer up solely as a summer program for YALI fellows; I'm sure American entrepreneurs and international development professionals could benefit from this as well.
I can't wait to see what happens when these Africans go back home to share and implement their new learnings. I have no doubt that their American experience will produce great things.
REAL LIFE. REAL NEWS. REAL VOICES.
Help us tell more of the stories that matter from voices that too often remain unheard.