Young and Entrepreneurial is a series of articles where I've decided to interview and write about young individuals disrupting the world, whether it's through entrepreneurship, research, non-profit work, intrapreneurship or singing, dancing, writing or by just doing something innovative that impacts the lives of many people.
These young individuals use their entrepreneurial mindset to get things done. These people strive to find ways to change the current equilibrium. By sharing the stories of these individuals, I hope to inspire youth from all over the world to follow their passions, to take the road less travelled and to disrupt the status quo.
The first person I featured in this series was Penn Alumnus Jon Youshaei, a Google Associate Product Marketing Manager, writer and intrapreneur (you can find the feature article here). This time around, I decided to interview and feature Drexel Alumnus Skyler Logsdon, who is now a business development and partnerships associate of ZIRX. On the side, he runs SKY TALK, where he brings in successful businessmen to share their stories with high school students.
During his senior year in college, Skyler ran his own startup called MyKlips that ended up making international headlines in 5 different countries, with thousands of users including professional athletes Justin Pugh who plays for the New York Giants, and Angel Rangel who plays for Swansea City FC in England.
MyKlips was an application that had photos of your favorite haircut that you could send to your barber. You then could share your haircut on social media which was free marketing for barbers.
It was a class in Drexel University called Launch-it where students are given $2,000 to start their own venture, that got things started for Skyler. He also got access to multiple advisers and resources from the Close School of Entrepreneurship. It was his struggles in finding a barber that could give him a haircut he was used to getting in his hometown in California that led him to create MyKlips.
Running a startup in college taught Skyler various skills that he uses up to today. He learned the importance of doing research, listening to your target market, reaching out to partners and putting a big focus on networking and building relationships.
He credits his mentor Shazam Founder Philip Inghelbrecht for helping him learn more about entrepreneurship and getting him connected to different people in the field. Skyler mentioned how, "He instilled confidence in me, supporting me and putting my name out there in conversations. He introduced me to some great people, and founders of awesome companies, including the founder of the rocket ship I'm in right now, called ZIRX."
Coming from a small-town in Southern California, Skyler was a high school quarterback, who always enjoyed mentoring younger students and helping them improve. He would hold summer camps called SKY7 where he would bring in college football players and former NFL players to help train the campers. When he eventually went to college and focused more in business, Skyler saw the same opportunity to help out younger students. SKY TALK was eventually born, a series of talks where high school students would hear from successful businessmen.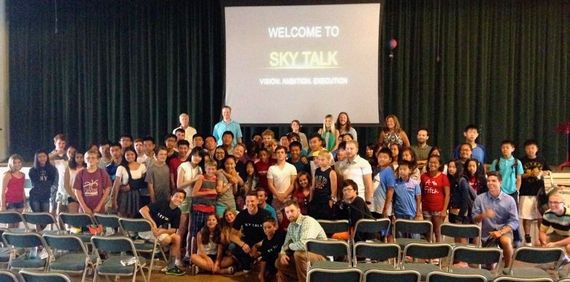 Group photo at a SKY TALK event (Photo from Skyler)

Skyler believes that there are two ways to find a mentor. The first is to organically meet a successful person in the space you are pursuing then turn that contact into a relationship. The second is if you have a startup to offer equity in exchange of advising.
Running a startup in college taught Skyler various skills that he uses up to today as the business development and partnerships associate of ZIRX. He learned the importance of doing research, listening to your target market, reaching out to partners and putting a big focus on networking and building relationships.
In building relationships, Skyler would setup genuine and follow-up email within a few days of meeting them. He would try to setup coffee dates within the month as well, and would never let the relationship go cold. For him, "If we met once, we were friends for life. To this day, I use the same strategy. I focus on maintaining the relationship. Meeting the person is the easy part, but maintaining the relationship takes great effort."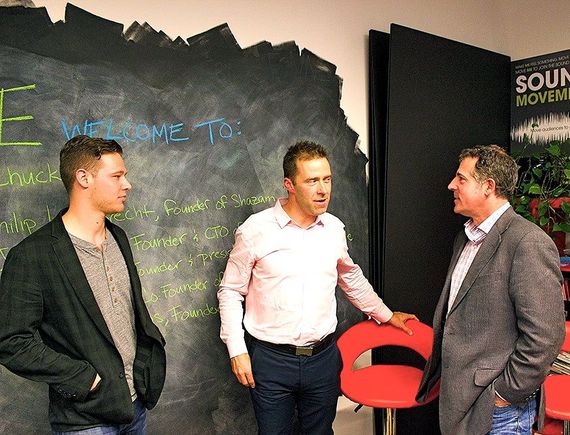 Skyler will always be grateful to his mentor Philip (Photo from Skyler)

Skyler also believes that sometimes, you don't always have to be the "Founder and CEO." He added, "I think it's important for young entrepreneurs to spend their freshman and sophomore years teaming up with some other startups on campus, and contributing to their team in a non-co-founder role."
At Zirx, Skyler loves how he has been learning something new every single day. He said, "Initially, I learned how important hiring great talent is, and how important a solid founding team is. We have an all-star team here, and you can't have an all-star team, unless you hire or develop stars. Our team is extremely bright, and our product shows exactly that. I've learned how important it is to focus on the customer. Focus on their pains, focus on their behaviors, and finds trends in their behaviors that allow you to better your product/service."
His advice to aspiring entrepreneurs was to, "Dive in. To break into the Silicon Valley scene, you have to dive in. If you're not there, then you are in the suburbs. My mentor Philip always told me that if I want to break into the Silicon Valley tech scene, then I have to dive in and get here."
He added, "Nothing is like being immersed in Silicon Valley's tech scene, with the resources and relationships that can be made here. For instance, this spring break, are you going to spend it in Pananama Beach City Florida, or the Cancun? Or are you going to spend that week in Silicon Valley networking and making friends in the tech space? These are decisions that take maturity and sacrifice, but these are decisions that could forever pay dividends."
David Ongchoco is currently a freshman from the Philippines studying at the University of Pennsylvania majoring in LIFE. David hopes to continue fuelling his passions in technology, social impact, entrepreneurship, and education. He is currently working on expanding his organization YouthHack and social impact startup ThirdEye. It's David's goal to make an impact in the lives of as many people possible while constantly learning new things every single day. If you have any interesting stories, feel free to email him at david@youthhack.net.
Related