Young Entrepreneur Salute (Y.E.S.) hosted its "Redefined Summit" this past weekend in partnership with the PAL Wynn Center in Brooklyn. An exclusive weekend summit inclusive of thought provoking panel discussions leading up to an award ceremony that the young men affiliated with this organization will never forget.
"The summit brought focus to Y.E.S. and its efforts to evoke change through organic conversation in the way the urban male is educated, empowered, unified and uplifted," says Jason Williams, Y.E.S. Chairman and Creative Visionary. "We really want to show these young men that the possibilities are endless and ensure them that they are more than a statistic," Williams continues. Exposure to gang violence, crime, lack of positive male leadership, and socio-economic inequality are just a few of the perils founder, Jason Williams faced as a young man, a product of a single mother home, and a resident of South Central Los Angeles. Jason has always lived a life of service, completing 8 years in the U.S. Army while also being a vital leader in his community.
Jason was compelled to create a program to combat these same issues facing our communities and youth today. Having being diagnosed with Cancer in early 2014 where he had to undergo chemo and radiation treatment, leaving him in his weakest state, Jason was determined. "Miraculously surviving what the doctors believed to be the end of the road for him, Jason had prayed for a sign where he could live out his life's purpose, the answer to his prayers would soon be known to the world as Young Entrepreneur Salute," adds Sherod Lewis, Y.E.S. Public Relations Director.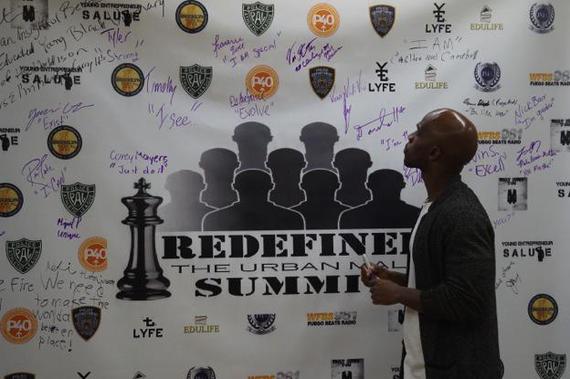 (Vin Keatin takes time to reflect on positive quotes by summit attendees before adding his own personal message)
The Redefined Summit was all encompassing of a two-day open-forum panel covering topics like psychological barriers, statistics of the urban male, social justice (i.e. race and sex issues of today) and community/police relations. Moderated by Jason Williams, the line up welcomed the likes of Melvin Britton-Miller, Preacher & Executive Partner with Momentum Education, Michele Stephenson, 2015 NAACP Award Recipient & Attorney, Dr. Joe Brewster, 2015 NAACP Award Recipient, Psychiatrist & Co-Founder of Rada Film Group, and Vernon Hutchinson, Vice President & Press/Publicity Chairman of the Brooklyn NAACP.
New York City's own singer/songwriter Vin Keatin, who has opened for Melanie Fiona, Syleena Johnson, and Muufasa, the Media Personality/ Cast-member of hit LGBT web-series Triangle, were special guests over the weekend and shared their experiences with the young men. Muufasa told the men to "never compromise their creativity and always seize every opportunity to be true to you and protect your art."
During the awards ceremony, the young entrepreneurs presented their businesses with all who were in attendance. The mentors of the program really had them hone in on their passions and develop businesses that aligned with their goals and dreams. Unbeknownst to the young entrepreneurs, Jay Morrison, Celebrity Real Estate Mogul and Civil Rights Activist sat right in the front row nodding in support of the presentations. "Passion seems to be what is driving these young entrepreneurs and that is the most impactful takeaway from this summit, these young entrepreneurs are truly passionate about what they do," said Morrison.
The young men were in for a treat when dinner guest Morrison surprised them and shared a few words of advice. Morrison may best be known for being a real estate guru to the stars, but before this, he was a guru to the street life. By sharing his near death situations and numerous run-ins with the law, he advised the young men that if they believe in themselves and persevere, they can become their best selves and truly leave the past behind. In a room full of mouths wide open and eyes spread wide, this impactful story touched the hearts of everyone in the room as it seemed to be the most relatable experience these young men face on a daily basis.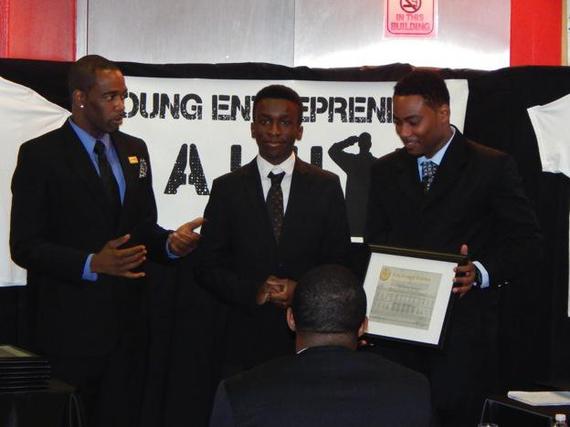 (Young Entrepreneur Malik Cayenne shares his warms regards to the organization and his mentors; L to R: Standing - Jason Williams, Malik Cayenne and Ruben Rugard; Seated - Jay Morrison)
Jay Morrison leaves the young men with this, "always be an expert at hiring experts. Don't go to your mom for legal advice if she is not a lawyer, don't go to your friends with financial advice if they are not accountants."
Calling all HuffPost superfans!
Sign up for membership to become a founding member and help shape HuffPost's next chapter