More than 130,000 Eritrean refugees have crossed the border to Ethiopia escape human rights abuses. Eritrean youth flee forced indefinite military conscription as well as torture at the hands of an oppressive government. Those who cross the border risk their lives: Eritrea's strict "shoot to kill" policy spares no one.
Mai Aini refugee camp is located in north central Ethiopia, and home to about 18,500 refugees from neighboring Eritrea. Many of the camps residents are young. Eighty percent of the refugees in this area are under the age of 24; most of them flee on their own without parents or guardians before they reach the age of recruitment.
Angela Wells, of JRS Eastern Africa, recently visited the camp and spoke with some of the young refugees art classes which are part of the JRS program in Mai Aini. Her portraits of the young artists are shared here, along with first person descriptions from the artists explaining their work.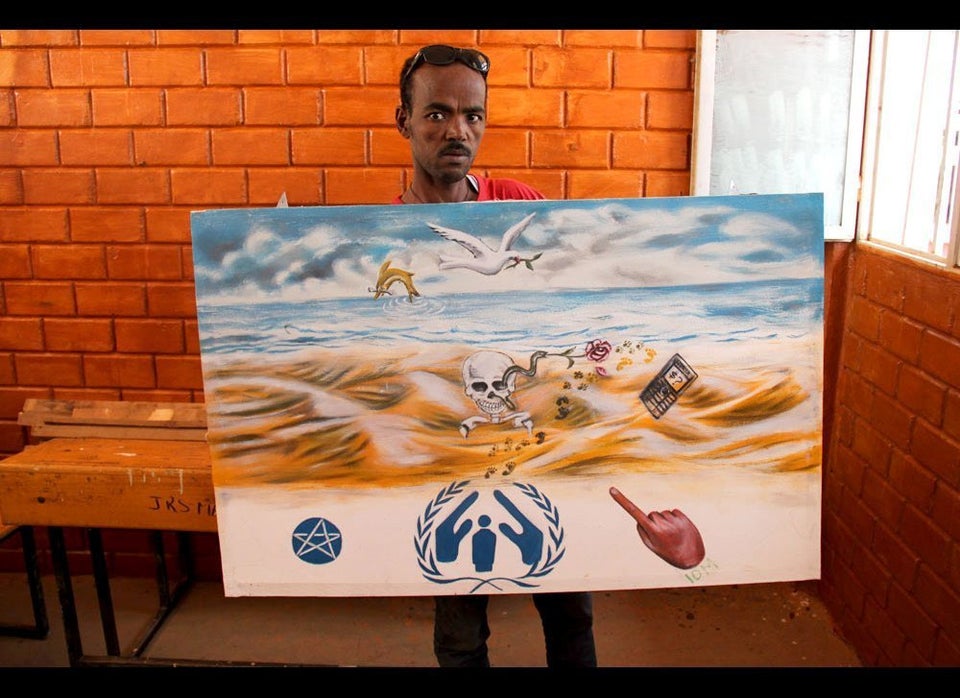 Photos: Eritrean refugees in Ethiopia paint grim realities
Youth in Mai Aini refugee camp have access to education. While they spend a few hours a day in school, there are still many hours of the day where they are confronted with the never-ending tedium of camp life.
Camp life can be brutally dull, and combined with promise of better prospects elsewhere it is easy to see why a youngster may seek to leave. It is important for both their physical and mental well being that children -- and adults -- be given the opportunity to pass their time in a refugee camp learning and socializing in a healthy way with others.
Jesuit Refugee Service is working with the young refugees in Mai Aini to help alleviate the negative aspects of camp life and provide hope for their future. Utilizing a grant from the U.S. State Department's Bureau of Population, Refugees and Migration and other funding, JRS works to promote the mental and physical well being of refugees through the provision of library services and recreational activities such as sports, music, theatre, dance and art.
The art classes enable young people to express their visions, fears and memories about their dangerous journeys. The paintings are exhibited at events in the camp and used to raise awareness about the perils of onward migration.
Leaving the camp to study or work is an unlikely possibility for most, and resettlement is rare; many of the young refugees feel trapped. Preying off the energy and dreams of these young people, smugglers convince some Eritrean refugees that making the harsh journey to Europe will allow them to start their lives over.
They attempt to move on to Sudan and Libya with the intention of getting to Europe, and end up attempting the unsafe passage across the Mediterranean that has resulted in so many deaths. Others are trafficked into the Sinai, where they are sold to criminal gangs and exposed to torture and extortion, as smugglers extort high sums from their families abroad or in Eritrea.
Related
Popular in the Community