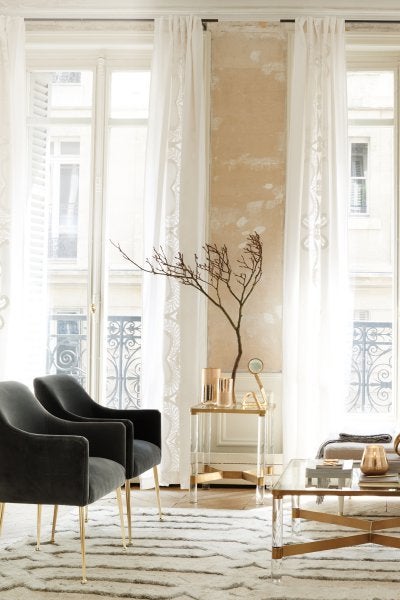 In September of 2014, Anthropologie made a move to expand their brand beyond clothing and decorative goods to include home furnishings. They launched with a catalog featuring 250 designs for the living room, bedroom, kitchen and dining room. In these few short years, the line has been very well received.
What makes a clothing company decide the venture into the world of furnitures? Research shows millennials are the driving force behind furniture acquisitions today. That's certainly a large percentage of their customer base. Additionally, the US furniture market in 2014 was valued at an estimated $96 Billion and is expected to grow 2.9% a year through 2019. Anthropologie had already found success in selling small decorative items for the home; therefore furniture would be the obvious next step.
But what would give them an edge in a very saturated market? A loyal following and most importantly, Anthropologie furniture is designed for women, by women.
One of their lead designers is 25-year-old Jerri Hobdy who joined the firm in 2014. Since that time, she's created hundreds of products for their home line, some becoming overnight hits with their customers.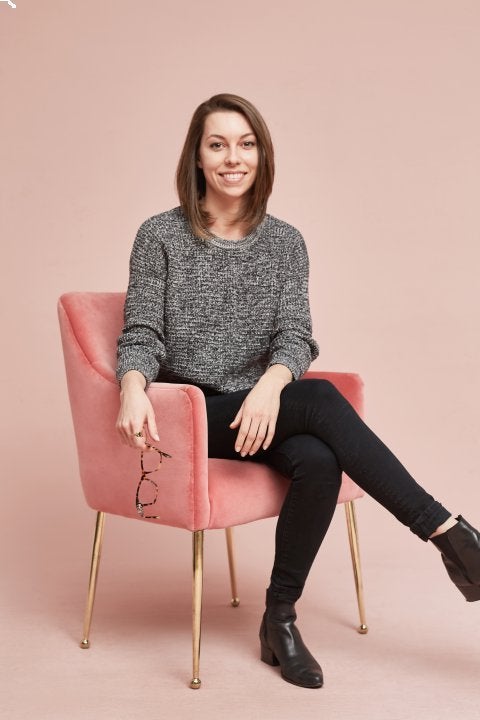 For example, her Elowen chair (illustrated above) debuted September 2016 and was their top selling item (volume) with $1 million in sales. The chairs are affordably priced at $398 and $448 (armchair model) each. When doing the math, you quickly realize how many chairs they've sold.
Hobdy certainly recognizes what resonates with the Anthropologie customer as she represents their demographic. I sat down with her recently to learn more about her background and where she finds inspiration when creating something new….
"What started your interest in furniture/decorative arts design?"
-As a child my dad was a hobby wood worker, which always piqued my interest. Seeing raw material go into his shop and meticulously crafted and useful objects come out seemed like a pretty satisfying transformation. In college I attended a Furniture Design department graduate show and remember being caught by surprise that the pieces weren't just brown stained wood. Everyday I revisit my childhood curiosity and set out to see how far I can push this genre of design, and it's so much fun!
"What era of furniture speaks to you the most, and why?"
-I find myself researching and referencing different eras based on what those eras did well. When I design I draw from different time periods' collective insight on materiality or end use. Art Deco seems to be my go to right now! I also always enjoy looking at other 21st century designers, because with both local bespoke creatives and international makers, the cross cultural and global innovation is endlessly inspiring.
"What formal training do you have?"
-I attended SCAD, graduating with a BFA in Furniture Design in 2013. There I gained a conceptual and historical education as well as hands-on fabrication experience in metals, wood, and plastics. I interned with renown lighting brand Currey and Company, then worked for Wisteria in Dallas and now Anthropologie. Traveling and collaborating first hand with factories as a professional designer has given me a much richer manufacturing knowledge base to supplement my design education.
"Were you surprised to see your latest creation (Elowen) sell out so quickly?"
-Being a piece from my first season ever with Anthropologie, yes I am pleasantly surprised how well it is doing! Learning our customer, who she is, and how she lives will always offer surprises because it's an ongoing relationship. We have a really cool female customer we cater too and she is a bit quirky, so that seems to have a little mystery built in. As a designer or artist I think you always hope your audience loves the design as much as you do!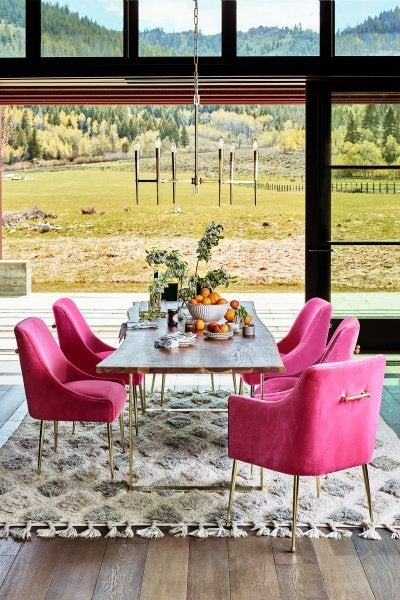 "What do you think about this design made it such a hit with Anthropolgie buyers?"
-It's a tailored chair with soft lines but just enough of a fresh and refined amount of detail that keeps it livable. Not to mention it comes in a few delicious hues of cotton velvets! Good looking and well priced dining chairs are hard to come by!
"What era/style appeals to you? What type of things would I find in your home?"
-I have a set of round mid-century stackable tripod tables with amazing blue/gray faux marble Formica tops and brass hardware. They're nothing fancy, but are such a good example of a lot of look accomplished with restrained amount of material. On the other end of the spectrum I also have an incredible rug I recently brought back from India. I'm still researching this one's history, but it is hand-knotted wool with a unique cobalt blue and green animal scape. I've never seen motifs or coloring quite like it!
"What do you think contributes to the success of Anthropologie Home?"
- Our design and buying team is largely a staff of women. We are striving to know our customer..."her"... as we like to say, so that we can give her delightful and unique items for her home. I feel that part of our success is rooted in our unique Anthropologie DNA as we were founded for women by a woman.
Calling all HuffPost superfans!
Sign up for membership to become a founding member and help shape HuffPost's next chapter
This post was published on the now-closed HuffPost Contributor platform. Contributors control their own work and posted freely to our site. If you need to flag this entry as abusive,
send us an email
.