By Jim Luce and Alana Galloway
As a high school student and Luce Leader 2015, part of the J. Luce Foundation's Young Global Leadership program, I have become very interested in the topics of teen suicide, child trafficking, and prison reform. One recent event held by the Osborne Association, an organization that the Foundation supports, really opened my eyes on the need to offer assistance to both incarcerated individuals and their families.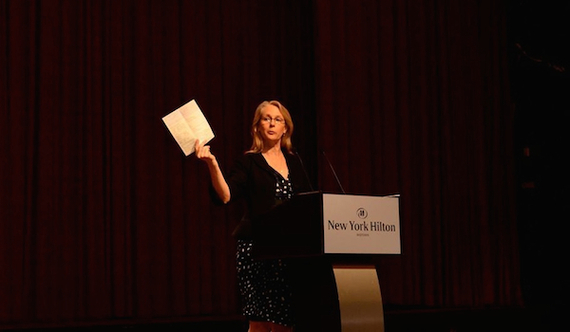 The highlight of the breakfast was listening to Piper Kerman, author of
the memoir 'Orange is the New Black, My Year in a Women's Prison.'
Photo: Osborne Association.
Over 600 guests cleared their schedules for a breakfast to hear several poignant accounts of life in prison at the Osborne Association's Lighting the Way 2014. Guests sat on the edge of their seats as they learned of the detrimental impact parent and child imprisonment can have on an individual and their family. Osborne is trying to transform lives by diminishing the severity of such circumstances.
The highlight of the breakfast was listening to Piper Kerman, author of the memoir Orange is the New Black, My Year in a Women's Prison.
All over the world, governments are hiding people as young as eight behind bars -- instead of helping them grow up to be productive members of our global society.
According to an article entitled Children in Adult Prison by the Equal Justice Initiative, 14 states within the U.S. have no minimum age for trying children as adults. In New York, children as young as thirteen can be sent to criminal prison, while the minimum age is fourteen in Connecticut and New Jersey. This means children right here can be sentenced to die in prison.
According to the Equal Justice Initiative, "Many young children in America are imperiled by abuse, neglect, domestic and community violence, and poverty. Without effective intervention and help, these children suffer, struggle, and fall into despair and hopelessness."
The Osborne Association intervenes to provide assistance. As stated in a campaign video, they are working on, "Transforming the system of imprisonment to a system of reconciliation."
At Lighting the Way 2014, The Osborne Association confronted the sensitive issue of how prison sentences can destroy families due to lack of communication and direct contact. In addition, the Association encourages the government to reevaluate the age limit of prisoners, since the brain is not fully developed at age thirteen or fourteen. They urge people to contemplate the availability of communication in prisons, and reasons for arrests.
According to a study done by the Sentencing Project called Incarceration, "The U.S. is the world's leader in incarceration with 2.2 million people currently in the nation's prisons or jails - a 500% increase over the past thirty years."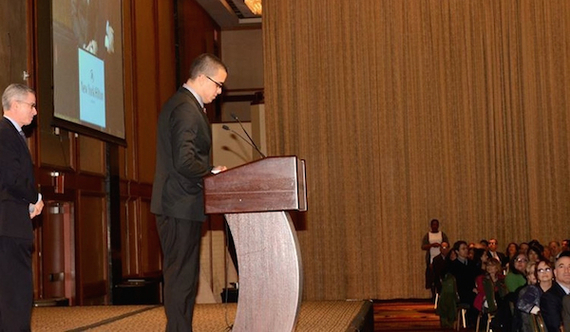 Former N.J. Governor Jim McGreevey has joined Osborne Association's Board.
Here, Louis Rivera spoke with Jim standing by. Photo: Osborne Association.
Chances are that these people have families. Governor James E. McGreevey, Director of the Jersey City Employment and Training Program, spoke about these families on behalf of the Osborne Association at Lighting the Way 2014. He said, "We believe that children should always be able to see and touch... play and climb with their moms and dads." Jim has recently joined Osborne's Board of Directors.
The Osborne Association is helping families cope with crime and imprisonment. They are encouraging communication behind bars and helping former prisoners to maintain family ties after their release. At the breakfast, Jackie Pockuwaah, the mother of four children and a former participant in The Osborne Association's FamilyTies program, spoke about how the association taught her how to be a mother again.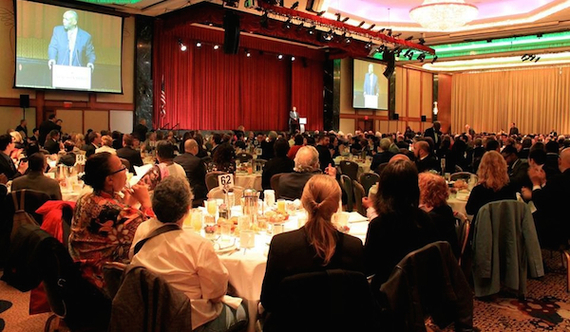 Each year, the breakfast updates supporters on progress in prison reform.
Photo: Osborne Association.
Jackie said, "The first time I saw them [her children] in twenty months, I didn't know what to say. It was a miracle." When she was released from prison, Jackie had no money or lawyer. The Osborne Association got her a reputable lawyer for free, and helped Jackie when no one else would. She has been home for four months now, and appears genuinely happy. Osborne helped Jackie escape the dark place she was in and reform her life.
A study done by crimeinamerica.com on recidivism revealed that about 47% of prisoners are convicted again once release, and about 41% return to jail. Chances are high that released prisoners will return to jail.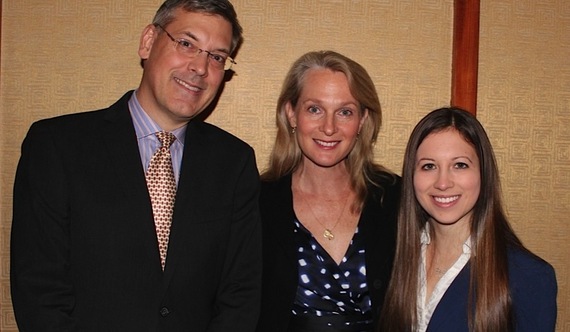 The authors (l. and r.) with Piper Kerman, author of memoir
'Orange is the New Black, My Year in a Women's Prison.'
Photo: The Herbert Collection.
The Osborne Association believes these statistics point to the lack of communication available in prison, and the difficulty many previous prisoners have finding employment when released. The Association recognizes the importance of finding work after prison and maintaining family ties. They are helping to bridge these gaps. They recognize that prison cells often hide away problems instead of confronting them, and are trying to assist released prisoners to achieve some normalcy in life once again.
According to Jim McGreevey, "What Osborne attempts to do is to be in the business of reclaiming lives... We believe in helping individuals fully reincorporate into society."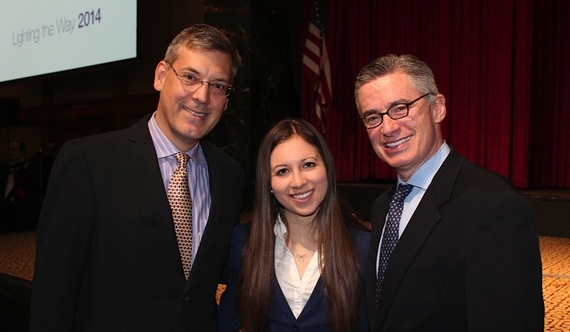 The authors with Jim McGreevey, former Governor of New Jersey and new
Board member of the Osborne Association. Photo: The Herbert Collection.
Two years ago, at the same breakfast, the reigning Miss America spoke about her passion for prison reform. Jim Luce spoke with her and his story here inspired me. Not knowing anyone in prison personally does not preclude me from caring about needed reforms. Whether you know anyone incarcerated or not, I ask you to stand with me for basic human dignity.
Alana Galloway is a high school student with a passion for writing at Convent of the Sacred Heart in Greenwich, CT. She is a journalist who especially enjoys addressing current events. Alana is intrigued by philosophy, literature, and photography, and aspires to major in Photojournalism one day. She is a blossoming writer, and has had her eyes set on a future in writing since she was a little girl.
Popular in the Community