When I first met Eugenie Carys de Silva last spring on Central Park South in New York City, I was overwhelmed with her academic credentials. Living with her father in Tennessee, she has pushed the envelope of long-distance learning from her rural bedroom. For her academic audacity and global vision, Eugenie will be awarded Luce Leader 2015 of the J. Luce Foundation at a special reception at the Sri Lankan Mission to the United Nations.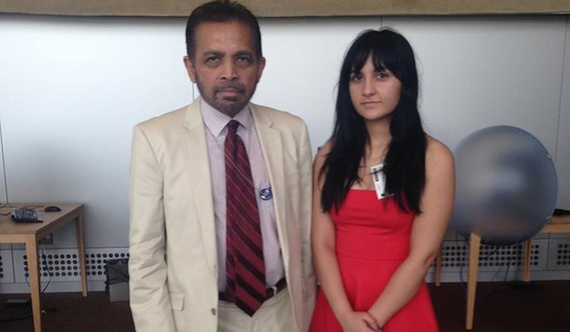 H.E. Dr. Palitha Kohona, Ambassador of Sri Lanka to the United Nations,
with Eugenie Carys de Silva at the U.N. Headquarters in June on her
sweet sixteen birthday. Photo: courtesy of Eugenie Carys de Silva.
With dual U.S.-U.K. citizenship, this Renaissance woman graduated summa cum laude with a Bachelor's degree from the on-line School of Security and Global Studies at the American Military University at the age of fourteen in 2013. Last spring, Eugenie earned her Master's degree in Intelligence Studies at the age of fifteen. This fall she began work on her distance Doctorate in Politics at the University of Leicester in the U.K.
In the interim, she earned a second Master's degree at the age of sixteen from Harvard's Division of Continuing Education with a concentration in Legal Studies. Her thesis was entitled An Analysis of Edward Snowden and His Actions. Her first on-line experience was a college preparatory diploma through the Center for Distance and Independent Studies of the University of Missouri from which she graduated in 2010 at the age of eleven.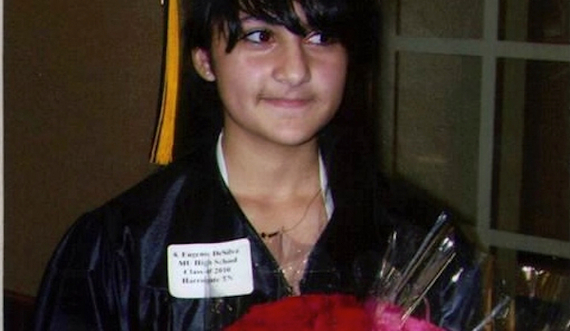 At the age of eleven, Eugenie graduated from high school in Missouri.
Photo: courtesy of Eugenie Carys de Silva.
Eugenie enjoys writing and the media. She maintains two blogs, one on Peace Studies and the other a general, multidisciplinary platform. She has worked as a news reporter in Kentucky, and a radio show host of a program called "Just Kidding Around" in Tennessee. The Virginia Research Institute has published two of her books, The Adventures of Princess Eugenie: Book 1 & 2.
She is currently writing another book entitled, Don't Like College? Don't Go, to be published on Long Island by Linus Publications. Her forte, however, is academic writing. Eugenie is currently editing a special issue for the International Journal for Public Administration in the Digital Age and a book entitled, National Security and Counterintelligence in the Era of Cyber Espionage. The latter will be ready early next year and the former will be completed at the end of next year.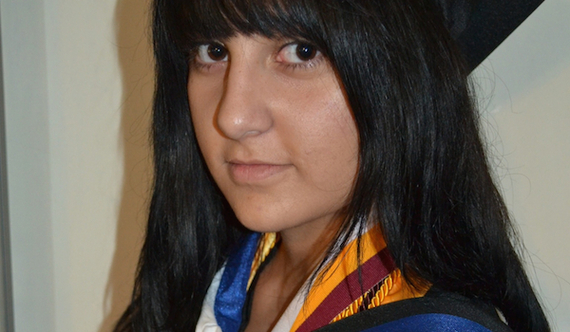 Eugenie graduated with her first Master's degree from the American Military
University at fifteen. Photo: courtesy of Eugenie Carys de Silva.
Public speaking is another of Eugenie's passions. Her speech titles especially intrigued me: "Is the Truth Really a Lie? How to Detect Deception: Implications for Addressing Deception from a Domestic and International Perspective;" "Spirituality vs. Religion;" and, "Is a Chemist a Better Intelligence Agent? Applying Key Skills of Chemistry to the Intelligence Field."
Born in 1998 in Manchester, England, Eugenie will become the youngest Luce Leader in the foundation's history. She is no stranger to awards, having won so many already. RecordSetter named her both 'Youngest Person to Read for a Ph.D. Academic Degree in the U.K.' and 'Youngest Ph.D. Student in Politics Department.' Last year she placed first at the Tennessee Academy of Sciences' Collegiate Division Conference - following in her first place footsteps there over the last five years. This year, Pacific Standard Magazine named her a Top Thirty Thinkers Under Thirty.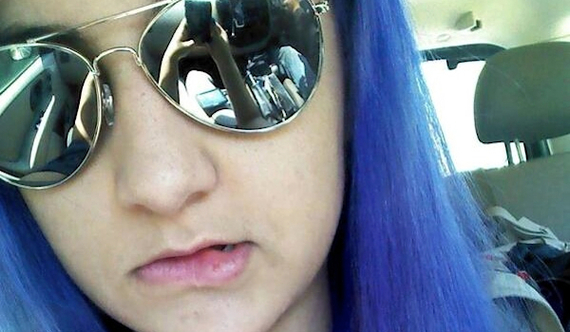 Eugenie de Silva likes to let her hair down when she is not studying or writing.
"I refuse to confine myself to academic pursuits and I am quite outgoing in terms
of appearance and social activities. Photo: courtesy of Eugenie Carys de Silva.
The Huffington Post has chronicled Eugenie's young academic career (link), as has the BBC. The Sunday Observer of Sri Lanka is also following her progress (link).
Given her academic propensity, how is it, I wondered when I first met her, that this young woman is not socially awkward? A nerd? She laughed when I asked as it is one of her most common questions. She told me:
I understand that my actions may represent me as the epitome of a nerd, but I consider myself 'not your average nerd,' which is how I describe myself on social media. I believe that a truly intelligent individual is one who is well rounded both academically and socially.
Eugenie also avoids stereotyping as she enjoys non-academic pastimes such as fashion; she has frequently modeled and competed in local competitions, placing for "best hair" and "best eyes."
Our Foundation presents its annual Luce Leadership Awards to young leaders working to better humanity, either in the U.S. or abroad who embody the characteristics of honor, intelligence, benevolence, and integrity. Through her sincerity, academic achievement, focus on global studies, background in Sri Lanka, the U.K., and the U.S., and belief that humanity can improve itself through education, Eugenie Carys de Silva embodies the virtues of young global leadership.
Calling all HuffPost superfans!
Sign up for membership to become a founding member and help shape HuffPost's next chapter