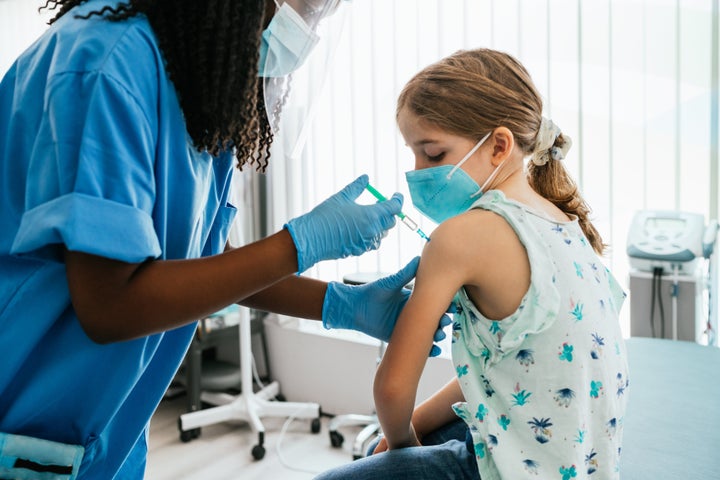 It's a lot for parents to keep track of and make sense of. Here's what you need to know about kids and COVID vaccines right now.
Adolescents who qualify are encouraged to get boosted
When federal health officials initially approved booster doses for adults and older teenagers, they approved a third dose of the mRNA vaccine after six months. (Anyone who received the Johnson & Johnson vaccine could and should get boosted after two months, but children are not eligible for that vaccine.)
In light of the omicron surge, federal health officials have now shortened the booster timeline for adults and teenagers, as well as the newly eligible group of 5- to 12-year-olds, to five months.
Booster doses are available at clinics, pharmacies and some doctors' offices, so wherever you got your child their first and second doses might be your best bet again. The government keeps a running list of vaccine sites near you, and you can also check in with your local health department.
When you go to the appointment, make sure you bring your child's vaccine card. If you've lost it, reach out to their vaccine provider, who should be able to help with next steps.
Booster symptoms should be pretty similar to what kids experienced with their first doses
As has been the case with adults, booster side effects are on par with what children experienced after their initial vaccine doses.
New data published in December by the Centers for Disease Control and Prevention shows that the vast majority of young kids who've been vaccinated have had symptoms that are both mild and short-lived — things like a sore arm, fatigue and a headache. That data certainly might be reassuring for parents who have taken a wait-and-see approach when it comes to vaccinating their 5- to 11-year-olds so far.
One note: It's not recommended that you give your child any over-the-counter pain medicine before the shot. You may, however, give your child some after the vaccine to help with any mild reactions. If you have any questions, talk to the vaccine provider or your child's doctor.
If you have questions, now is the time to talk to your child's doctor
If you have any questions about the vaccine — whether you're contemplating a booster dose for your adolescent, or getting your 5- to 11-year-old their first shot, reach out to your child's pediatrician. Health officials really want to get more shots into more children's arms, especially as the omicron variant continues to spread. But if you're on the fence, your child's pediatrician should be willing to discuss your concerns or questions.
"I think for a lot of parents, the most important recommendation is going to come from their pediatrician," said Dr. Adam Ratner, chief of the division of pediatric infectious diseases at Hassenfeld Children's Hospital at NYU Langone Health.
Keep in mind, however, that pediatricians and other children's health experts are overwhelmingly in favor of vaccinating children, and groups like the CDC and the Food and Drug Administration take their approval processes very seriously.
"It's not just one person making a decision, it's not just one committee. There are multiple layers here, there are really smart people on these committees and people who care about protecting the public and about protecting the people who get these vaccines," Ratner said.
The timeline for kids under age 5 is murky
In December, Pfizer announced that trials of its vaccine in kids ages 2 to 5 weren't producing the kind of immunity the company expected. It has since reworked its trials to include a third dose, and those are already underway. (It's important to note that the trials did not raise any safety concerns.)
Pfizer researchers have indicated that data from the updated trials could be available sometime in March or April, but the exact timeline is unclear. That remains frustrating for parents who have been waiting to immunize their young children.
In the meantime, experts continue to say that children over the age of 2 should wear a mask in public settings, wash their hands frequently, avoid crowds to the extent that it's possible — and they urge that all family members who are eligible get vaccinated and boosted. Young children might still be ineligible for vaccination, but ensuring that those around them are immunized can provide a protective cocooning effect.
This story has been updated throughout.
Experts are still learning about COVID-19. The information in this story is what was known or available as of publication, but guidance can change as scientists discover more about the virus. Please check the Centers for Disease Control and Prevention for the most updated recommendations.