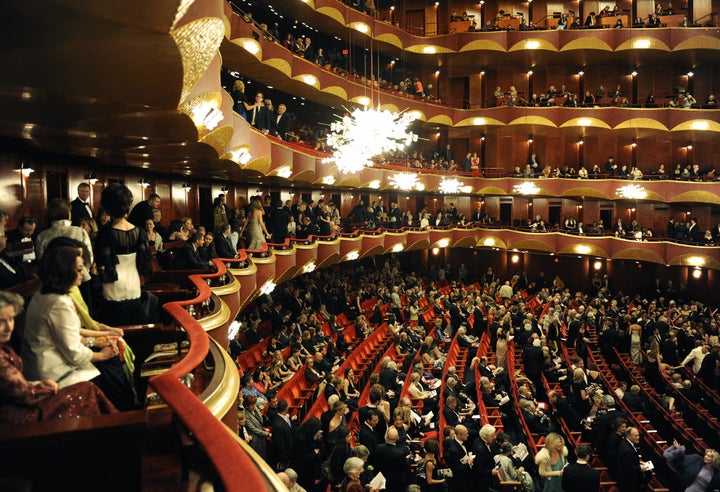 There are few male Asian-American sex symbols. Violin prodigy Hahn-Bin, studying under Itzhak Perlman and
Catherine Cho, is one of the few.
Opening the 49th Young Concert Artist Series
in Zankel Hall at Carnegie Hall under the direction of Susan Wadsworth,
Hahn-Bin's New York debut last week mesmerized the sold-out crowd.
Brilliant, audacious, and exuberant, Hahn-Bin seems a cross between a haute
couture model and Mozart, his Mohawk rising above his shaved scalp not
unlike a strutting rooster's comb.
Winner of the 2008-09 Young Concert Artists International Auditions, violinist
Hahn-Bin makes his New York debut at Carnegie's Zankel Hall.
Photo: Andrew Chiciak.
"I have never seen
a classical musician dress more outrageously," said one audience member.
"I love it!" The applause was wild.
Wearing black boots, tight-fitting black metallic pants, a black shirt,
black mascara, topped off by his black Mohawk, Han-Bin epitomized Charlie
Daniel's song, The
Devil Went Down to Georgia.
The devil went down to Georgia, he was looking for a soul to steal.

He was in a bind 'cos he was way behind: he was willin' to make a deal.

When he came across this young man sawin' on a fiddle and playin' it hot.

And the devil jumped upon a hickory stump and said: "Boy, let me tell you
what:

"I bet you didn't know it, but I'm a fiddle player too.

"And if you'd care to take a dare, I'll make a bet with you.

"Now you play a pretty good fiddle, boy, but give the devil his due:

"I bet a fiddle of gold against your soul, 'cos I think I'm better than
you."

The boy said: "My name's Johnny and it might be a sin,

"But I'll take your bet, you're gonna regret, 'cos I'm the best that's
ever been."
Was it a deal with
the devil that made this young Korean-American superstar become so incredibly
talented? Was it the training from Itzhak Perlman? No explanation
suffices.
With a bow flying
like lightning bolts, Hahn-Bin débuted Carnegie Hall with Chopin,
Kreisler and Mozart, as well as Kristof Penderecki, Alfred Schnittke, and
Witold Lutoslawski.
Hahn-Bin is as much
of a performer as he is a gifted musician. His look was both wistful and
determined. He played so intensely that the hairs of his bow were
breaking throughout his performance. He tore them off and continued
playing without missing a beat.
His eyes darting,
not unlike a Balinese dancer, eyes opened in dramatic shock one moment, closed
in meditation the next.
A plethora of
emotions floated across his young face, from innocence to showing a knowledge
transcending time and space.
Frequently, his
slow-motion body movements evoked kabuki theater. Bending over, leaning
back, swaying side to side, he played with his entire body. It is
not often that a violin concert is a feast for the eyes as well as the
ears. You could not take your gaze away from him.
As the New York
Times wrote, "Hahn-Bin began with a clean focused sound that grew steadily
brawnier and more assertive And when he returned to Kreisler after a pair
of contemporary works, it was to play a bright but warm-toned performance of
the Recitative and Scherzo, a more overtly virtuosic work, packed with showy
effects, among them trilled double-stops."
Before each piece,
he steadied himself with a half-minute, Zen-like pause, achieving an inner calm
that he then abandoned with wild emotion.
Winner of the
2008-09 Young Concert Artists International Auditions, Hahn-Bin made his New
York debut at Carnegie's Zankel Hall as recipient of the Peter Marino Concert
Prize. His Washington, D.C. debut also presented by the Young Concert
Artists Series this season was at the Kennedy Center's Terrace Theater.
Hahn-Bin has made
notable appearances with all of Korea's major orchestras, the Seoul, Bucheon,
and Daejeon Philharmonics, in Korea and on tour in Japan. He has given
recitals at the Louvre in Paris, and appeared as soloist with the Queensland
Orchestra in Australia.
Hahn-Bin made his
international debut at the age of twelve at the 42nd Grammy Awards' Salute
to Classical Music, honoring Isaac Stern. In 2005, Universal Music
released his first CD, HAZE, with pianist John Blacklow, featuring works
by Pärt, Janáček, Poulenc, Ravel, and Prokofiev.
Born in Seoul,
Korea, in 1987, Hahn-Bin made his orchestral debut with the Seoul Philharmonic
at the age of ten. The following year he moved to the U.S. to study with
Robert Lipsett at the Colburn School in Los Angeles.
Hahn-Bin earned his
Diploma in 2009 from the Juilliard School, where he has worked with Itzhak
Perlman and Catherine Cho. He has participated in the summer Perlman
Music Program since 2002, and performed the Dvorak Piano Quintet
with Perlman himself at the Metropolitan Museum of Art in 2008.
His violin, an 1825
Pressenda violin, was in the news when the artist left it in a NYC
taxi last August. The half-million dollar instrument was fortunately
quickly traced and returned to him in his Chinatown apartment. Under his
masterful fingers, the violin seems to laugh, cry, sing, and scream.
Hahn-Bin is a
Renaissance man. In addition to playing the violin, Hahn-Bin works
regularly on creating visual artworks and composing poetry.
His encore, to
thunderous applause, was a dark rendition of Silent Night composed by
Alfred Schnittke.
As he exited the
stage, following bows that expressed both deep pleasure and humility. Charlie
Daniel's song ran through my head:
The devil bowed his head because he knew that he'd been beat.

He laid that golden fiddle on the ground at Hahn-Bin's feet.
Edited by Ethel Grodzins Romm.
The
Southern rock ballad, "The Devil Went
Down to Georgia," is from the album Million Mile Reflections by
Charlie Daniels and was released in 1979 on the Epic label. All rights
reserved.
Popular in the Community