Among the coming-of-age, hyper-connected generation of millennials are numerous young people driven to make a positive difference in the world. Many have even harnessed their social voices to speak out against the problems facing their communities.
Proving that we can all contribute to making the world a better place, no matter our age, we've partnered with Johnson & Johnson to recognize 10 young leaders in sustainable development who are dedicated to achieving big goals for a better future for women and children.
Laura, 18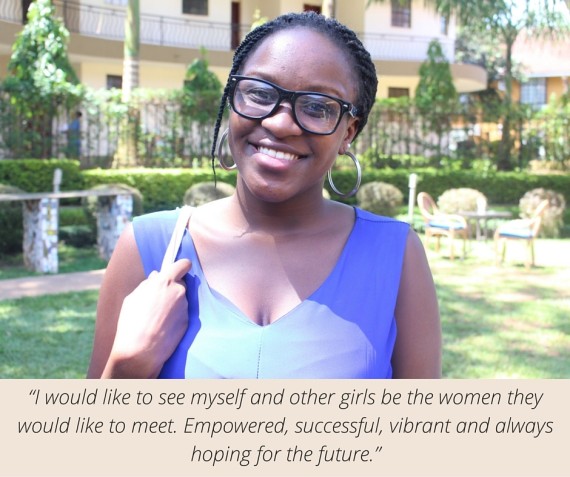 The mission at Let Girls Lead -- to improve the lives of millions of girls and their communities around the world by investing in visionary leaders -- really resonated with Laura,* a teenager from Uganda who heard about the organization while pursuing a tailoring course at a local YWCA.
Her participation in the Let Girls Lead workshop led to an eventual advocacy opportunity within the organization. Embracing her role as a "champion for change," Laura now addresses the public, decision-makers, and fellow girls about girl's rights and the future of young women.
Photo Credit: Allan Busby/Rhythm of Life | *last name withheld per the Let Girls Lead protection policy.
Haingo Valencia Rakotomalala, 24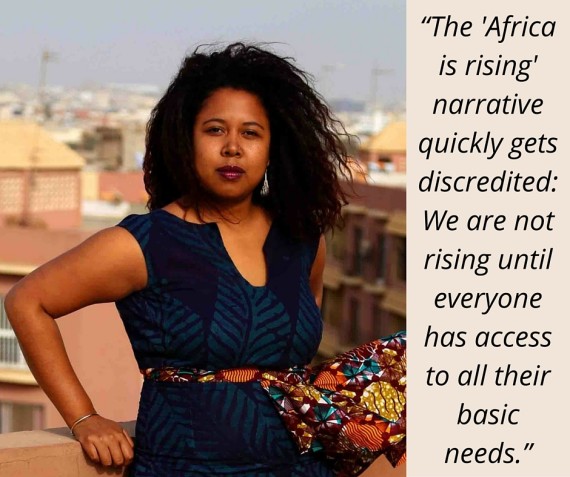 Haingo Valencia Rakotomalala first learned about Tostan while studying female genital-cutting (FGC) intervention strategies for her undergraduate thesis at the University of Manchester. The Africa-based organization empowers rural communities to bring about positive social transformations through both classroom-style and local, traditional forms of education.
Inspired by Tostan's mission, Rakotomalala got involved. Today she works at the Tostan Training Center helping other NGOs, development workers and interested parties learn from Tostan's successful human-rights–based approach for community-led development. She's also the Eco Focal Point for the center, leading research on environmentally friendly practices and regenerative designs to preserve and promote the organization's values.
Winfred Ongom, 24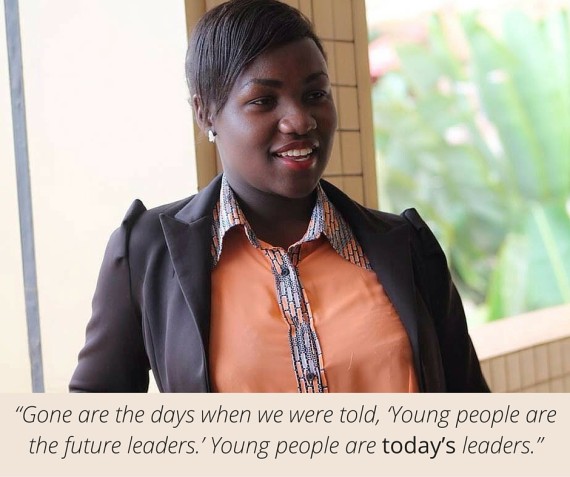 When Winfred Ongom witnessed unfair treatment of citizens in Uganda, she took to social media to voice her concerns and spread the word about human-rights violations, especially abuse of women and children. Ongom first connected with White Ribbon Alliance (WRA) via Twitter. The membership-based organization unites citizens to demand the right to a safe pregnancy and birth for every woman, everywhere.
Now a member of WRA Uganda and a citizen journalist, Ongom continues to advocate for sexual and reproductive rights. By backing campaigns like Act Now to Save Mothers, Ongom aids WRA Uganda in its call on the government to allocate sufficient funds to provide better care for newborns and mothers.
Cheryl Tam, 25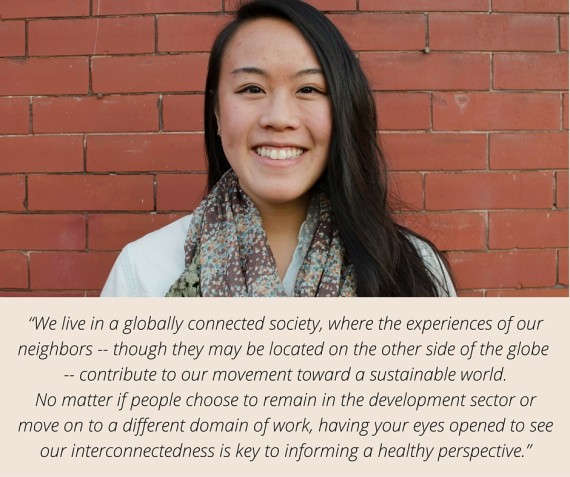 Cheryl Tam serves as a program officer for Livelihoods and Food Security Technical Assistance II (LIFT II), a project implemented by nonprofit human development organization FHI 360. There, she leads services and learning activities that help link vulnerable populations in the Democratic Republic of Congo, Lesotho, Malawi, Namibia, Nigeria, Tanzania and Zambia -- particularly households affected by HIV/AIDS -- to economic strengthening, food security and livelihood support services in their communities.
As part of her job, Tam traveled to Namibia to observe two of Lift II's project sites and assess the progress and functionality of the networks already in place. Her recommendations are currently helping to shape the way future projects operate.
Meredith Cann, 25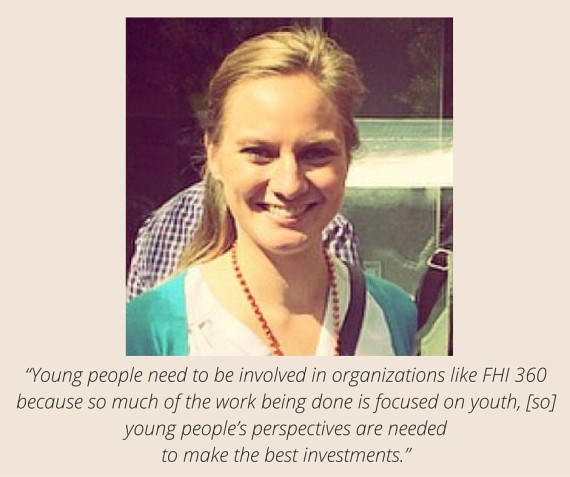 After learning about FHI 360 as a student at Duquesne University, Meredith Cann saw the value in the organization's integrated and full-circle approach to improving lives in lasting ways -- so much, in fact, that she began working with them after graduation.
Today, Cann devotes her time to multiple FHI 360 global economic strengthening projects for vulnerable populations, such as people living with HIV and orphaned and vulnerable children. Her focus is helping families and individuals build up their households out of vulnerability through facilitating processes or referring services. She then evaluates the effectiveness of these interventions alongside health outcomes.
Sara Pellegrom, 26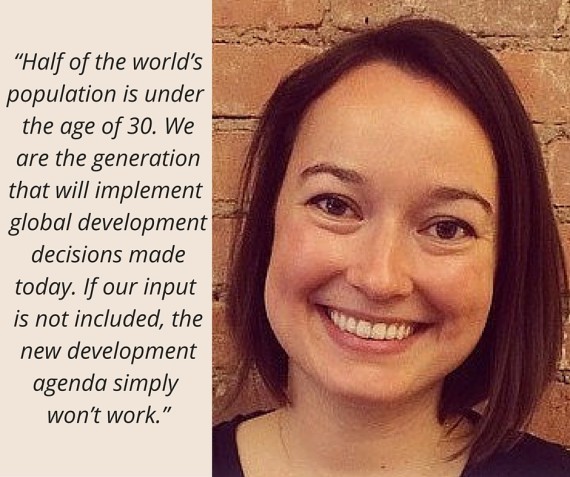 With experience volunteering at the Planned Parenthood clinic in Memphis, Tennessee, and an internship with USAID in Kenya, Sara Pellegrom knew she wanted to dedicate her career to learning more about the role and impact of women in society. That's why working at Women Deliver -- an organization devoted to advancing the health and rights of girls and women around the world with a strong focus on sexual and reproductive health and rights -- was a perfect fit.
At Women Deliver, Pellegrom focuses on the Young Leaders Program, a three-year fellowship initiative that develops young individuals' skills as advocates. Currently, the program works with 200 youths in over 90 countries on a variety of issues like gender-based violence, HIV/AIDS, maternal mortality, access to contraception and more.
Timothy Lu, 26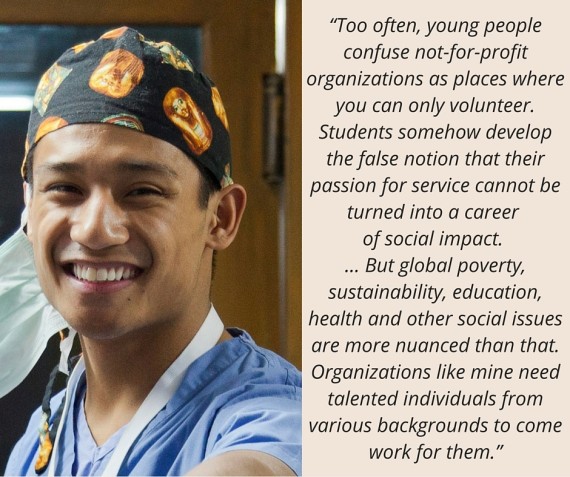 For over 30 years, Operation Smile has worked to provide safe, high-quality cleft treatment to patients who otherwise would not have access to this simple surgery. What drew Timothy Lu to get involved there over other impact-focused organizations was its model for change. When children are treated at Operation Smile, their surgery is as much about maximizing individual treatment as it is about increasing capacity of the country's health system through education.
As a program officer, Lu works closely with directors and local staff to design and develop initiatives in surgery, anesthesia, nursing and research in countries throughout Asia and Africa. Since January 2012, Lu has managed 13 medical programs in seven countries, using his hands, his mind and his heart to fight a global disparity in health every day.
Estefania Palomino, 26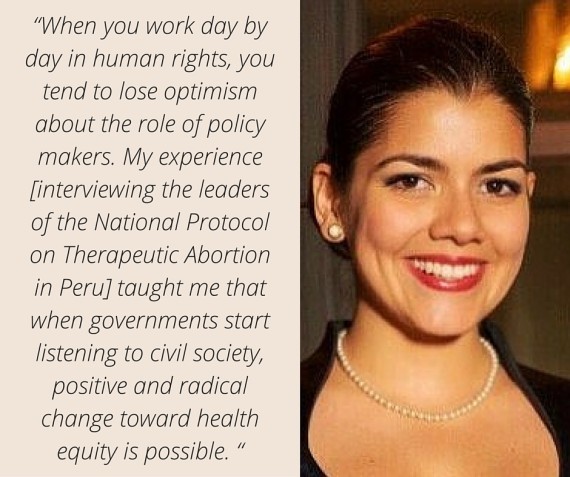 As part of the 2 percent of applicants worldwide selected into Global Health Corps' (GHC) fellowship program, Estefania Palomino was placed at the PP Global Division of Planned Parenthood Federation of America. There, she managed advocacy projects in a division that currently works with over 30 partners in 13 different countries.
By providing training and mentorship and exposure to the forefront of the health quality movement, GHC's yearlong fellowship program gave Palomino the opportunity to work on a variety of projects including strengthening advocacy work for women's health and rights in more than five countries throughout Central and South America.
Jordana Baron, 27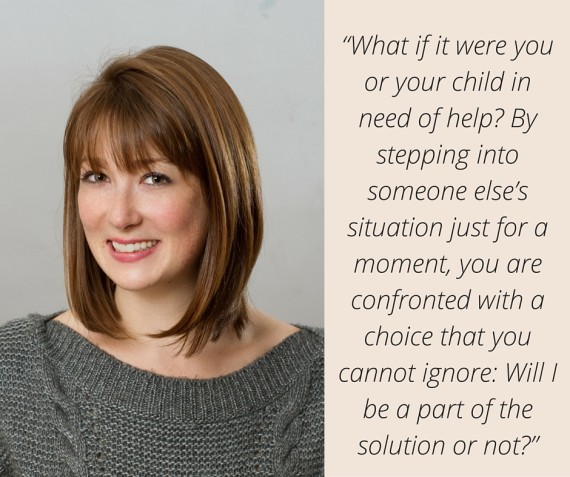 Jordana Baron was waiting tables in Los Angeles when she heard about a job opening with Operation Smile, whose mission is to facilitate cleft surgeries for underserved patients. But really, Baron urges, the organization is really about restoring hope to individuals, families and communities who have suffered from the stigmas attached to newborn facial deformity.
Over the past four years, Baron's contributions to Operation Smile have been concentrated in program management in Latin America and the Caribbean. Last year, the organization ran 51 surgical missions and held over 32,000 specialty consultations in Latin America alone.
Cecilia Garcia Ruiz, 29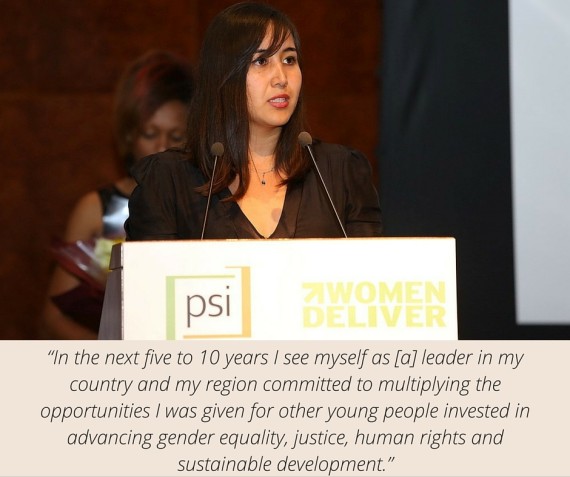 Cecilia Garcia Ruiz got involved with Women Deliver as a member of its Young Leaders Program in 2012. Since then, she has continued to collaborate with the organization, from helping to develop and implement community-based projects, to speaking as an expert on diverse topics surrounding adolescents' and young women's rights.
Women Deliver is an important supporter of a project aimed at strengthening sexual and reproductive health and rights of adolescents and young mothers living in marginalized urban areas in Mexico City. This critical work, Garcia Ruiz says, promotes the importance of investing in adolescent girls and young women.
Johnson & Johnson remains dedicated to their commitment to empower women, children and families. Every year since 2011, Johnson & Johnson invites some of the brightest young minds in the global development space from organizations dedicated to creating and achieving goals for a better future at the United Nations General Assembly (UNGA) Week. Gathering to discuss health-related Millennium Development Goals (the MDG's), celebrating these young leaders highlights the work they are doing to boost the health and well-being of young people in their countries and communities.