When life doesn't go as planned, what keeps you going? Is it hope? Maybe it's faith, or perhaps it's family. For Mckenzi Taylor, it was the promise of a puppy.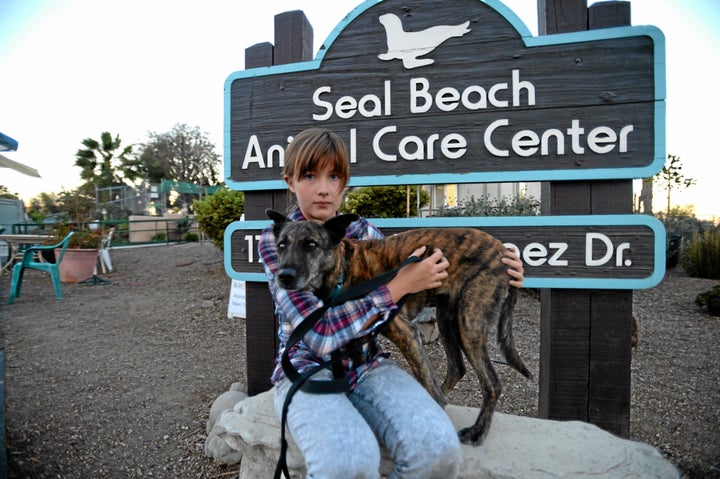 When Mckenzi was just two years old, she was diagnosed with leukemia. The following years of her childhood were spent on countless doctor visits, hospital stays and rounds of chemotherapy treatments. As she fought through these tough years, there were two things that kept her going: the Make-A-Wish Foundation promised her she could be a princess for a day at Disneyland, and the promise of adopting a puppy once she was healthy again.
Amid Mckenzi's battle with cancer, her father promised that as soon as her immune system was strong enough, he would take her to adopt a puppy. Two and a half years later, Mckenzi went into remission, and the pair went on the long-awaited trip to the shelter.
After that trip, Mckenzi's life was changed forever. From the moment she walked in the door and saw the endless rows of kennels filled with sick, abused and helpless dogs, she knew she had to do something to help.
Inspired by her experience at Disneyland when she was four years old, Mckenzi asked her father if anything similar to the Make-A-Wish Foundation existed for animals. Sadly, he had to explain to his daughter that there was no one to grant wishes for sick shelter dogs.
That answer wasn't good enough for Mckenzi.
Fueled by empathy, Mckenzi began brainstorming ways to help and eventually came up with the idea for poundWISHES -- a crowdfunding platform that allows shelters across the country to connect with a community of donors to create and fund campaigns for sick, injured and abused animals. Essentially, poundWISHES allows shelter dogs to receive a wish and a second chance at life.
Over the following years, Mckenzi drew pictures of what the website might look like and how the organization would work. Even at only five years old, she was already determined to change the world.
After years of conceptualizing, Mckenzi's dream of granting wishes finally became a reality when she was 12 years old. With the help of her family, poundWISHES officially launched in 2014. What Mckenzi dreamt of doing when she was just five years old is exactly what poundWISHES does today.
The California-based organization works by connecting shelters across the United States with donors on its crowdfunding platform. With the help of poundWISHES, shelters are able to create campaigns for individual dogs in need. The campaigns feature details about the dog including medical needs and the animal's story. Donors are then able to contribute funds or products to help rehabilitate the dog.
"What I see every day at poundWISHES is people coming together across all lines to make a difference for animals," said poundWISHES COO Natalise Kalea. "We have over 900 rescues, shelters and sanctuaries who use our platform to raise funds, and now we're allowing animals to have product registries so that donors can not only help fund urgent operations, but also buy a pet bed, dog food, or cat toy for the rescue animal. I like to think that we're enabling people to make sad stories happy."
Making sad stories happy was Mckenzi's dream all along.
"When I was five, I had this dream to save every dog that needs help. And this dream is coming true," Mckenzi said. "With poundWISHES, we've been able to raise over $2 million and save over 3,000 animals in the past two years. I hope to save them all, one animal at a time."
You can follow Mckenzi's story and help make her dreams come true on poundWISHES' Facebook page.
Have a charity pitch? Reach me on Twitter. Stories about today's youth doing good and dogs have a special place in my heart.
Related
Popular in the Community