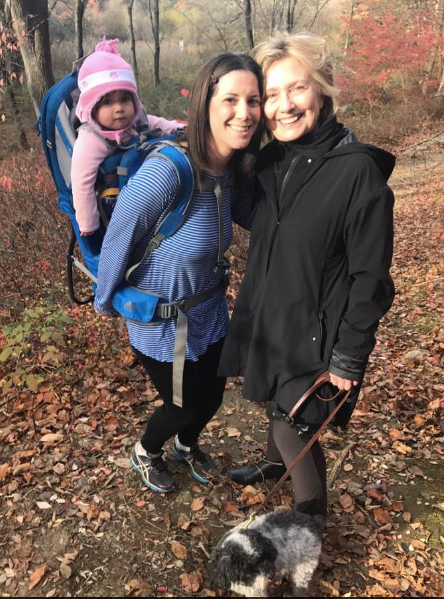 It's been a rough couple of days for some Hillary Clinton supporters, but a young mother's story of her walk on Thursday will likely help disappointed voters get back on track.
Margot Gerster, of White Plains, New York, posted on Facebook that she'd been "feeling so heartbroken" since Clinton's surprising loss to Donald Trump. To get over her blues, Gerster took her baby daughter hiking on Thursday in Chappaqua, near her parents' home.
"We were the only ones there and it was so beautiful and relaxing," Gerster wrote.
Someone else had the same idea for making the most of a beautiful autumn day after the bitter campaign season. As Gerster was getting ready to leave, along came Hillary Clinton and Bill Clinton, who were out for a walk with their dogs. The Clintons have lived in Chappaqua since leaving the White House in 2001.
"I got to hug her and talk to her and tell her that one of my most proudest moments as a mother was taking Phoebe with me to vote for her," Gerster wrote in her post, which is no longer public. "She hugged me and thanked me and we exchanged some sweet pleasantries and then I let them continue their walk. Now, I'm not one for signs but I think ill definitely take this one. So proud."
Guess who took their picture? The former president, Gerster said.
Popular in the Community