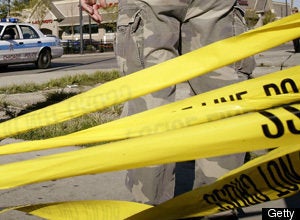 It was a warm spring evening on Milwaukee's north side and four-year-old Jasmine Owens was playing double dutch outside her family's home. As she enjoyed the simple pleasures of childhood, a stray bullet struck her in the head. She died on the scene. Days later, Carey Jenkins would stand over Jasmine's casket, looking at the four-year-old in her pink dress and listening to the cries echoing in the church for the violence to end.
"I prayed to God that day that I would never be there to help bury another kid, but last year alone there were 71 murders in our small city of Milwaukee," says Jenkins, a 33-year-old Milwaukee native who has launched a campaign to bring urban violence to the nation's attention. The sky-high homicide rate in Milwaukee is not unlike many other American cities. According to a preliminary FBI report, there were 331 homicides in Philadelphia in 2008, 98 in San Francisco, 510 in Chicago, 114 in Indianapolis -- and the list goes on. An average of 17,000 people have been murdered each year over the last three years in the US. And this murder rate disproportionately affects young people, who represent 62.5 percent of all murder victims.
For young people of color, the statistics tell an even grimmer story. The homicide rate for young, non-white people is over six times their white peers. "This is a true epidemic in our country and we need to give it the same attention we would any epidemic taking 40-plus people's lives a day," says Jenkins, who works as training director for the League of Young Voters. The League of Young Voters is a national youth organization working to engage young people in the political process, with an emphasis on engaging low-income youth and young people of color.
That's why Jenkins and other young people across the country are leading the charge to bring federal violence prevention and juvenile justice policy to the top of Obama's policy agenda. For the past six months, Jenkins has been traveling the country organizing young people to take action on the Youth PROMISE Act, a proposed law that would increase spending on violence prevention and look at ways of reducing the number of incarcerated youth in the U.S. "We can't just let the violence continue. I was in Chicago last month and there were seven murders in 24 hours and zero national news coverage," Jenkins says, shaking his head. "No national coverage and it was Obama's home state? Under Bush we may have expected this, but from Obama, his administration and Congress, we are demanding more."
The Youth PROMISE Act provides federal money to implement proven programs that reduce violence and crime at the local level. Under the Youth PROMISE Act, communities facing the greatest youth gang and crime challenges would form local councils with representatives from law enforcement, court services, schools, social service organizations, health and mental health providers and community-based organizations. Each council would develop a comprehensive plan for implementing prevention and intervention strategies targeting young people at-risk of becoming involved, or who are already involved in, gangs or the criminal justice system. According to Jenkins, "Youth PROMISE will provide resources to cities toward tried methods that have proven to increase the safety of our streets and of our youth, such as keeping the schools open for after-school programs, tutoring and job-training for youth, and training for police to do foot patrol programs."
The bill was sponsored in the House by Representatives Robert C. "Bobby" Scott, D-VA, and Michael Castle, R-DE, (H.R. 1064) and in the Senate by Senators Robert Casey, D-PA, and Olympia Snowe, R-ME, (S. 435). Currently it has over 157 co-sponsors, and broad support from more than 225 national and state organizations. Representative Scott says, "The Youth PROMISE Act will promote sorely needed juvenile and criminal justice reform in this country. The Youth PROMISE Act will increase public safety, decrease crime and yield cost savings in local communities across the country. For too many years, politicians have been codifying slogans and soundbites that do nothing to reduce crime."
"We need to speak up and let our elected representatives know that we, as a country, don't believe in throwing away young people and that no one gets left behind. Programs like green job training programs and investment in vocational education are what can help create real pathways out of poverty and help show young people that there are real alternatives," says Julia Rhee from Green For All, a national organization dedicated to improving the lives of all Americans through the development of a clean energy economy.
That is exactly what young people are doing -- speaking up and organizing to push Congress to take immediate action on the issue of violence in their communities by passing the Youth PROMISE Act. "This is my life's work, working to make the issues of violence, that are so disproportionately affecting young, poor people and people of color, a national issue that people understand. Because I know that if people had to bear the burden of violence the way I have or the way Jasmine's mother has, passing a piece of legislation like Youth PROMISE Act would be the bare minimum," says Jenkins.
REAL LIFE. REAL NEWS. REAL VOICES.
Help us tell more of the stories that matter from voices that too often remain unheard.