It is a fact that in the year 2016, the majority of young people in Greece are trapped in the whirl of unemployment and illegal labor. However, there are also cases of youngsters who manage to stand out, one way or another.
In this article I am going to talk about the efforts made by Dora Bitsi and Elpidoforos Chrisovergis, two young people of 28 years old, who have devoted their lives to volunteering.
Two years ago they crossed eleven African countries within six months, offering voluntarily their help to foundations, orphanages and other charities. Therefore, with the money they raised through internet campaigns, they managed to help orphanages and infirmaries in South Africa, Tanzania and Ethiopia, establish a school in Kenya, and built a well in Sudan, thanks to which, more than 1.200 people have now access to drinking water.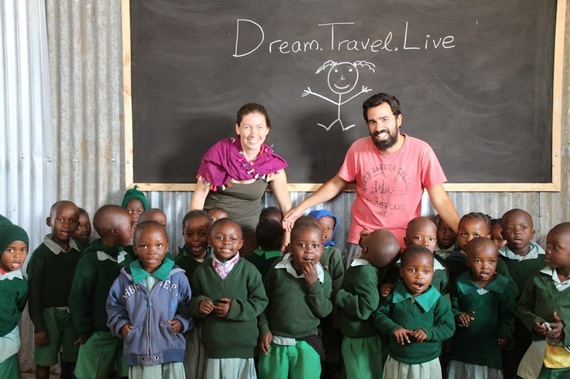 However, crossing Africa with a means of transport is not easy, as there are a lot of dangers. The most frightening journey for them up until now, has been the one towards the central part of Mozambique. As they informed me, it is a place where the guerillas had been fighting the government for a long time, something that made their travel quite difficult. "Being accompanied by military forces, we crossed the danger zone with a car that we had hitchhiked a while ago, and then we went on walking towards the peaceful Malawi".
From London to Athens on a bike for a good cause
Nevertheless, their need for offering did not stop there, as a few months ago, Elpidoforos and Dora travelled from London to Athens on a bike. The aim of this effort was to raise money to help the "Flame", an association made by parents, whose children are suffering by some neoplastic disease. And indeed, they did it, as the sum exceeded 10.000€. They also intended to raise the awareness of people in general on childhood cancer.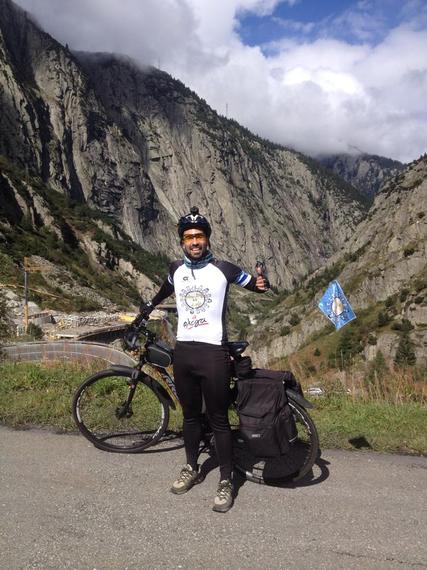 Helping the victims of the earthquake in Nepal
These days Elpis and Dora find themselves in Nepal, where they have already put into practice their project entitled as "AsiaQuest". Their aim is to travel in ten countries of Southeast Asia (India, Nepal, Thailand, Malaysia, Singapore, Cambodia, Vietnam, Laos and China) within six months, with their rucksacks being their unique equipment.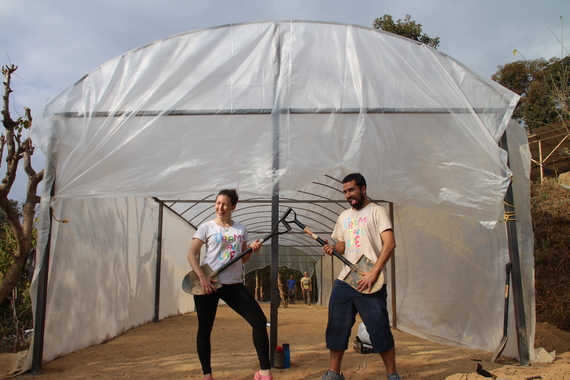 "What we are planning to do, apart from one more documentary on travelling, are three very important projects that we are organizing in Nepal, Campodia and Vietnam for humanistic purposes. We always try to combine our love for travelling with our passion for volunteering" they say.
As they claim, their experience in Nepal was the one that has, by now, touched them most in this travel. The devastative earthquake that we all watched terrified from our TVs last April, caused the death of 9.000 people and made millions of people lose everything. After this incident Dora and Elpis promised that they would do everything they could to help as many of the inflicted residents as possible.
"And so, in collaboration with the local organization YUWA we established the #TheGreenhouseProject in Takure, a village which is located in the area of Sindhupalchok, where 99% of the houses have been destroyed. Our aim is to create a huge greenhouse containing coffee and avocado trees, which will be distributed to the local people to cultivate them, sell them and on this way, gain an income that will enable them to build their houses again".
So, with the assistance of 239 individuals they managed to raise the 5.500 € required for the construction of the greenhouse, and after working full-time on a daily basis for three weeks, they finally did it!
As they told me, the residents of Nepal are indisputably some of the kindest and friendliest people they have ever met and despite having lost everything, they are still grateful for being healthy and they never stop smiling.
"They often used to invite us at their homes for a meal or a tea, as they wanted to thank us for what we were doing for them" they add.
But how can they make so long and long- lasting travels? According to them the answer is simple: "We started raising all the money we needed for our travels much earlier. By staying in a tent, being supplied with cooking utensils and having a very low daily budget, we managed to visit many places and organize many projects".
Travelling constitutes the best educational means for Dora and Elpidoforos, as it has given them feelings they have never had before.
They end up saying: "What we felt when we built the classroom in a slum in Kenya, the well in a village in the middle of the desert in Sudan and in other places, cannot be compared to anything else in the world. And we'll go on, having love, smile and solidarity as our guides. When you see somebody smiling and you know that the reason is you, this provides you with a unique energy which spreads around you and makes the world beautiful".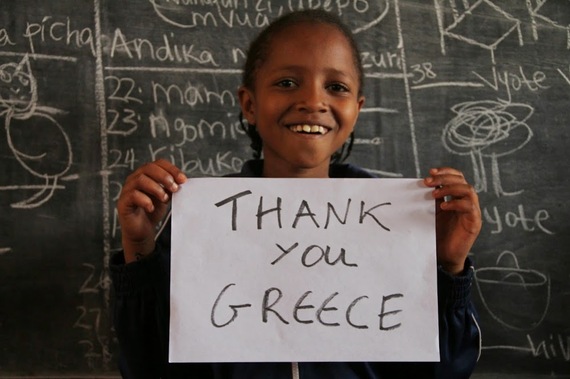 Calling all HuffPost superfans!
Sign up for membership to become a founding member and help shape HuffPost's next chapter