Two years ago The Pollination Project started a daily giving practice, making daily $1000 grants to social change visionaries around the world. Since we started, over 50 individuals and families have joined in, each giving $1 or more a day to support our daily grantees. Here are the extraordinary people we supported this week.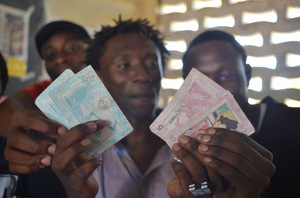 Alternative Currencies in Kenya. Carmen Mauk is supporting a sustainable economic infrastructure in Kenya through her work as a volunteer with the Community Currency Project. They are in the process of creating an alternative local currency that will help to increase local trade by allowing business owners to sell their goods to local people who normally do not have access to government sanctioned money. The Community Currency Project not only helps business owners, but it will help impoverished families support themselves by giving them to access to credit and finance for essential local goods and services.
Vegan Students in Bexley, OH. Sirrus Lawson is the leader of the Capital Animal Liberation student group at Capital University in Bexley, Ohio. They are currently waging a campaign to promote the sale of vegan food at their university. Sirrus and other students have already organized informational tabling, petitioned the student government for Meatless Mondays in the cafeteria, distributed informational leaflets on vegan lifestyles, and held several vegan bakesales. With the help of The Pollination Project, Sirrus plans to stock the library at Capital University with vegan cookbooks and films promoting vegan diets and lifestyles, as well as to organize future food tasting and bakesale events.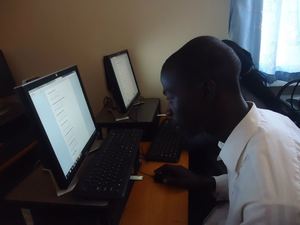 Literacy in Kenya. Venuste Kubwimana is the founder of the International Transformation Foundation, a global youth-led nonprofit dedicated to fighting poverty, illiteracy, and social alienation within communities in Kenya. Recently, Venuste and others working with the International Transformation Foundation created the Kahawa West Community Library & Resource Center in Kahawa, Kenya. Kahawa is home to about 40,000 people, many of whom are impoverished and/or illiterate. The Kahawa West Community Library & Resource Center will operate as community hub, serving as a one-stop resource for educational materials and books, literacy education, computer training, internet access, and even community meetings.
Art Classes in New York City, NY. Mika'il DeVeaux works with Citizens Against Recidivism, Inc. in New York City, a non-profit organization that creates programs aimed at reducing high rates of incarceration and recidivism in communities of color. Their newest effort, Building with Art, draws inspiration from the Black Lives Matter social media campaign and aims to serve youth from economically disadvantaged communities, offering after school art instruction proctored by renowned artists. Students learn how to render a portrait, compose a still life, and paint landscapes from photos. The curriculum also includes lessons on mixing color, design, and composition. Project participants' final compositions will be displayed at an exhibition and reception at a local art gallery.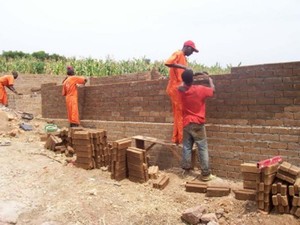 Sustainable Building in Rural Kenya. Gloria Kieti is a researcher and volunteer at the Angels Center of Hope (ACOH) Foundation in Kenya. Gloria is intimately familiar with the environmental devastation resulting from deforestation and soil erosion in her community. Locally, houses and buildings are often constructed using clay bricks fired in traditional kilns, however, the process of harvesting the clay for construction is largely detrimental to vegetation and animal life. With the help of The Pollination Project, Gloria is assisting local youth by helping them take advantage of government-sponsored grants to purchase environmentally-friendly materials to construct their homes.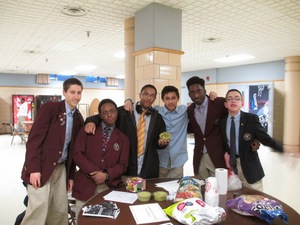 Vegetarian High School Clubs in Hyattsville, MD. Alexander Miller is the founder of the DeMatha Catholic High School Food Club located in Hyattsville, Maryland. DeMatha Catholic High School is an all-male school where Alexander is now leading a Food Club that holds weekly meetings where they offer vegan food to their classmates. At their meetings Alexander and other club members serve vegan food samples to students in attendance while encouraging students to discuss the connections between food, nutrition, sustainability, animal rights, and other related issues.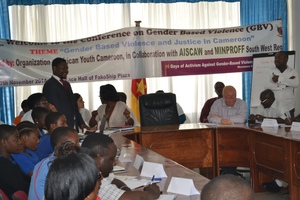 Fighting Gender Inequality in Rural Cameroon. Jude Thaddues Njikem is the country coordinator for the Organization of African Youth (OAY), a non-profit advocating for equality in Cameroon. In their newest project, Girls Against Gender Inequalities (GAGI), Jude and OAY are training local actors to run gender equity workshops in rural villages where they will raise awareness of the often unrecognized daily manifestations of gender inequality while fostering dialogue between women and other community members. Additionally, GAGI volunteers will advocate for women's rights and equality by holding meetings and workshops with community leaders, youth groups at schools, and even making appearances on local radio talk shows.
Want to be part of the joy of giving? Join our Daily Giving Community, or simply create your own giving practice. It will change your life!
Calling all HuffPost superfans!
Sign up for membership to become a founding member and help shape HuffPost's next chapter