 During last night's presidential debate, we heard President Obama and Governor Romney speak about the future of our economy, the health care system, and the role of government. Everything they talked about affects the lives of all citizens, including our youngest citizens. Many may not be able to vote yet, but young people are still having their say this election.
In Houston, students, teachers, and the entire school administration are encouraging people to vote by dancing to the K-pop sensation "Gangnam Style." In Chicago, students participating in Mikva Challenge programs were heavily involved in last year's mayoral election and continue to be involved in the 2012 elections (including over 1,700 students serving as election judges in the 2012 primary!). Thousands of college students all across the country are mobilizing their campuses through programs run by Rock the Vote, MTV, the Campus Election Engagement Project, Campus Vote, the League of Women Voters, and Student PIRGs. Young people, including former YSA Board member Alex Wirth, are leading a campaign to create a Presidential Youth Council.
I love sharing these examples, but this type of engagement is not yet the norm. Too many young people are being left out of this election. In fact, too many young people are left out of our democracy altogether.
On the most recent National Assessment of Educational Progress (NAEP) Civics Assessment, more than two-thirds of all American students scored below proficient. Research from CIRCLE shows a civic opportunity gap: High school students attending wealthier schools, those who are college-bound, and white students get more of these opportunities than low-income students, those not heading to college, and students of color. Only 29 percent of young Americans believe they have a say in government, and while youth (18-29) voter turnout was 51 percent in 2008 -- an increase of 2 percent from 2004 -- youth participation is still far below the 62 percent voter turnout rate of all eligible voters.
For the health of our democracy today and well into the future, these facts must change. We must do more to engage all citizens in our government, and engagement must start young.
Eighteen may be the legal minimum voting age, but it is not the minimum engagement age. I call on all candidates, adult voters, parents, educators, and community organizations to ask young people what they think about the issues.
Elections are about so much more than just the act of voting, and there are many ways for young people to be engaged in elections that don't involve casting a ballot. Even if they're not old enough to vote, they can develop and share opinions, educate eligible voters, help register voters, get out the vote, ask tough questions of candidates, serve as a poll workers or greeters, become citizen journalists, or volunteer for campaigns. We know young people care about their communities just as much as adults, so we need them to engage them just as much as adults during elections.
There are four big reasons we need young people involved in the election process. First, young people bring unique perspectives, enthusiasm, and energy to communities -- and we need all these qualities during elections! Second, we know that engaged young people grow into engaged adults. Studies show that those who vote the first time they are eligible will vote more consistently throughout their lives. If we want more people to vote when they turn 18, we must engage them before they turn 18. Third, we face too many big issues that need to be solved quickly, so we can't afford to wait until young people to turn 18 to begin addressing them -- or to start offering their ideas and challenging our elected leaders to tackle these issues.
Finally, just look at the numbers. According to the 2010 Census, 34 percent of the total U.S. population is under age 25 -- that's 104 million people! We cannot afford to leave more than one-third of Americans completely out of the election. By comparison, those over age 45 comprise 39 percent of the population. It's time to spend just as much time engaging those under 25 as we do to engage those over 45. It's not just a "nice;" it's a necessary.
We need youth ASAP this election! That's my way of saying that we not only need youth to be engaged as soon as possible, but also that we need youth Awareness, Service, Advocacy, and Philanthropy. To really address big issues, we need youth to employ all four strategies: public education and awareness raising, direct volunteering and service, advocacy and policy change, and philanthropy. When combined, these strategies will lead to lasting community change.
The highlight of this election may be the presidential contest, but there are thousands of other issues also on the ballot. There are 500,000 elected officials in the United States, and 98 percent of them are local. Young people have the right to be involved in every election from dogcatcher to President of the United States. Elections provide a unique opportunity for young people to deepen the impact of their service and philanthropy through public awareness and advocacy activities at all levels of government.
At Youth Service America, we work with thousands of young people leading awareness, service, advocacy and philanthropy campaigns; when these and other young people serve their communities, they have a right to ask candidates about what they will do to address the issues that matter to them. In South Dakota and in Connecticut, we have young women leading awareness campaigns around teen driver safety; they have a right to ask their candidates for the state legislature about driving laws that affect teens. A second-grade class in Tacoma, Washington is spending their year studying and cleaning up a local watershed; they have a right to ask their candidates about their local, state, and federal environmental policies. And in local YMCAs across the country, young people are running health and wellness campaigns to increase physical fitness, healthy eating, and decrease childhood obesity; they each have a right to ask their gubernatorial candidates for Governor about their state's health initiatives.
Young people are volunteering and serving their communities at record rates -- and they deserve the right to ask candidates questions, and to be engaged in this election.
This summer, CIRCLE surveyed youth across the country about, among other things, what would influence them to vote. There was a clear answer: ask. Almost half of young respondents reported that being asked by a friend or a parent would influence them to vote. So, let us all do our part to engage the young citizens in our lives this election.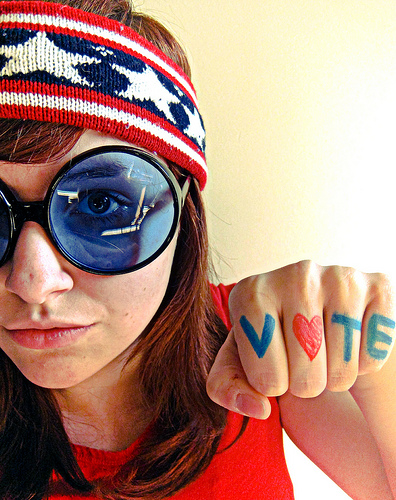 To help engage young people in the elections, YSA offers "ServiceVote 12 for '12" - twelve ideas of how young people can serve this election season (and only one of them requires you to be 18!) Get all the ideas, related resources, and let us know how you're getting involved at www.YSA.org/ServiceVote.
Steven A. Culbertson is the president and CEO of YSA (Youth Service America), a nonprofit that improves communities by increasing the number and diversity of youth involved in service and service-learning. www.YSA.org or on Facebook.
Calling all HuffPost superfans!
Sign up for membership to become a founding member and help shape HuffPost's next chapter