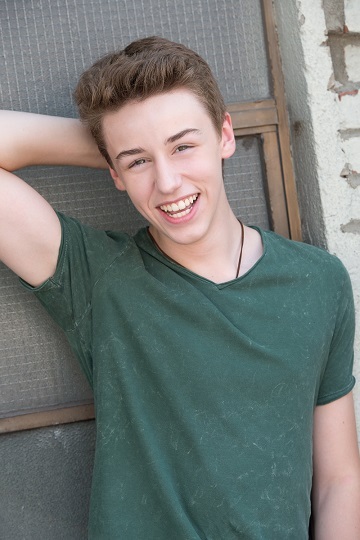 Cormac Cullinane stars in the Ed Burns / Steven Spielberg produced TNT series Public Morals. Twitter: @cormacullinane Instagram: @cormaccullinane Facebook: Cormac Cullinane

Photo by KING.
Just how did a kid from Queens land on our television screens?
Well, on a whim, Cormac auditioned for a summer theater arts program, and to his surprise, as this was his first time singing in public, he made it into the program, and was given a solo. That same program was where Cormac was first discovered, and has since parlayed his love for music into a successful singing and acting career.
You play James Muldoon on TNT's Public Morals which is produced by Ed Burns and Steven Spielberg. Tell us about your audition.
My agent was the one who set me up with an audition for Public Morals. When I first saw the breakdown, I knew this was something I wanted to be a part of because I felt a deep connection to the character's Irish American background. I wore an old T-shirt, ripped jeans, and work boots. It was just me and the casting director. After I did the sides [piece of script], I felt really good! "I have a good feeling about this" I told my mom when I got back to the car. Little did I know that I got the part!
Who was the first person you met on set? Did you meet Steven Spielberg right away?
The first person I met was Ed Burns. He is such a cool guy! Even though I was nervous at first, Ed made me feel completely relaxed and comfortable. We really hit it off. I knew right away that we had a connection that would show with him playing my father. Ed also let me in on a little secret. He told me that I was hand picked by Steven Spielberg! I was astonished!
You play several instruments. Which ones and which one do you find yourself playing the most? Have you ever been in a band?
My guitar is my baby. I LOVE it. I play it as soon as I wake up, and right before I go to bed. When I get home from school, I usually jam out on my piano before I get started on my homework. I've never been in a band but I was a member of the Children's Orchestra Society as well as the NYS Honor Band where I played trumpet. I play them all pretty well. I could audition with all of these, well, not so much on the accordion!
How old were you when you saw your first Broadway show and what show was it? Do you remember anything about it?
My first Broadway show was Mary Poppins. I was around six years-old. I remember how amazed I was when Mary Poppins started "flying"! I'm sure my mom got a big kick out of my reaction.
What's your favorite brand of sneakers?
I love Converse, preferably High Top Chuck Taylor's. My first day on set, when I went to wardrobe, they were surprised to see that I was already wearing the exact same pair of high tops that they picked out for the show!
What's the biggest challenge as an actor with your character in Public Morals?
I suppose one of the biggest challenges as an actor for the character "James" is that I'm not used to being particularly... bad! For instance, in my scene where James comes home drunk, that was a challenge because, well, I've never been drunk!
What kind of tech do you use? What are your favorite video games?
Everything I own is Apple!!! iPhone, iPad, MacBook (you get the idea). I'm not the biggest as far as video games go, but I have Candy Crush and Clash of Clans on my phone, if that counts for anything!
What do you do every day no matter what?
The one thing I do every day is tell my mother how much I love and appreciate her. I also try to show her by helping her out around the house. She is such a caring and giving person, not only to me but to everyone she meets. I wouldn't be who I am without her!
Share some stories about living in Ireland.
The best memories that I have from Ireland are walking down the cobble stone streets, hearing the fiddle and guitar echoing through the square, the smell of fish and chips wafting through the air, and the people. The people's joyful way of living. But most of all, feeling free.
What are your near and future plans for your life, in general?
There are so many things that I want to accomplish in my life. I am defiantly going to continue acting and singing, as well producing and writing my own music If the music and acting don't work out, I would love to pursue a career in the medical field, either a cardiothoracic or a neurosurgeon.
Tell us about your name "Cormac".
Well, I was named after St. Cormac, also called the son of Cullinan (which is also my last name), who was the king of Munster (Ireland) and was also a bishop.
Anything else you'd like to say?
For more information on me, you could always check out my IMDB. Also my Instagram, Twitter, and Facebook has a lot on Public Morals, as well as what I do during my free time. Check it out!
REAL LIFE. REAL NEWS. REAL VOICES.
Help us tell more of the stories that matter from voices that too often remain unheard.