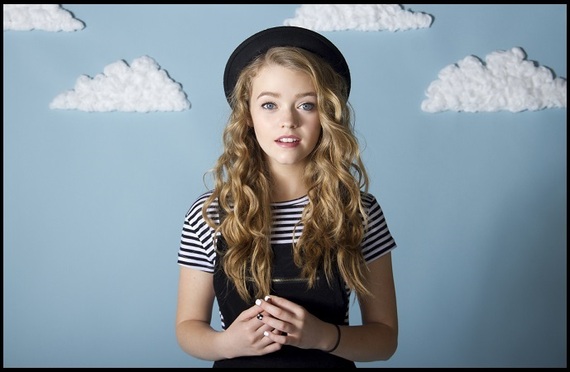 Jade Pettyjohn plays Bird in the upcoming film Girl Flu, opposite Jeremy Sisto and Katee Sackhoff, premiering at the 2016 Los Angeles Film Festival on Monday, June 6th.
Jade Pettyjohn's Website, Twitter & Instagram.
Photo by Jessica Pettyjohn.
Young performer Jade Pettyjohn has been rocking the scene as of late! You'll recently recognize her from Nickelodeon's School or Rock. She also has a film that's about to be introduced called Girl Flu, starring Battlestar Galactica's Katee Sackhoff.
And!!! In addition to acting, Jade Pettyjohn is also a budding guitarist and song-writer who also plays the piano and a bit of cello. Plus she has a great smile!
You play Bird in the upcoming film Girl Flu, opposite Jeremy Sisto and Katee Sackhoff, premiering at the 2016 Los Angeles Film Festival on Monday, June 6th. Tell us about your character. Are you going to the Festival? Who's accompanying you?
Bird gets her period in front of her whole class at school and is absolutely horrified, confused and embarrassed. She doesn't understand what is happening to her and her fun loving but irresponsible mom isn't much help. So the film is about Bird's struggle trying to understand the whole thing of what is happening to her. I am absolutely going to the film festival and will be at both screenings. The first night the film's cast and crew will be there and we're all doing a Q&A after the film. I am looking forward to seeing everyone again. The second screening I have most of the School of Rock cast mates coming and we are all going to eat after.
People have been enjoying your character Summer in Nickelodeon's School of Rock. Tell us about your audition.
The first audition for School of Rock I was given about 10 or so pages of dialog and was asked to prepare a song of my choice with the instrument of my choice. I auditioned for the part first and then played the guitar and sang a Red Hot Chili Peppers song. About a month later I had a callback. Then there was a mix and match, network rehearsals and then Network screen test. It was great reading with all the different people and getting an idea of how we all work together. All the rehearsals made the screen test experience relaxing.

The world thinks that all young performers know each other. Is this true?
Hahaha! Completely not true. I do know a lot of people my age that are actors that I have met at auditions, mix and matches, worked with or had some sort of social event with. But I certainly don't know everyone. And it is not easy to schedule hang out time when everyone has packed schedules already. I am friends with all of my School of Rock cast-mates and we do have movie nights or go to Six Flags together. I also became good friends with Maeve Tomalty, from working with her on Henry Danger. Through her I met Haley Tju, from Bella and the Bulldogs, and other actors. What is cool about being friends with other young actors and musicians is we all have very similar lifestyles. We are all growing up in the entertainment industry, so it's nice to be around people with common ground.
You recently attended the Tiger Beat Now launch party. What preparation did you do in order to attend?
I picked out a dress from my closet that I got from TopShop and that I've been dying to wear. The day of the party we were shooting School of Rock. So I already had stage make-up on, but Sandy and Leslie (my hair and make-up team on SOR) volunteered to do something special for me when we wrapped. Leslie made my make-up bolder and less Summer-like and Sandy did these awesome braids on my right side. Then my cast-mate Ricardo and I got a ride to the party which was really close to where we shoot!
What goals do you have for your future and what are you doing to obtain those goals?
I have a lot of future goals. Like every actor I dream of those roles that make an impact and inspire people. Each project I get I really dedicate myself to the work of it. I take classes when I am in-between projects and focus on increasing my abilities. I am also a singer/songwriter. So I am constantly playing my guitar with my journal out and working on my sound and phrasing lyrics in just the right way.
Are you going out with anyone?
Who has time? I work six days a week. Right now I can't even imagine adding a boyfriend to all of that.
What are your plans for the summer?
We are currently shooting the second season of School of Rock and during hiatus' this summer I am super excited to be going to Canada shooting a TV movie for Nickelodeon with some of my friends. I love when I get to travel for work! We are going to have so much fun!
What's your dream vacation?
I want to go to Italy with a group of friends and we can go on road trips to cities all over the country. There will be lots of pasta, lots of local music, and lots of adventures.
If you HAVE to do three things in one day, what would they be?
Practice practice practice (music, acting and writing), hang out with friends and watch The Office!
Popular in the Community