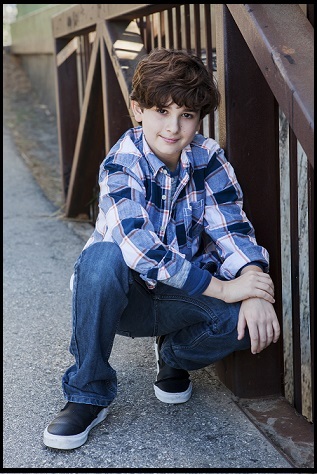 Jax Malcolm has overcome many obstacles in his life.
Jax Malcolm's Twitter , Website & Instagram: @thejaxmalcolm.
The Other Side of the Door Trailer
Photo by Lesley Bryce.
At just 12 years old, actor Jax Malcolm is wise beyond his years. It was interesting hearing him talk about school, work and the kidney operations he had at a young age. He's a Junior Ambassador of the Children's Hospital of Los Angeles. Helping others is just one of the things that makes Jax so special. It's like -- I can't describe it -- you have to have a dialogue with him to know what I'm talking about.
Be sure to check out his latest film, The Other Side of the Door, out now. If you're not too scared, that is. :)
In The Other Side of the Door, you VOICE the character of the young son, Oliver. Did you have to memorize your lines? Were they done in a studio with voice only, no cameras?
I was given the opportunity in FOX's The Other Side of the Door to voice Oliver / Oliver's Ghost by Director Johannes Roberts. All of my work was done in the studio. I was shown clips and different scenes of the action to add my voice to. The great thing about voice work is that you need to be familiar with your lines but you don't actually have to memorize them!
I have two cats who are both older than me. Crackers is an orange tabby, who adopted my family by following my parents home the day they returned from their honeymoon, and Wallace who's a flame point Himalayan. Max is my family's rescue dog who you might see on my social media. He lives at my grandparent's house.
You recently did an ad for Taco Bell. Did you have to eat any of the food? How long were you on set?
I did not have to eat the food because the commercial was about sharing. I actually was brushing my teeth the whole time. They were super shiny by the end of the day! I had to try and share a bathroom with my two on-set sisters. It was a really fun shoot, and my part wrapped in a day.
What, if anything, are you allergic to?
I have a couple of allergies. I am allergic to dairy and latex.
What has been your favorite acting role so far?
I've been really lucky to have the opportunity to work with a ton of great comic actors, directors, and producers like Nick Kroll, Keenan Ivory Wayans, and Nathan Fielder. My favorite role so far was playing Jason on Crazy Ex- Girlfriend on the CW. It was an amazing experience to sing, dance, and work with Golden Globe winner Rachel Bloom.
You've had asthma since you were little. What kind of exercise and sports do you do? How do you advocate a healthy lifestyle? How do you control your asthma?

As a kid with asthma since I was born I've learned the importance of staying healthy. This starts with regular visits to my doctors and allergist to monitor and control my asthma. Next I always take my medication as prescribed. I do my best and my parents help me with eating healthy. One of the big ways I deal with having asthma and what I encourage others to do is exercise on a regular basis. I am a year round competitive Junior Olympic swimmer and a Certified Los Angeles County Junior Lifeguard. If I'm not working or auditioning you'll find me at the pool working out to stay healthy.
What are your thoughts on kids who play 'too many' video games instead of doing their studies?
I love video games too! But my parents have taught me the value of moderation. The best thing I can recommend to other kids who would rather play than do their homework is to set a timer for video game time and when the time is up it is time to study. That way you can do both, have fun and get good grades.
What are your future goals as a kid and as an adult?
My immediate goals include booking a series regular role on a TV series and making Junior Olympic qualifying times for the next swim season. As an adult I'm shooting to be a member of Team USA in the 2024 Olympics and starring in an action/superhero franchise. I saw the first Transformers movie in the theatre when I was five years old and I knew then that I had to do a movie with Optimus Prime and Bumble Bee.
Are kids in show biz more mature than kids not in the biz?
For the most part I'm no more mature than my friends at school. I think that my goals with acting are just like my friends who play little league, or who study hard to get straight A's and make the honor roll. It's a choice to try to do your best. You don't have to be a child actor to make mature choices.
What's the most complicated thing in your life? Why?
I'd have to say my food allergy makes things pretty complicated. Having a food allergy means my family has to take a lot of precautions to make sure I'm safe. I have to carry medication including and epi-pen with me at all times. I can't just go out to eat anywhere I want with my friends because many places don't have allergy safe kitchens. When I'm working or going anywhere I often have to bring my own food or read every single label from every ingredient to make sure it's safe for me to eat. To make things less difficult when we go on vacation my parents and I like to go to Disneyworld because they are so allergy friendly. My mom always says it's the one place she doesn't worry about what I eat. This is because whatever restaurant we go to at Disneyworld the chef comes out from the kitchen to talk to me and my parents about my allergy and what is safe for me to eat and the food is always delicious!
Calling all HuffPost superfans!
Sign up for membership to become a founding member and help shape HuffPost's next chapter