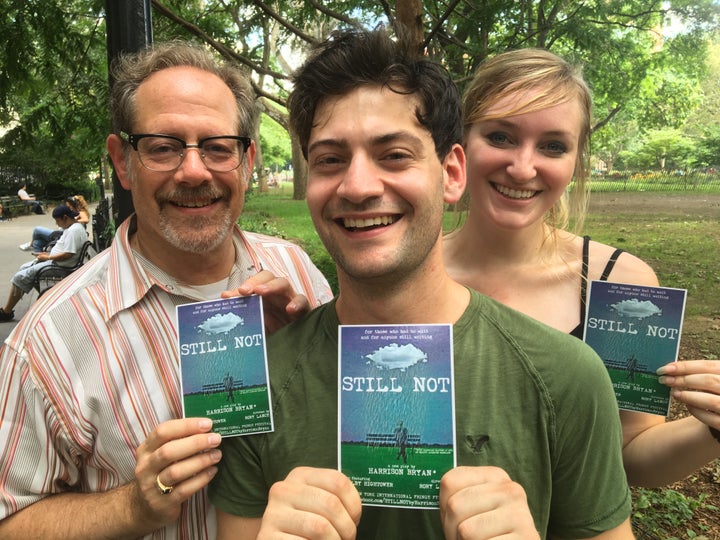 We interviewed young playwright, Harrison Bryan, author of "Still Not," opening this week at The New York International Fringe Festival in New York City about his work. Mr. Bryan is one of many young, up and coming playwrights hitting the festival circuit this year and changing the way we see theatre.
Q: Why a playwright? At what point did you feel you wanted to be a playwright?
Harrison: I don't consider myself a playwright-first or an actor-first kind of artist; both creative-outlets serve my creative needs differently - and I equally appreciate both.Thus far, my love for acting has informed my playwriting and my love for playwriting has informed my acting. They feed each other. In fact, I think that's why I like acting in my own plays; because it feels like a more completed version of the craft I set out to do. Creating a character from start to finish; from the initial thought, to the paper, to the stage and the audience; for me, that's the crafts' total process, a version of "The (Theatrical) Triple Crown" worth pursuing. And that challenge, plus the ability and tenacity needed to do it all well, will never cease to amaze me.
Writing new plays for the theatre is especially important to me, because (1) I love The Theatre like its my home and (2) without new plays, I fear the future of theatre will be forever trapped in commercialized adaptations of popular movies and books - and while that's often fun and even more often quite profitable - I strongly believe that personal, unique, original stories need to be fostered/prioritized by theatre artists and the producers responsible for the future of our industry. For me, part of the fun and the beauty of Live Theatre, is the RISKS we take in the process. And nothing is scarier than the risk of putting out a new play - and getting a raw reaction from a live audience for the first time.
Also, I have to admit that writing is often therapeutic for me. It's a place for me to express thoughts, struggles, anger, confusion, and joy. In the same way playing a character onstage might - but as a playwright, I'm not limited to the experience of one character, but rather I remain open and engaged with everyone's perspective in the world as I create them. Playing multiple characters in the same play is something I love to do - so I'm not surprised that I enjoy writing for a similar reason.
Q: How many plays have you written and what are they about? How do you choose your topics?
Harrison: "Topics" often come to me in the moment, or in an experience, or over the course of a long period of time. I'm interested in good-storytelling, so often I won't sit down to start writing, unless I have the whole story in mind. I started in high school. (we were fortunate enough to have a great playwriting program!) There, I wrote three one acts. A political satire, an abstract love-letter to the theatre, and a sit-com like semi-autobiographical family comedy. At Boston University, where I received my BFA in Acting, I wrote over a dozen short one acts. Three of which are Shakespeare parodies, (Iago's Rod, Romeo's Jules, & Ophelia Later) where I merge his classical verse with our contemporary colloquialisms. A few were satires of societal issues, some more successful than others, but all controversial in content. And a few more were emotional explorations, often dealing with love and relationships in an absurd, poetic, or theatrical nature.
Since moving back home, to Brooklyn, I've written several more, including two full-lengths, STILL NOT and Snow. Both of these plays explore our basic need for human connection and how we cope when those connections, and hearts, get broken. STILL NOT explores the passive strategy of sitting and waiting for the other person to come back to you, whileSnow explores the opposite strategy, an active pursuit for anybody else, in attempt to replace your broken heart with another version of love. Both strategies seem like Total Extremes, and yet when we tell our friends about our break-ups, how often do those stories take epic emotional and irrational paths to some illogical, yet totally understandable, outcome? That's the mystery of Love and Loss - and the reason I feel both plays are as relatable - as they are humorous - as they are hard-to-watch.
Q: What are you motivated to write about? Do you have a genre that appeals to you or do you feel your motivation shifts and will shift?
Harrison: When I started writing, it felt like it was a kind-of-improv...with myself and a pencil (now, a laptop). When I'm writing, just like acting, I get to step into the characters' shoes - and it's my job to figure out ways they can "Yes AND" each other. I admire deeply the craft of comedy - so my initial instinct is always to look for the humor in every character. I am referring to HUMOR, both, in the traditional sense of the word, as in "What's the joke?" - but also, in the way Michael Shurtleff describes it in his popular book Audition. In his book, he talks about Humor as the characteristic that keeps human beings from giving up on life all together. He has a bit of a cynical mind, but I like that a "sense of humor" has the implication of being the THING that keeps us going; the thing that gives us hope and meaning. I find that immensely helpful in regards to motivating my characters (and myself) to make decisions, and to keep adapting to circumstances - especially in this unpredictable world we find ourselves living in.
Genre. I love satire. I love absurdism. I love silliness. But I also love the deep well of emotions we are blessed with as human beings. So I try in my scripts, when applicable, to balance my enjoyment of the absurd with my marvel for the terrifying nature of reality. Where these two worlds meet, that's hopefully where you'll find me.
Q: As a playwright, how do you approach the business side of your craft? Any organizations or education that you feel is or will be indispensable?
Harrison: As a playwright, the business side of the craft is still very NEW to me. I'm not really sure where to start so if anyone reading this has any advice or people they want to introduce me to, that be awesome! I just want to keep writing and make myself better and better, and eventually I'll have a wealth of material to show literary agents and producers interested in my work. My connection with Boston University and the Boston Playwrights Theatre is strong, and I hope to continue to always have their support. I have a few writer friends here in NYC and we often meet to brainstorm and give each other feedback. I just want to share my plays with as many people as possible...well, at least the good plays...
Q: How was "Still Not" created and why? Where did the story come from and where do you think its going?
Harrison: I wrote STILL NOT as a ten-minute play, first semester freshman year, at Boston University. It was simple. Two strangers - a lonely park bench; one waiting for her ex and one waiting for her to stop waiting. I produced it that year, acting opposite my then best friend, Shelby Hightower. That small showing was well received by my peers, and I was encouraged to write a sequel - "The Next Day." When I produced that play, Shelby and I were now officially dating. My perspective on relationships changed as a result, and I kept writing for us, and these characters, in an attempt to find answers to questions I wasn't sure I had words for. Now, after two years of drafts, developed with the help of Broadway playwrights Lydia Diamond and Kirsten Greenidge, much of the script has changed, but I believe the play still carries its original heart, its odd poeticisms, and its original intent. Shelby and I have continued to work on the play together, despite breaking up almost two years ago, but our newfound friendship has grown along side the play and carries a unique strength and chemistry because of it. We are not the characters, and the play is not ABOUT us, but we can't deny the intensity of our history as we stare into each others' eyes onstage. It has served as a marker to both our romantic and plutonic relationships – and as a result, gives a greater specificity to the play and the characters. But the fact remains: Breakups are tough - and they don't seem to get any easier. I wanted to create a metaphoric world (The Bench) where the major conflict involved That struggle; the struggle of wanting to let go, but not being able to. In the writing of the play however, I learned a valuable lesson; Waiting for love is a choice, and while the force of love is strong, at the end of the day, the power of Letting Go is stronger. We can't predict the future - but when we hold onto the past, we let it prevent us from seeing the potential of our present. And true change can only happen when we fully embrace That Present. THAT is what I hope the play illuminates for anyone dealing with a hurt - or healing - heart. And I'm very grateful for FringeNYC for giving this park-bench play a chance to exist in a smaller intimate space in the greatest theatre-city in the word.
Q: What lessons did you learn from doing the Venus Adonis festival? What would you do differently entering the FringeNYC?
Harrison: I was very pleased with my overall experience at the Venus/Adonis Theatre Festival in March. I have made a few script changes based on the audience's feedback, and based on certain instincts I had while onstage in the moment with Shelby. Also, instead of the play being 75 minutes, I am hopeful that I've cut it to 70 minutes. And instead of a 99-seat-theatre, I believe the Fringe Festival is going to set me up in a smaller more intimate black box, which I hope supports the intimate tone of the piece as a whole. That being said, I wouldn't change a thing about our process. We put the play on its feet for the First Time - and that was a successful/informative venture. However, it is my job now, to dive even deeper into the world of the play. I have to enter the world with even more abandonment of myself, my expectations, my doubts, and enter it this time more-so as The Actor - engulfed in the character and his circumstance. Fortunately for me, I will get that chance again when we put the play up in August at The International New York City FRINGE Festival.
Q: Where do you want to go with Still Not? What's in the near future for Harrison?
Harrison: After the FRINGE Festival, the script will be solidified - and I'm hoping it will be seen by some industry professionals, perhaps even some artistic directors/producers interested in new works. The play is substantially simple to produce seeing as how it's only two actors, the entire set is Just a bench, and the only prop is an umbrella. That excites me, as I'm not one for minimalism usually, but those truths increase the play's chances of being produced cheaply and often. I also think, especially being an actor myself in the play and struggling in rehearsal with the role, the script serves as a good challenge for actors in its purposeful ambiguousness and openness for interpretation. I have written barely any stage directions, and the characters intentionally reveal very little about who and what they are. This gives the actors a generous playground for exploration and imagination - and so I think getting the play published, and seen Off-Broadway, or regionally, and getting the script out to young actors would be great for scene work training. ― But first, I just want people to enjoy the journey, like I am - in this moment.
Popular in the Community