Do you remember Magic Eye, the optical illusion of choice from roughly 1989 to Y2K? You may have experienced its totally radical effects in the form of a giant trippy eyeball -- or maybe a dolphin -- while gazing at posters and spacing out in your dorm room. Like this: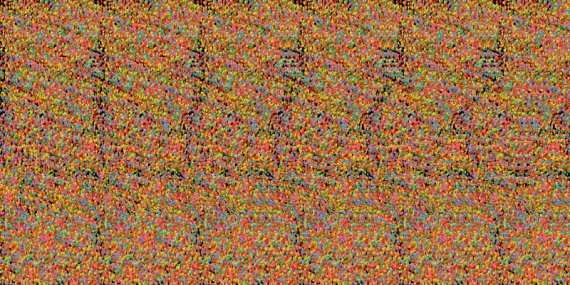 It's a shark!
If you're a fan of the nearly extinct brand of magic, we bring good news. Its enchanted properties are back, thanks to a mind-melting new music video from indie band and music video pioneers Young Rival.
The video for "Black is Good," a collaboration between director Jared Raab, digital artist Tomasz Dysinski and, of course, Young Rival, is a random dot autostereogram. We're going to assume you aren't familiar with that term -- it means the vid creates the illusion of three-dimensional depth in a two-dimensional space by toying with repetitive patterns.
While at first the video bears a radical resemblance to a television screen on static, if you loosen your eyeballs correctly you'll see the three-dimensional bodies of the band members emerge amidst the monochromatic snow and proceed to rock out. The artists explain the more technical side of the process on YouTube:
"We collected real-time depth data of Young Rival performing the song using an X-Box Kinect hooked up to a computer. The computer was running software called RGBD toolkit, designed for capturing the depth information from the Kinect using its built-in infrared system. Once we had our depth information, we unpacked it into image sequences and edited these sequences as if they were regular video."
For some, it's easier to see the illusion with the "cross-eyed" version of Magic Eye, featured below. Let us know if your mind is, like, totally blown, in the comments.
Related
Popular in the Community