San Francisco is the darkest blue of cities in the bluest state of the red, white and blue United States. It's the least red (and the least white) of cities as well. For two centuries, the "City by the Bay" has attracted the young, the adventurous, the bohemian, the fun-loving, the aesthetically-sensitive and the creatively-intense from all over the world. What gives the City its charm is this diversity and a sense of being on the cutting edge of the new world, on the Pacific Rim. Fortunes are made here; trends begin; people "find themselves" and each other. The climate is kind, the food, wine and coffee are good, and people are generally tolerant of one another's differences.
As an Obama volunteer, I have been active in my local community, when not traveling to a battleground state for the campaign. I know that the swing states are where my work will have the most impact, but I always get excited about the opportunity to reach out to Bay Area voters.
In particular, I have focused my attention on organizing registration drives at the many cultural events which attract members of the City's avant-garde arts community, including street fairs and jazz festivals. In the past week, I participated in three local events that epitomize the cutting edge of the campaign among this diverse group of fun-loving art-lovers.
The LoveParade and LoveFest
The LoveParade and LoveFest were imported to the City from Berlin, Germany. These concurrent events attract hundreds of thousands of young people to lose themselves in movement, as they dance to underground electronic music, blasted from flatbed trucks tricked out as mobile discos. After the LoveParade heads down Market Street, the floats are parked around the plaza near City Hall to create the thundering vibe of LoveFest. People deck themselves out in colorful and creative costumes which emphasize the power of fantasy, music and dance as means to achieve peace, love and communal happiness. The more outlandish, the better. The outdoor dancing goes on until 9:00, when Civic Center Plaza is cleared, cleaned and swept; the parties continue until the wee hours in the City's many nightclubs and art galleries. In short, LoveParade/LoveFest is a 21st century be-in.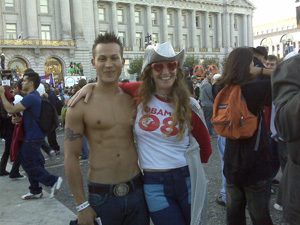 Obama Volunteer Leila with newly-registered voter at LoveFest, taken in front of San Francisco City Hall
On the occasion of LoveFest, we set up a "Voter Registration Station" near the City Hall steps and registered hundreds of new, young voters. No matter how wild they were dressed, how much they might have looked like thugs, bikers, druggies or gangsters, these ethnically-diverse young people were enthusiastic and polite. They smiled warmly. They were so grateful to us for coming to them to make the voter registration process convenient and easy, and for helping to explain the California voting procedures, because they just didn't know how to do it.
"Wow! You guys are here! Awesome! Can I register to vote right now?" One young man came to the booth with two of his buddies. They looked like young barrio toughs, with bandanas and XXL-sized plain white t-shirts. "Hey, can I register?" he asked. It turns out that he had just turned 18 two weeks earlier. His friends patiently waited for him to finish, while leaning over the counter to help him answer the questions correctly. All three were bubbling over with excitement, and they chatted with me about their plans for a fun evening in the City. It occurred to me that for those young men, registering their friend to vote was the 2008 equivalent to taking him for his first tattoo, a bold step towards manhood, accompanied by his older buddies. I handed them campaign stickers which they proudly affixed to their shirts and jackets, heading off into the crowd.
Later in the day, another newly-registered young man asked, in all sincerity, "Now, if I can't make it to that voting thing on November 4th, can I reschedule it?" A young lady beside him at the booth yelled, "Oh, no! You can't! It won't count!" and I patiently explained to him that he had the option of voting early at City Hall, if he felt he could not be available on November 4.
The most touching moment was when I registered a man in his late 50's, a long-ago native of Arkansas named Robert. Robert had obviously been drinking before arriving at LoveFest; he was probably just in the neighborhood, saw the excitement and decided to wander over. Robert came to our voter registration booth with a sad look on his face, to announce that he wished he could vote for Obama, but he couldn't. When asked why not, he responded that he could not vote because he "had a felony." I asked him if he had finished serving his time ("Oh, a long time ago!") and if he was currently on probation or parole ("No, I finished with all that years ago"). So I informed him that yes, he was indeed eligible to vote and that I would register him right then and there, even help him to understand the procedure. As he painstakingly started to fill out the form, placing every letter in the correct box, and squinting his eyes to read the small print, he abruptly stopped, put the pen down, and looked at me with watery, fearful red eyes. "I won't get in trouble for doing this, will I?" I had to catch my breath and call the other volunteer in the booth for support. I called Registration headquarters on my cell phone just to make sure, just to reassure Robert, and to confirm what was written on the handout and the form: If a person, even a convicted felon, wishes to vote, it is his American right to vote, so long as he is no longer in prison or on parole.
Robert completed his form and handed it to me with all seriousness. He seemed to sober up as we went over the form to search for errors or omissions. I signed the form and handed him his receipt, which he slowly and carefully folded and placed in his wallet. He looked into my eyes with gratitude, thanked me, shook my hand, and accepted the big hug I gave him. My last words to him as he walked away toward the street were, "Robert, look--you tell everyone you know that they all have the right to vote! They can vote! Once they've served their time, they can be a citizen again! Tell everybody! Tell them all!"
"Salsa4Obama" was a fundraising event at a nightclub on the waterfront side of the City, what used to be the working-class docks of a bustling maritime community. On this night, the area's top Latin musicians had donated their services, the club donated the venue, the promoters donated the production, and the printers made the flyers. Invitations were sent via e-mail, so there were little or no overhead costs.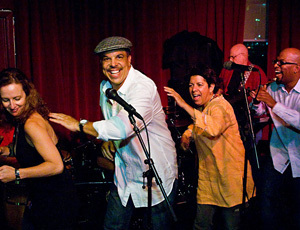 Salsa4Obama vocalists
I worked the front door of the event, welcoming hundreds of people and explaining that 100% of their hard-earned contributions would go directly to our candidate's campaign. This put a smile on everyone's face. "That's what I'm here for---to help Barack!" The crowd was patient in forming a queue outside the door, the pace regulated by the burly doorman, as each person who entered had to complete a donation form to comply with federal campaign finance requirements. No one wanted to stand out on the waterfront, in the foggy night, but no one wanted Barack to "get in trouble" for not having the proper paperwork attached to his donations from the event.
Inside the club, there was a popular voter registration station with buttons, t-shirts and a giant Obama paper doll with which people could snap photos. There was a fundraising display by the group "Obamanos", which is recruiting volunteers for a campaign to send Spanish-speaking volunteers to battleground states: Nevada, Colorado and New Mexico. The cheerful and well-dressed crowd included many nationalities of Latinos and Hispanics of all ages, from new immigrants to 3rd or 4th generation residents. But, in true San Francisco Bay Area style, the crowd was packed with so many others: African Americans, West Indians, Asians, Filipinos, European Americans and European tourists from France and Italy, who had heard about the event on the internet and just wanted to check out the scene.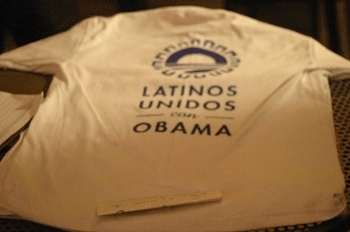 And what a scene it was! Dancers sweating, moving their feet and swinging their hips around the floor to the "clave" rhythm of the percussion beats, beautiful young couples, contented middle-aged couples, single women dancing with one another or alone, single men on the sidelines watching the women and enjoying the pyrotechnical skills of the band. And the band! It was a multinational, all-star band, assembled for the night by arts commissioner John Calloway, himself a noted jazz educator and musician. Everyone had fun onstage performing with one another-- for one night only--to support the candidacy of someone they believed in, someone they hoped might help lift that embargo, so that the good, good music could keep on flowing from one shore to another, and back again.
From time to time, the vocalists would improvise, revamping the Spanish lyrics to weave in the candidate's name with the Spanish words for "Hope" and "Change"...and "Si se puede".
Burning Man is an artistic and cultural event that began on the beaches of San Francisco but has now become a worldwide phenomenon, including the creation and destruction of a virtual "city" each September on a space known as "The Playa" in the Black Rock Desert of Nevada. The climax of the festival each year is the actual burning of a giant wooden sculpture, ("The Man") which represents the impermanence of man's presence on the earth. The 50,000 participants are instructed with the mantra to "leave no trace" on the desert, the temporary city is dismantled and everyone returns home.
Held each October, "Decompression" is an annual event which marks the return to the Bay Area of local event organizers, Burning Man camp residents and many of the artists who create the Burning Man sculptures, architecture, music, dance and participatory events. The event is a welcome-home fair, covering six blocks of the city's industrial Dogpatch neighborhood, converting it into a fantasy miniature environment, "the closest thing to the Playa", as I have been told.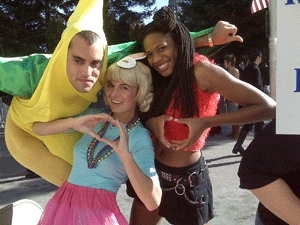 Newly-registered voters throwin' up O's at Burning Man Decompression Event, San Francisco
I organized a Voter Registration Station at "Decom" and recruited a colorful group of volunteers who represented a cross-section of the Burning Man community. Lara and Rick came dressed in "Steam Punk" regalia, as though they had just stepped out of the 1870s; the energetic, yet even-tempered, 20-something couple hustled all day to register as many voters as they could, making a game of it. Another volunteer, Gary, came dressed in his fire engine-red work jumpsuit, fresh from the desert, where he operated a giant crane to de-install the massive steel sculptures on the playa. Between registering voters, he took the time to introduce me to the "movers and shakers" of Burning Man, who had insisted that our voter registration efforts be non-partisan, to preserve the independent ethos of the Burning Man community.
A bandstand was near our tent, so we were treated with everything from country fiddle music to roller disco to Brazilian samba and classic rock covers throughout the day and into the night. Amidst the flaming metal sculptures, marching bands, hula hooping, futuristic photo displays and costumed participants, we registered over a hundred voters and provided information to many more. Once again we were greeted with thanks for having made the registration process more accessible. Some registrants had just turned 18; some had recently moved; some were middle-aged people who had never felt compelled to vote before. As the evening wore on, at least one young lady was too inebriated to complete her form, but she was an exception to the rule. As we were closing down our tent and taking down the signs, one last man came over to beg us to stay open for a few more minutes. He had been thinking of registering and decided there was no time like the present.
Over the course of the day, we registered members of the Democratic, Republican, Green, Peace and Freedom and Independent Parties. One guy wrote his own party name on the form, the "No More War" Party. We registered artists, poets, musicians, one well-known rock guitarist (Stephan Jenkins of the group Third Eye Blind), and, if the name was correct, one well-known local billionaire. If that was not his real name, we were taken in, but I wouldn't be at all surprised if it had not been the real guy, the real billionaire, that we registered. Like San Francisco itself, and like this 2008 Presidential campaign, Burning Man attracts all kinds to the party.



Popular in the Community