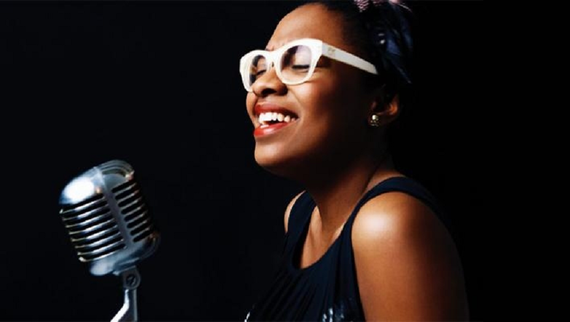 By Dan Ouellette, ZEALnyc Senior Editor, August 31, 2016
For the dynamic and creative jazz vocalist Cécile McLorin Salvant to be largely unaware that the idiom was still vitally alive as she grew up is part of the good news of her ascent as the top singer in the music these days, remarkably at the age of 26. In a sense she was protected from the waves of fleeting popularity and did not participate in the proliferation of mid-tier singers who sought to emulate the legends of the music, from Billie Holiday to Ella Fitzgerald to Sarah Vaughan--most with sorry results.
In fact, when Cécile saw the jazz light while an 18-year-old college student studying classical music and law in Aix-en-Provence, France, she was not weighed down with legacy and expectations. Instead she was freed to approach jazz on her own terms, contributing a fresh voice of eclectic tastes and quickly rising to the top--becoming the international jazz darling, winning critics poll awards left and right with her embrace of tradition as well as her burgeoning compositional prowess. She won the top vocalist honors in 2010 at the distinguished Thelonious Monk International Jazz Competition (placing high on the phrasing and rhythmic flexibility measures) and scored the top jazz vocalist Grammy Award earlier this year for her impressive For One to Love recording.
Born and raised in Miami by a Haitian father and French mother, Cécile grew up with music--lots, she said, while being interviewed at the North Sea Jazz Festival in Rotterdam this summer on the occasion of her winning the prestigious 2016 Paul Acket Award voted upon by 140 international critics weighing in on the year's most important emerging talent that is deserving wider recognition.
"My mother loves music which made me have a wide listening ear," Cécile told me onstage at the festival's Jazz Café Talking Jazz series on the eve of her Saturday, July 9 performance there. "What I'm doing now all goes back to my childhood. She always listened to a broad range of music--not just jazz or classical. She listened to pop music and folk music from all over the world. I remember learning Paraguayan folk songs as a young girl and listening to music from Senegal and Cape Verde. It was part of my everyday life, with a new album being played from a completely remote country I had never imagined existed."
So Cécile experienced music without considering style or era or where it came from. "Since I grew up hearing all the different sounds, including on my own, grunge, I've kept that with me," she said, noting that her mother forced her to play the piano when she was 4 which she sometimes reluctantly continued studying at home till she was 18. "So even today I know that I want to listen to a broad variety."
As for jazz, Cécile said that it was only when she got to France that she got exposed to the wealth of the music that she wasn't aware of. "I didn't think people were still playing jazz," she said. "We were in Miami, so the most exposure I got was from my mother's records, singers like Sarah Vaughan and Shirley Horn, who had all passed away. So I had no knowledge of current jazz musicians until I came to France."
At the Conservatory Darius Milhaud, she took a class with clarinetist Jean-François Bonnel. Even though she wanted to major in classical voice, Bonnel not only taught the basics for singers--self-discipline and how to teach--he also exposed Cécile to jazz. "In his class, each week he'd bring in a stack of CDs of singers, many of whom had been overlooked or forgotten," she said. "Then we'd discuss them the next week and he'd ask us to think about the songs we'd like to sing. In the beginning, it was frustrating and I felt lost. But I did develop a sense of autonomy in choosing and learning songs." In other words, unlike other music schools, a canon was not pushed out as sacrosanct.
This came in handy years later after she had won the Monk Competition, when traditionally, record labels zoom in on the winner, sign and then dictate the repertoire for the subsequent recording. Was there pressure to do something like an Ella Fitzgerald tribute album? Cécile laughed and said, "I shopped around at different labels. I'm sure at most there would have been pressure, and I would have said, OK, whatever you guys want. But I went to Mack Avenue and they were totally trusting in my repertoire and my musical choices. I'm not an extremely firm person or confrontational, but I knew that starting out I needed to be in a situation where the label could tell me it trusted me." (The resulting album, ChildWoman, released in 2013, garnered her a Grammy nomination and the top album and top vocalist awards in the DownBeat Critics Poll.)
ChildWoman was officially her second recording, the first self-titled album was recorded in Paris when she was 18 and just starting to sing jazz. So impressed by her growing prowess as a jazz singer, Bonnel instigated the project. He put together a band he dubbed the Paris Quintet. "I was freaking out," Cécile said. "This was a huge deal. I was 18 and had only begun singing jazz six months earlier." Being bit by the jazz bug, there was no turning back for Cécile. "Aix-en-Provence is a small town, so I used to go to Paris like four times a year to check out the jazz clubs. But I was shy, so at the jam sessions I just sat in back. Some people would be elbowing their way onto the stage, but not me. I was a spectator."
Soon that would change. While still described as shy, the Harlem-based Cécile is no wallflower. At North Sea, I played a few of her songs from For One to Love (the artwork she designed for the cover includes a figure that's "winking and smiling and crying, the perfect embodiment of what the album is about"). The album features songs by the likes of Bessie Smith and the less well-known Blanche Calloway (sister of Cab) as well as an obscure pop song by the Hal David/Burt Bacharach songwriting team. Plus there are five originals, including "Fog," which was spun first. It's a composition of doubt and heartache that begins slowly then swings into an upbeat groove halfway through.
"I wrote this after going to San Francisco and walking around with a friend who was showing me the Golden Gate Bridge," she explained. "There was so much fog, and I thought it would be nice to write a song about the fog. But I got home and forgot about it. A few months went by. The way I write a song is that I sit at the piano for hours and I try to work things out. Eventually something might come of it. So I thought about the fog again, and it started out as a short ballad, but then I said, wait, there's more to this story. So that's how the song happened." She then passed on specific motifs and accompaniment and orchestration to her band to support her voice and the essence of the song.
I also played Cécile's whimsical rendition of the David/Bacharach song "Wives & Lovers," which was a small hit for singer Jack Jones in 1963. The lyrics are a straight-'50s style story of the relationship of a dominant and cheating husband and his submissive wife--hardly politically correct in these days. Cécile laughed when talking about it.
"I originally started looking for a tradition of feminist jazz songs," she said. "Anything. Standards or even blues. It was very hard. Those songs are extremely hard to find. So I changed my course and started checking out really sexist material to see what's there. 'Wives & Lovers' is on a list of the top 10 most sexist American songs. It's not the worst ones like domestic abuse. It's a very light sexism. You've got to stay pretty. But I liked the song a lot, its feel, beyond the words, so I recorded it."
Complaints? "Definitely," she said, "including comments about my appearance like I should work on growing out my hair and taking off my [white] glasses. Women complain that it's a sexist song and I shouldn't be singing it, that it may give their daughters the wrong idea. I didn't expect that because I was just singing. But it's exciting in a way to get that kind of reaction. You always wish that you'd get any kind of reaction. So this is nice. It shows that people are listening to the music."
Shy? Maybe more like spunky.
Today Cécile frequently plays to sold-out houses with good friend rising-star pianist Aaron Diehl and his trio (she also usually plays a song with her own fingers on the keys). He told me, "She has so many facets as an artist, a singer, composer. She's well-read and able to assimilate all the different elements that seem to be disparate. She's at the highest level of art--certainly of the time, certainly timeless at the same time." Cécile accentuated that by telling one scribe, "I like high art and I like enjoying art for art's sake," and also noting, "The times change, but emotions don't. That's a lot of what jazz singing is about."
Cécile spends a week at the Village Vanguard (September 6-11) and continues touring nationally, including a September 16 date at the renowned Monterey Jazz Festival, both on the arena-sized Jimmy Lyons Stage and later that evening in the more intimate Dizzy's Den club.
Cover photo:courtesy of sandiegoreader.com
______________________________________
Read more of Dan Ouellette in the following ZEALnyc features:
For all the news on New York City arts and culture, visit ZEALnyc Front Page.
Related
Popular in the Community