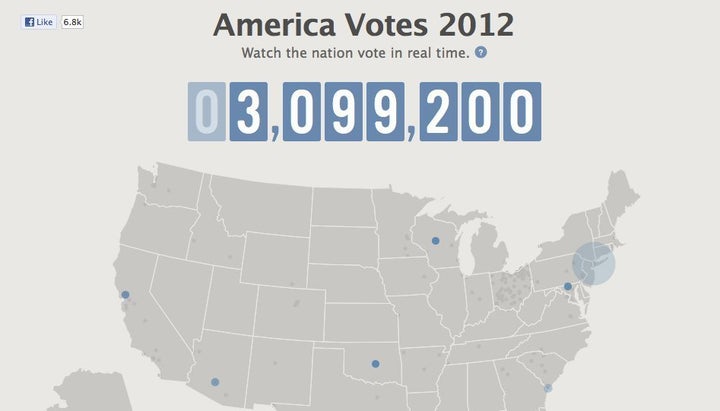 If you logged in to Facebook today, you may have noticed a box at the top of the newsfeed asking whether you plan to vote.
By mid-afternoon Tuesday, Facebook had recorded more than 3.7 million users who planned to cast their ballots, and that number continues to climb at a breathtaking rate. Roughly two-thirds of those Facebook voters are under 35. Those between the ages of 18 and 24 represent 30 percent of the voters, and 25 to 34-year-olds make up 32 percent.
Of course, Facebook's data can't be substituted for a scientific poll, but that "I'm voting" button could have an impact on Tuesday's election: Facebook can "quadruple the power of get-out-the-vote messages," according to a recent study published in Nature.
Large-scale, experimental research shows that simply clicking the button, and sharing your voting intention, could do more to increase voter turnout than any other partisan rant or news story you may share today. With a Single Message delivered electronically on Election Day," researcher James Fowler explained to TechCrunch, "Facebook caused an extra third of a million people to vote."
Still, the high youth voter turnout on Facebook reminds us what the real election could look like with high participation from young voters. Youth voters helped propel then-Sen. Barack Obama to the presidency in 2008, when the 18 to 29-year-old demographic comprised 18 percent of the electorate and two-thirds of millennials voted for the Democratic nominee. If the 2008 electoral college had been decided by 18 to 29-year-olds, Obama would've carried 455 electoral votes, far more than the 270 needed to win, or the 365 he did win.
So does a bunch of 20-somethings clicking "I'm voting" on Facebook mean we can expect a massive youth turnout in 2012? Not exactly. The most effective way of getting young people to the polls, according to CIRCLE at Tufts University, is talking to them in person.
Calling all HuffPost superfans!
Sign up for membership to become a founding member and help shape HuffPost's next chapter
BEFORE YOU GO
PHOTO GALLERY
Colleges With The Most Liberal Students: Princeton Review 2012 Ranking