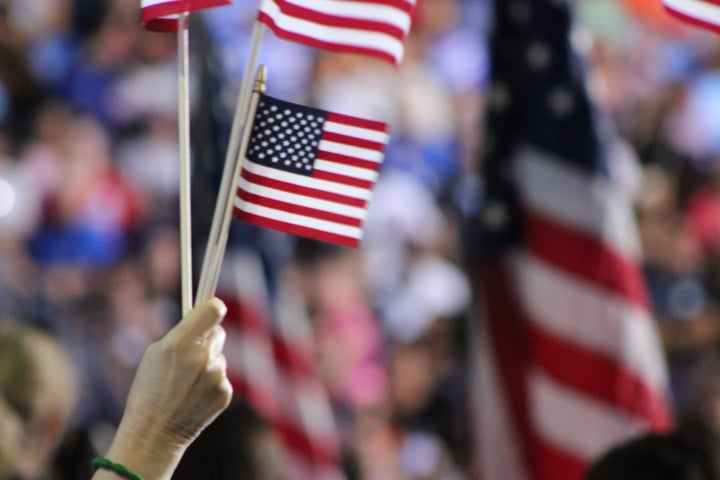 Americans who don't consider themselves well-informed about the upcoming election also tend to think that people like them shouldn't vote, a new HuffPost/YouGov survey finds.
Thirty-seven percent of Americans say they're very well-informed about the election, 33 percent say they're somewhat well-informed, and 19 percent say they're not very or not at all up to speed on what's happening. And the more confident people are in their own political knowledge, the less likely they are to see such knowledge as a requirement for turning ― out on Election Day.
Sixty percent of those who consider themselves somewhat or very well-informed about the elections say that all eligible citizens should turn out to vote, regardless of how much they know. But only 39 percent of those who don't personally feel up to speed say the same.
Hillary Clinton voters are significantly less likely than Donald Trump voters to think that only the well-informed should vote, although members of the two camps are more or less equally likely to consider themselves very informed.
There are other substantial divides along other demographic lines. One is education: Fifty-six percent of college graduates say they're very well-informed, compared to just 29 percent who lack a college degree. Those with degrees are also 10 points likelier than those without to believe that all eligible citizens should turn out for elections.
Another division comes along age lines: Just 20 percent of Americans under 30, and 22 percent of those between ages 30 and 44, say they consider themselves well-informed about the upcoming elections. By contrast, 44 percent of those between ages 45 and 64, as well as 63 percent of those 65 or older, say they're very much up to speed.
Younger people are also less likely to believe everyone who is eligible should vote. Just 40 percent in the youngest demographic say that's true, compared to 64 percent in the oldest age bracket.
"I've often encountered young people who say that the reason they don't think they personally should vote is they're not well-informed, and they take that as kind of a moral position that they're not really qualified to vote," Peter Levine, then director of Tufts University's Center for Information and Research on Civic Learning and Engagement, told HuffPost in 2014.
"What you end up with is a youth electorate that probably is pretty well-informed. ... If anything, they might be putting themselves through too stringent a test, knocking out some people who are informed enough," Levine said.  
Registered voters under 30 were among "the only age group in which more say they know little or nothing about the candidates running for Congress in their district (60%) than say they know at least a fair amount (39%)," a recent Pew survey found. They were also relatively unconcerned with the outcome of this year's election. Only 48 percent of voters aged 18-29 said it "really matters" which party controls Congress, compared to about two-thirds of the electorate as a whole.  
Another poll, from PRRI, found that 18- to 29-year-olds were no more likely this year than in 2014 to say they would certainly vote. Of those in the young age group who said they don't get involved in social causes or campaigns, nearly half said that one reason was that they didn't feel as though they knew about the issues. Thirty-nine percent said they didn't think their actions would make a difference.
Other signs are less bleak. Last year's special elections in Alabama and Virginia, as FiveThirtyEight's Geoffrey Skelley noted this week, featured unusually high youth turnout, and other surveys this year have found a larger-than-average share of young Americans adamant that they're planning to vote. "It's not certain that young voters will turn out at a higher-than-usual rate in 2018, but data does suggest it's possible," Skelley concluded.
Use the widget below to further explore the results of the HuffPost/YouGov survey, using the menu at the top to select survey questions and the buttons at the bottom to filter the data by subgroups:
The HuffPost/YouGov poll consisted of 1,000 completed interviews conducted Sept. 28 and 29 among U.S. adults, using a sample selected from YouGov's opt-in online panel to match the demographics and other characteristics of the adult U.S. population.
HuffPost has teamed up with YouGov to conduct daily opinion polls. You can learn more about this project and take part in YouGov's nationally representative opinion polling. More details on the polls' methodology are available here.
Most surveys report a margin of error that represents some but not all potential survey errors. YouGov's reports include a model-based margin of error, which rests on a specific set of statistical assumptions about the selected sample rather than the standard methodology for random probability sampling. If these assumptions are wrong, the model-based margin of error may also be inaccurate. Click here for a more detailed explanation of the model-based margin of error. 
Calling all HuffPost superfans!
Sign up for membership to become a founding member and help shape HuffPost's next chapter