Young voters are more likely to say they are too busy to vote than the general population, an analysis by the Center for Information and Research on Civic Learning & Engagement (CIRCLE) at Tufts University finds.
According to CIRCLE, 33.5 percent of young voters who were registered said their schedules conflicted with their ability to vote in 2010, compared to 25.2 percent of voters above the age of 30.
Only 5.8 percent of young voters, defined as those ages 18 to 29, said they didn't cast a ballot simply because they didn't like the candidates, and only 2.1 percent said transportation problems stopped them from voting. About one in ten 18-29 year-olds said they simply forgot to vote.
Twice as many young voters said registration problems, like not getting their absentee ballot or not being registered to vote in the right location, prevented them from voting compared to the general population.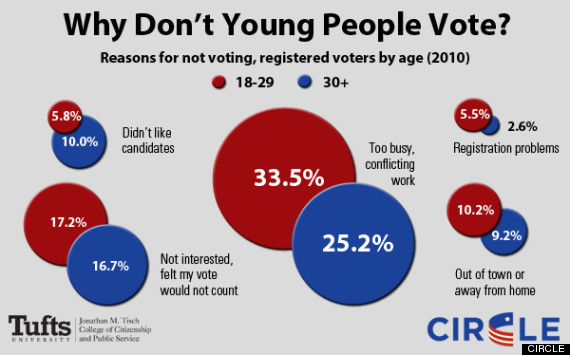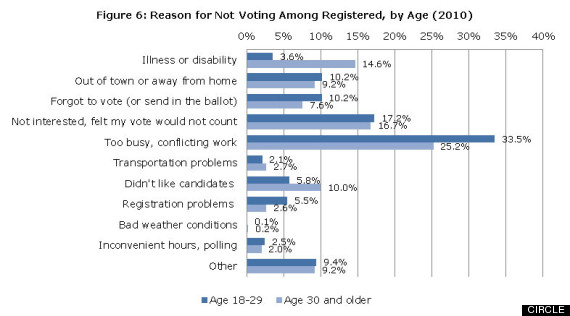 Since young voters make up about one quarter of the population in Alaska, the Senate race where Democrat Mark Begich is defending a seat he won by 4,000 votes in 2008 could hinge on youth turnout, CIRCLE said. Among other Senate races that millennials could have a large impact on: Colorado, North Carolina, Arkansas, Kentucky and Louisiana. (No wonder Sen. Mary Landrieu (D-La.) was spotted hanging out around Louisiana State University fans at a tailgate.)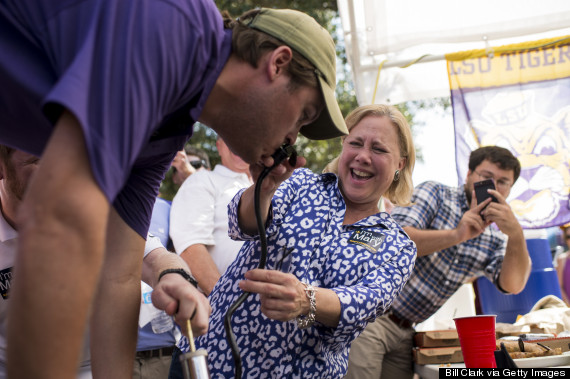 In the 2012 presidential election, 78 percent of 18-29 year-olds were registered to vote, but in the 2010 midterms, only 49 percent were registered. Forty-five percent of young voters showed up in 2012, while just 24 percent showed up two years earlier.
Popular in the Community