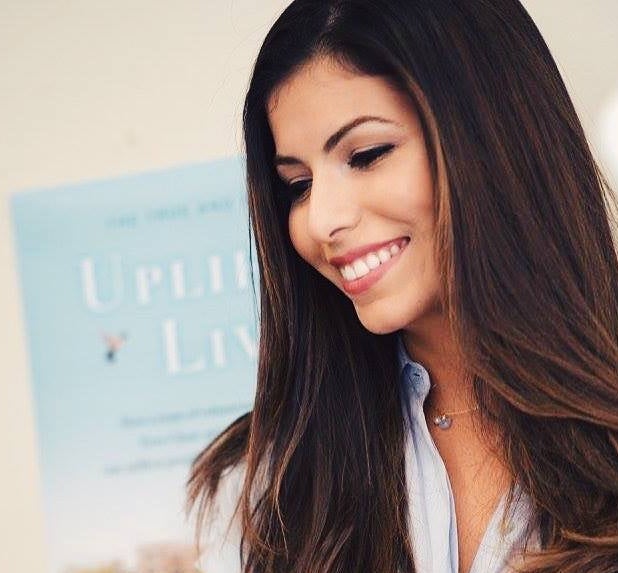 Recently, a young journalist released Uplifting Lives, the never-before-told story about a community that has united to provide free healthcare to over one million people since 1968. It all began when writer Lauren Swerdloff transformed her dorm room at Columbia University into a library of historical records about the Hollywood Sunset Free Clinic. She conducted dozens of interviews with volunteers, patients, and community members and brought to life a story of hope for communities across the nation.
Zach: So Lauren, your work at the Hollywood Sunset Free Clinic clearly had a positive impact on you and instilled the importance of volunteering. How did your personal connection to the clinic's story begin?
Lauren: When I was a little girl, my mom would tell me stories of her volunteer nights at the free clinic. I wanted to follow in her footsteps because she embodied compassion, strength and everything in the world that I loved. By the time I was fourteen, I started volunteering for the clinic by organizing small fundraising efforts. Then, when I was fifteen, I wrote a bilingual children's book and donated the proceeds to their cause as well. My mom and I would take the money we raised to the clinic, and I'd meet the volunteers and patients. Everyone there was so grateful -- to help and be helped. Something was happening behind those front doors that was inspiring each person who stepped in.
Zach: So you worked with the clinic throughout high school. When you were a college student at Columbia University, you were already serving on the clinic's Board of Directors. Tell me about your latest non-fiction book on the clinic's history. What inspired you to write it?
Lauren: For over 50 years, the clinic has been a safety net, treating over a million people who have been marginalized from the American healthcare system. I wanted to preserve their incredible history, so that it would never be lost and would carry the legacy on for future generations. I wanted to keep those front doors open.
Zach: Well, the work you're doing is certainly contributing to just that. What range of services does the clinic provide exactly?
Lauren: The Hollywood Sunset Free Clinic provides free healthcare to people of all ages and walks of life. Their services range far beyond what one would expect -- from basic health examinations to mental health counseling to breast cancer screenings, laser tattoo removal, the list goes on and on. They even have a food pantry, a thrift shop that provides free clothing to individuals and families who are homeless, and a close network with local shelters. The social inequities that the clinic has addressed - access to healthcare, to food and to shelter - are present in communities across the country. The clinic's story is one that offers so much to learn from.
Zach: Given the amount of services they have provided, one would understandably ask, how has this clinic survived? It seems like Uplifting Lives answers that question well. Can you tell us a little about it?
Lauren: Uplifting Lives is the personal and inside history of the Hollywood Sunset Free Clinic, that traces the stories of volunteers, patients, and community members over a span of nearly 50 years. It's really more than a story about survival -- it's a story of triumph in the face of adversity.
Zach: So this is an intimate exploration of community empowerment.
Lauren: Absolutely. The volunteers are the heart of our clinic. Dr. Vicary, for example, joined the clinic's team when he was a medical student at USC in 1971. He has volunteered every week for over 41 years and is currently our Medical Director. Teresa Padua, who many of us call "Tacy," has volunteered in the clinic's counseling department since the 1980s. She's now our Executive Director -- everyone in the community loves and admires her. Their leadership, and the team of supporters that has unified around them, has led this clinic through a revolutionary history. They've saved and transformed thousands of lives.
Zach: Let's talk about some of the people who have supported the clinic -- Elton John, Robert Downey Jr., Sting, and The Red Hot Chili Peppers.
Lauren: Yes, people from across the city have come together to support this little clinic on Sunset Boulevard. Hopefully, the journey doesn't end there. We need help now more than ever.
Zach: So how can people help?
Lauren: We can help the Hollywood Sunset Free Clinic and local non-profits in a myriad of ways. Volunteers have always been the clinic's greatest assets. It's all about creativity -- musicians, for instance, have held performances, artists have created murals -- all raising awareness and donations for the clinic. Anyone can support, whether through donations or hands-on volunteer services. One person can truly make a difference.
Help us share the story of the Hollywood Sunset Free Clinic and Uplifting Lives!
For more information about Uplifting Lives, visit www.LaurenSwerdloff.com
For more information about the Hollywood Sunset Free Clinic, visit http://www.hsfreeclinic.org/
Contact Lauren at Lauren.Swerdloff@Columbia.edu
Popular in the Community