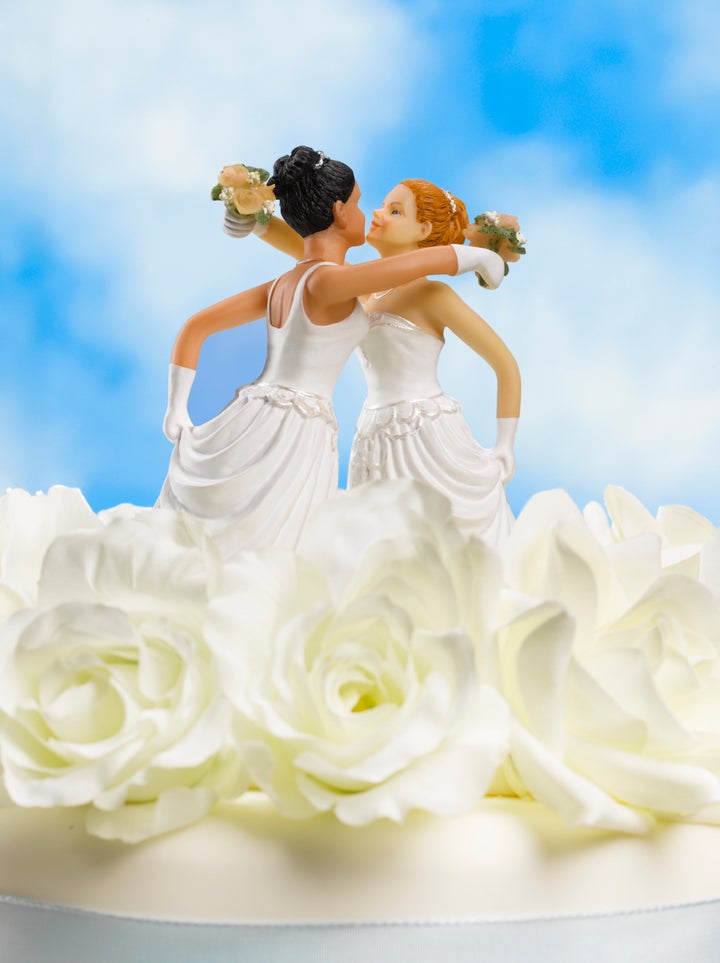 Same-sex wedding mistakes won't be so unusual going forward, because same-sex marriage is here to stay. That means that there are a lot more lesbian and gay weddings being planned this spring, and maybe you're part of the growing crowd.
As a lesbian dating coach, I love to get invited to client weddings. I've got a connection in the wedding industry. I thought it might be a good time to talk about the biggest mistakes that people make in planning their weddings, so that I might save some of my gay and lesbian friends some wedding stress.
I sat down with Ms. Chris Weber. She has 25 years of experience as a wedding planner and caterer, and that includes over 3,000 weddings -- everything from weddings that Martha Stewart would approve of to something simple in a small backyard. Sure, most of those weddings have been for straight folks, but she's done gay and lesbian wedding events also. Now she's getting ready to do more for the gay and lesbian community, but in her own way.
Ms. Weber, co-owner of Black Tie Catering in Portland, Maine, and her business partner Catherine Frost of Freeport, Maine, who is the owner of Folio Marketing, recently launched We do™ as a subsidiary of Black Tie Catering.
We do™ is an inclusionary, progressive, style- and information-based online community for same-sex couples who are planning their weddings. We do™ is focused on being an inclusive service that goes beyond the traditional gay or lesbian wedding with a rainbow or Broadway show tune theme to take advantage of the years of experience that Black Tie, its expert staff and many vendor relationships can bring.
I asked Chris how the idea for We do™ came about. She said:
I don't look at We do™ as a gay website. I asked myself, "What do people do these days when they propose?" This includes progressive heterosexual couples, and my daughter of 25 is included in that group. How did she and her boyfriend decide they wanted to get married? Well, they sat down one night and talked about it.

Now, did he propose to her and give her a ring? He sure did. Long before she said "I do," they had already said "we do." That's the way I look at a lot of couples that marry. Someone might propose, someone might say "I do," but long before someone says "I do," usually they said "we do" to each other.
So then I asked Chris what she sees as the big mistakes that couples make when planning a wedding. What I loved about Chris' answer is that she didn't hesitate. She has seen it all: the good, the bad, the ugly and the beautiful of weddings.
It was interesting to learn that Chris has already done 50 to 60 same-sex wedding events and found that they don't differ much from heterosexual wedding events. So the mistakes we are likely to make won't be very different either.
Big Same-Sex Wedding Mistake #1
The first mistake is that couples have too many expectations for their budget. It's amazing how you can take a couple that eats out three nights a week and then ask them what their budget is to feed 200 people the type of food that they enjoy when eating out. The couple may say that they have a couple of drinks, get appetizers and an entrée and they'll spend $75 a piece, but they want to feed their guests something similar for $30 a head.
Then you bring them into reality; that's often how I explain it. This is not a two-hour dinner for two people. It's a six-hour event that starts with a wedding ceremony and then goes all the way through to the final goodnight, with everything in between. That includes a full meal, appetizers, hors d'oeuvres, cake, coffee and service. You want to rethink what you have available to spend on this event.
In Chris' business, the average catered wedding costs about $20,000 these days. That doesn't include extras like a honeymoon, wedding dresses, tuxes and rings. That's for the average number of people at a wedding, which is about 125. That's about $150 per head for the event. That's a big difference from $30 a head.
Big Same-Sex Wedding Mistake #2
Another big mistake is that very few couples getting married have run large events with a lot of people attending and a lot of separate moving parts that have to be coordinated. One potential problem that Chris noted was that many couples don't have any idea how to plan out the timeline for a wedding.
A couple will give us an itinerary they started working on their own. We have to tell them there is absolutely no way that one hour is enough time to have cocktails and hors d'oeuvres when you have over 150 people. Their guests are not going to come into the dining room quickly, because they just got there. People want a drink, and they want to visit with other guests.

We'd have to shut down bars and cut everyone off to move people that fast. People will be in line, and we have to tell them, "No drinks, and go eat now." Couples don't understand itineraries, and letting an experienced wedding planner take care of your agenda is an important part of your wedding day going well.

We've had couples that want the first course served at 7:10, second course served at 7:15. Exactly how are we going to serve 200 people the first course and then in five minutes clear and have the second course served? It can't be done.
Your Big Same-Sex Wedding Mistake #3
Here's the biggest and most important tip that Chris shared with me. It's about being inflexible. Inflexibility is one of the worst things when you're planning a wedding. You never get exactly what you want exactly how you want it.
We have such romantic notions about weddings. When you've waited so long for the chance to get married, you can get overly attached to certain ideas that will only elevate your stress levels rather than allow you to relax and enjoy this very special day in your life.
We really work with couples on keeping a positive attitude and being flexible. If you want, you can have the worst day of your life. I've never seen it happen, but I've seen some people try really hard to make it a bad day.

Twenty-five percent of the couples and families we deal with are absolutely amazing, because nothing bothers them. These are probably people who have their priorities in order. So if their wedding cake melts on a hot day and we end up slicking a whoopie pie together for them, they laugh about it and enjoy the moment, as opposed to someone who is sobbing in a pile of tears because her cake melted.

Are you going to look back and say, "My life was ruined because my wedding cake melted"? I hope not. At We do™ we take the concerns of our clients seriously, but we also try to bring a little humor and levity to situations that can't be helped. That's the nature of the wedding business; it's challenging. Things do go wrong, and you have to know how to roll with the challenges, find an answer to the problem, just be relaxed and understand it could have been a lot worse.
Chris convinced me that working with experienced wedding and event planners is one of the best things you can do to make your wedding day the special event you want it to be. If your budget allows for it, you won't regret the value that comes from hiring an experienced company with a staff that knows how to make things work on such an important day.
Three big things that can really mess up your gay or lesbian weddings plans can all be ironed out by using the right wedding event experts.
Get your budget ironed out, get your itinerary working for you, and, most importantly, be prepared to be flexible about what you want and what is possible. Now make your plans and enjoy your very special day!
Related
Popular in the Community