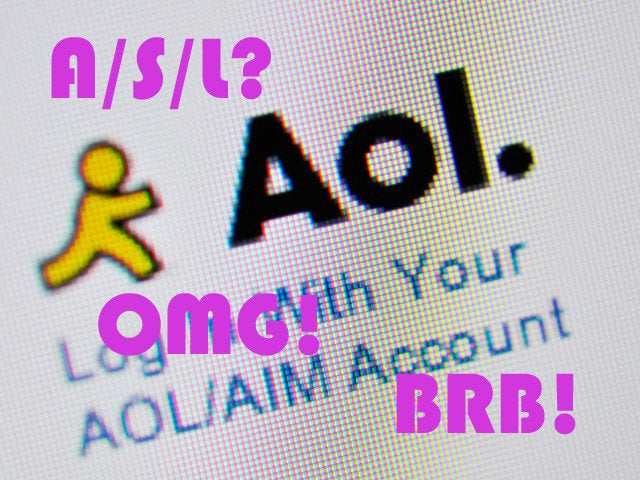 Before the days of status updates, tweets, pins and Instagrammed photos, there was a single mode of non-email online communication once embraced by anyone with a computer who came of age in the '90s (and early '00s): AOL Instant Messenger, better known as AIM*.
If you've ever found yourself waxing nostalgic for the simplicity of a buddy list, non-archivable away messages and screennames that likely include a Y2K and/or boy band reference, look no further than the 'Your Away Message' Twitter feed. The nostalgic handle tweets gems like: "maybe…ur gonna b the 1 that saves me…brb shower." (Oasis4Lyfe.)
The @YourAwayMessage account is the brainchild of 24-year-old Caroline Moss. Moss, who works for a non-profit and does freelance photography, told The Huffington Post that she started the feed on September 9th after reminiscing about the many hours she spent crafting AIM away messages during her tween and teen years. "I was en route to one of my friends' apartments and I had been thinking earlier about all of the time I logged as a teenager searching for the perfect Dave Matthews Band quote to express my feelings for a guy who probably didn't know I existed, and taking that really seriously," she said. "I thought, 'maybe some people will find this funny or reminiscent.'" Since the account has over 100,000 followers, and even ended up on NY Magazine's Approval Matrix, it seems that a lot of people did.
'90s nostalgia is everywhere these days. (Just look at BuzzFeed's new Rewind vertical or TresSugar's "333 Reasons Why Being A '90s Girl Rocked Our Jellies Off.") Moss chalks up the popularity of 'Your Away Message' to the allure of looking back on what you once believed were unique experiences. "I think as 14-year-olds we thought we were alone in growing up, and this is how we were expressing it [through AIM away messages], but we were really all saying the same things," she told The Huffington Post. And due to her impeccable memory, all of the tweets she writes are (at least close) to real away messages she posted back in the day.
So which status is Moss' favorite? "The one that I think was most me was the one about making hemp necklaces," she said. "I spent a lot of time making things out of hemp."
We can relate, Caroline. Looking through the @YourAwayMessage feed is enough to make you want to grab your string bracelet kit and start knotting -- while listening to "Dave Matthews Band," of course.
LOOK: The Best Of The 'Your Away Message' Twitter Feed
*AIM is still a digital product of AOL, Inc., which owns The Huffington Post.
Support HuffPost
The Stakes Have Never Been Higher
Related
Popular in the Community