There are a few ways to know whether your company has a good talent management system. Have you had to fill the same position multiple times? Has a key employee left to take a job at a competitor? Have your sales been flat year-over-year, despite that fact that you have sales people? These are all symptoms of a poor talent management plan. How do you go about solving these underlying HR problems? The best course of action is to reevaluate your entire HR plan – or perhaps you need to create one.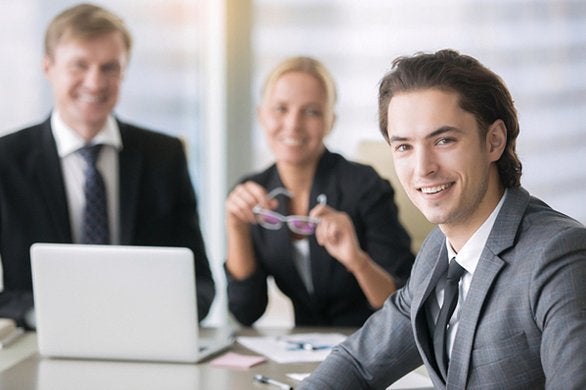 Sure, they're smiling now. But will they jump ship for the competition in a second?
Here are the six steps in creating a customized talent management strategy for a company:
1. Determine the overall goals and priorities of the organization. Managing talent is impossible if the company doesn't know what it's trying to do.
"Become the number one seller in our industry of our signature product."
"Increase total market share by 5% in the next five years."
"Bring three new products to market in the next three years and have each one become profitable in five years."
2. Identify the challenges and motivators with your employees. These can be external or internal forces or circumstances that impede or promote progress toward your company's goals.
"Statewide regulations on paying overtime for salary employees."
"A projected increase in demand for the company's services over the next decade."
"A perceived lack of middle manager accountability by front-line employees."
3. Undertake a company-wide "gap analysis." This aims to identify the talent gaps between where the company is right now and where it wants to be, and establishes what types of employees needs to be recruited to eliminate the gap.
"Must increase manufacturing capacity by 6% (in order to boost annual revenues by 10%)."
"Must cross-train 25% of workforce (in order to reduce absenteeism and increase productivity)."
"Must introduce role-playing exercises into onboarding processes (in order to boost customer satisfaction ratings by 8%)."
4. Outline the goals and priorities for your human resource efforts. Make sure these HR initiatives are aligned with corporate goals and that they are S.M.A.R.T. (specific, measurable, achievable, results-focused, and time-bound).
"Train all employees for company's online chat portal; have all of them proficient and ready to work by end of Q3."
"Create new one-hour diversity training presentation for new hires so that it can be implemented by the start of next year."
"Over the next 30-days, identify a couple of current employees who have high-performance scores and who wish to explore future upper management opportunities within the company."
5. Inventory all talent management processes. Look for ways to streamline your HR systems so that they support your organizational and business goals.
"Begin posting job openings on specific online employment sites."
"Add interview questions pertaining to federal regulations for our industry to the technical interview stage of the hiring process."
"Assess previous year's performance of all employees who completed the company training program."
6. Measure the results of the initiatives and inform the organization of the findings. This will help you figure out if the goal was achieved and/or its execution was seamless.
"80% of all sales people became certified to sell our new product by the start of this year, which was less than the 90% goal set by the CEO."
"As business directive, all employees were offered the opportunity to participate in 360 degree reviews so that managers got feedback as well as employees."
"Almost 15% of employees too advantage of tuition reimbursement during last year, which exceeded the 10% target set by management."
Once you get into the habit of setting goals, analyzing challenges, and measuring results, it will become easier to formulate actionable talent management strategies. Furthermore, you'll begin to reap the fruits of an effective talent management system and your recruitment efforts, productivity and retention will all get a big boost too. Given all of your potential for success and business growth, you simply can't afford not to have a solid talent management plan for your business.
Calling all HuffPost superfans!
Sign up for membership to become a founding member and help shape HuffPost's next chapter
This post was published on the now-closed HuffPost Contributor platform. Contributors control their own work and posted freely to our site. If you need to flag this entry as abusive,
send us an email
.