You're a busy mom, right? You wish to keep up with what's going on in the world? Your main outlet to do that is Facebook or the internet, right? Or maybe you work from home, and you need to keep up with your client's needs. Either way, you're busy and the guilt over your cell phone can be overwhelming. Everyone is telling you to be present in your life and with your children. They tell you to stop checking your phone so much. Now, I don't want to say that they're wrong. We probably all check our phone a bit too much, but I don't want you to feel bad as a mom for checking in on things going on in the world, with your friends, or answering those business emails. I want you to feel some relief because I see you and I know you're not a bad mother. You're a terrific mother who loves your kids. I see you because I see it in myself.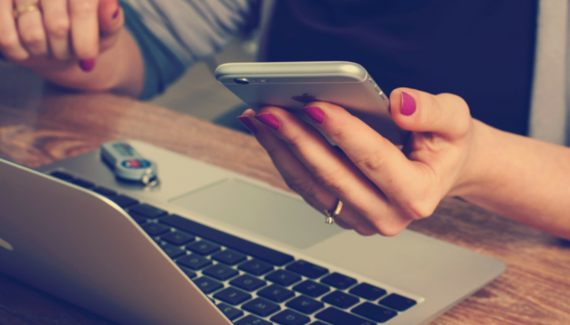 I used to feel constant guilt for checking in on social media or my website statistics, but I realized it's honestly a small portion of what we do on any given day. I think you'd realize the same thing if you did an audit of your day. My son will remember that I worked hard, but he will also remember that we played. If you feel bad about being a #wahm or a #workingmom, you shouldn't because there is mounting evidence for the advantages it gives our children. If you're a #sahm, you should be proud of all you do to keep your family running and how much they learn from you because you are enough!
The truth is that most of us check our cell phones more and more because we build our community online. When you think about your childhood do you remember your parents fussing over you all the time? No, you remember the entire neighborhood of moms at your house sipping sweet tea on the front porch while you recklessly slid down the slip n slide all summer long. You have those memories because your mom was building her community in person. We no longer live close to our parents. We are now spread throughout the country. Your best friend from high school is in Alaska while you're in Maine so you're only way to keep up with each other is via the internet. You know she'll be there to support you though as you struggle to function after a night of no sleep with a teething baby. This means the next day you'll be checking your Facebook messenger app, text messages, or snap chat for her little bits of wit that will make your day less difficult. This is your version of sipping sweet tea on the front porch. This is your life, and I want you to know that it's okay. You aren't neglecting your kid by not playing with them every minute of every day. You need the love, support, and connection you get from the internet.