Some men are luckier in life than in love. Whether they become top athletes, matinee idols, or wartime heroes, their trust in the goodness of people makes them loyal to a fault. Like big old dogs that can't stop wagging their tails with excitement once they see (or smell) a familiar face, these guys cling to idealistic fantasies about the women in their lives.
Alas, mothers and lovers are rarely as perfect as their men would like to imagine. Temptation rears its head at every turn (whether in the form of a new dress, some luscious chocolate, a hot stud, or the opportunity to don a new dress to impress a hot stud who arrives with some luscious chocolate).
Sometimes fantasies become reality and a woman is forced to make tough choices. At other times, she can have it all. As Mae West boasted in 1978's Sextette: "I'm the kinda girl who works for Paramount by day, and Fox all night."
Which leads one to ask: How much should any man risk on a woman's desire for monogamy?
As part of the San Francisco Silent Film Festival's weekend devoted to the nine silent films made by Alfred Hitchcock, audiences were treated to two movies in which love triangles provided the dramatic conflict. I'm sure I wasn't the only one who made the mistake of thinking that the title of 1927's The Ring (Hitchcock's fourth film) referred to the boxing ring in which two pugilists (Carl Brisson and Ian Hunter) vied for the attention of a polyamorous woman named Mabel (Lillian Hall-Davis).
The only original screenplay that Hitchcock wrote in his career, The Ring is actually about the jewelry Mabel wears to indicate the object of her affection. If it's a small ring worn on one of her fingers, she's thinking of "One-Round" Jack Sander. If it's the snake-like bracelet given to her by Sander's rival, she's thinking of Bob Corby,
Some of the scenes at the fairgrounds (built especially for this movie) show Hitchcock experimenting with various camera angles and techniques. Others are masters of suspense.
In The Ring, the two boxers are cursed by their competitiveness and the fact that they are in love with the same woman. Gordon Harker (the character actor seen getting drunk in the middle clip) plays Jack's trainer with the sad gruffness of a man who never really had a chance to shine.
This screening was accompanied by the Mont Alto Motion Picture Orchestra, a favorite of San Francisco Silent Film Festival audiences. While the plot is quite straightforward, Hitchcock's skill at building moments of suspense and jealousy is obvious from the start.
Brisson (whose son, Frederick, married Rosalind Russell) also starred in 1929's The Manxman as Peter Quilliam, the good-natured, dumb hunk who pledges to his best friend from school, Philip Christian (Malcolm Keen), that they will remain friends for life and always look out for each other's best interests. Unfortunately, both men fall in love with Kate Creegan (Anny Ondra).
What makes the plot of The Manxman so curious is that there is no real villain. Peter is a hard worker who realizes that, unless he goes away and makes a fortune, he will always be a poor fisherman to Kate's father (who refuses to let them marry). In a puppy-love kind of way, he extracts a promise from Kate that she will wait for him to return. However, Kate is already in love with Peter's best friend, Philip, who is now studying to be a lawyer in hopes of becoming a judge. Needless to say, Philip is torn between his affection for Kate and his professional conscience.
Then something remarkable happens. Word reaches their village on the Isle of Man that Peter has drowned in Africa. Kate and Philip are finally free to love each other and plan to marry. But when Peter returns to town (very much alive), he is eager to claim his bride and have Philip be the best man at his wedding.
There's good reason for Kate to feel upset (she's carrying Philip's child) and, if that fact alone couldn't kill Peter's spirit, there's more betrayal in store. This screening was accompanied by Stephen Horne on piano, flute, and accordion, and Diana Rowan on Celtic harp. You can watch the complete version of The Manxman (without sound) in the following clip. While there isn't much in the way of intertitles, the film reaffirms Norma Desmond's statement that "We didn't need dialogue. We had faces!"
Paul's loss of innocence seems like child's play compared to the machinations and power plays on display in Neil LaBute's 2005 dramedy, This Is How It Goes (which was staged earlier this year by the Aurora Theatre Company in Berkeley). As the show's director, Tom Ross, explains:
"Frequently referred to as the bad boy of contemporary theatre, LaBute has written this play to get under your skin. This is Neil LaBute unfiltered; a moralist who confronts our darkest behavior. I think This Is How It Goes is one of his most controversial plays. Although we all pat ourselves on the back that we live in a liberal enclave, racism does happen, and we can't just push it under the rug. This play has a fantastical role for an African-American actor and really pushes the audience's buttons in the way it confronts racism."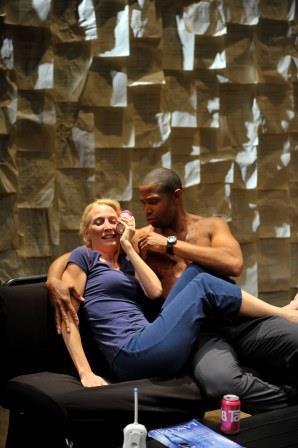 Belinda (Carrie Paff) and Cody (Aldo Billingslea) are an interracial
couple in This Is How It Goes (Photo by: David Allen)
LaBute's script involves three adults who attended high school together in a small Midwestern town.
Cody (Aldo Billingslea) is an African-American businessman with a type A personality, a short temper, and an extremely competitive streak. A former high school jock who has evolved into a dominating control freak, he's what playwright Jon Robin Baitz describes as a typical LaBute-style bully: "a scared, fucked-up little child out to fight old wars long forgotten."
Belinda (Carrie Paff) is Cody's very white wife, who admits that she married him so that she could piss off her parents and so that people would pay attention to her. With two kids, however, their marriage has soured. Tired of her husband's continued putdowns, Belinda is constantly cringing in dread of domestic violence.
The Man (Gabriel Marin) is an old classmate who has returned to town after a failed attempt to build a career as a lawyer. In high school, he weighed a lot more, was known for cracking jokes, was bullied by Cody, and fell madly in love with Belinda. When he runs into the woman of his dreams near a strip mall at the beginning of the play and nervously makes plans to meet up again to rehash old times, he demonstrates a life-long propensity for putting his foot in his mouth.
The Man also has problems telling the truth, often choosing to narrate his story through a rather self-serving perspective. LaBute (who claims to have been abused as a child) credits his father for teaching him the power words have to hurt other people. During his college years, the playwright converted to Mormonism. However, after writing a set of controversial monologues (Bash: Latter-Day Plays) in which Mormon characters were portrayed as murderers, he was "disfellowshipped" by the Church of Latter Day Saints and no longer considers himself a Mormon. As he explains:
"It's part of my makeup to ruin a perfectly good day for people. I think that people are very driven by self-preservation and find it extremely difficult to live with other people, to maintain friendships, and to be honest. If it's slightly easier to get away with something, then they'll give it a shot. Humans find it so easy to just slide by, to take the road that's slightly easier, to make the choice that's just a bit more selfish or self-serving. To be able to create those characters, I have to be able to inhabit them. What interests me is to try and understand that person. It's not the racism joke that interests me so much as how they justify it. That fascinates me: What people do to live with themselves and what they've done.

I feel I have a kind of bravado in my writing that I don't have in life. I write things on a page that I don't want to have to deal with in life. Writing is a safe vacuum for me because I'm not saying those horrible things to someone's face. On the page, I can always find the great retort that doesn't come to me at the right moment in life. But I always keep an eye on the pretty guy who can hurt me. Being pretty can bring out the worst in people. Pretty guys have this glow -- no matter how bad they are, people keep going back to them."
Because LaBute's play is so intricately plotted and deals with the racism one expects to find in a small town, I'll refrain from giving away any of the surprises the playwright throws in the audience's face. Let's just say that, having seen this play at the end of the day in which the media couldn't stop talking about Paula Deen's history of racist remarks, This Is How It Goes delivered a walloping dramatic punch. For what it's worth, its narrator also delivers a great dick joke.

Beautifully directed by Tom Ross with stunning performances by Aldo Billingslea, Carrie Paff, and Gabriel Marin (who seems to have developed a strong suit for portraying goofy schlemiels), LaBute's play offers audiences a 90-minute roller coaster ride between smugness and doubt, between jealousy and fear. This is the kind of play wherein caustic accusations fly as freely and fiercely as in Who's Afraid of Virginia Woolf? and the children remain safely offstage. Be warned: this ain't no Neil Simon comedy!
REAL LIFE. REAL NEWS. REAL VOICES.
Help us tell more of the stories that matter from voices that too often remain unheard.