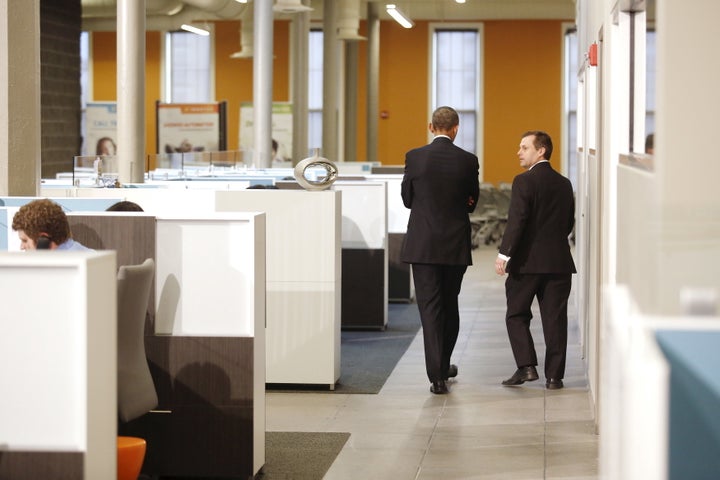 Co-authored by Ryan Burke, Senior Policy Advisor and Director of TechHire at the National Economic Council
In the fall of 2014, Albrey Brown was faced with a decision: he could take the tech skills he'd just learned from a coding boot camp and go into the industry, with a salary of over $100,000 per year, or take a risk in order to start a business focused on extending the same opportunity he'd received to those in his community. Just a few years ago, the decision point he faced would have been unthinkable.
Albrey grew up near Oakland, California. Given a series of difficult family events including the loss of his mother, he ultimately gave up on a traditional college pathway. Instead, Albrey took his passion for tech and business and tried launching a tech start-up. Albrey said about this decision: "It's funny to think about now, but I thought I was going to make a billion dollars. Instead, I spent all the money I had, and the startup failed."
What that failure taught him was that he needed technical knowledge to achieve his goals. So, he taught himself a computer language used for developing websites for a few months and then enrolled in a 12-week, 12-hour-per-day intensive coding boot camp.
It paid off. Albrey had the chance to land a job making over $100,000 per year in the tech industry as an engineer. Because of his new fluency in tech, doors were opening to a whole set of jobs from coding to digital marketing to usability research to technical product management. And though he was delighted by this offer, something was eating at him. He was bothered by the fact that so many people in his community didn't have access to these same opportunities, and his entrepreneurial American spirit took hold.
Instead of taking that engineering job, Albrey decided to start Telegraph Academy: an Oakland based coding boot camp aimed at training people of color and women with the same next-generation tech skills that Albrey had learned. His goal was to fill open tech jobs with people from his and other communities, who had not been exposed to these fields but could be using new fast-track training programs. Instead of taking one job, Albrey chose to help fill hundreds, if not thousands, of jobs with this new venture. In the past year alone, Telegraph Academy has already instructed over 450 people, more than 60 percent of whom are people of color.
Albrey is one example of tech entrepreneurs providing a new breed of training that is starting to be available across the U.S. and online providing short-course computer training, open to all.
In order to encourage more opportunity, President Obama launched TechHire in March 2015. TechHire helps expand local tech sectors by building tech talent pipelines in communities across the country. This past week, the Department of Labor announced $150 million in new TechHire partnership grants to enable more communities to expand their own local tech sectors. These grants are being awarded to 39 public and private partnerships that will provide training and employment services in 25 states.
The focus of the grants is to provide opportunities for people in every corner of the country and from all backgrounds to train for and connect to the jobs of the future. For example, in West Virginia, a $4 million grant will support the West Virginia Technology Transformation Initiative (WVTTI) to transform a once coal-dependent regional economy into a technology-based one by training young adults train to become software developers, mechanical engineers, and machinists.
Right now, the United States has 5.8 million unfilled jobs. More than 600,000 of these open jobs come from fields such as software development, network administration, user interface design, digital marketing and cybersecurity – jobs that our companies need filled in order to grow and flourish. These "tech jobs" are good, middle class jobs which also pay 50 percent higher on average than other private-sector jobs.
And, while Silicon Valley and other high-tech industry hubs are thriving, it is a misconception that they are the only places where tech jobs and entrepreneurial options are available. Opportunities in technology exist in every part of our country, in industries as diverse as healthcare, retail, manufacturing, energy, and local government. And many of these jobs are available to those without advanced degrees.
In addition to continuing to encourage students to pursue bachelor's degrees in engineering, computer science, and math,we still need many more people to fill open technology jobs than the four-year university system is currently producing, or will produce in the next decade.
To take advantage of this opportunity, TechHire began with 21 communities that have over 150,000 open technology jobs and more than 300 employer partners who are expanding hiring to draw from this additional talent pool. Today, the number of TechHire communities has more than doubled to 50 communities, with the support of nearly 1,000 employers. These range from programs in New York City that connect low-income young people to tech training and internships to a program in rural Eastern Kentucky that teaches former coalminers to code. So far, thousands of individuals have received training through partnerships developed by TechHire communities. The President's Computer Science for All initiative, with the goal of giving every K-12 student the opportunity to learn computer science, is also contributing to the effort to introduce more Americans to tech-related fields.
Here are some examples of practices that are spreading across the country in TechHire communities:
Employers are broadening recruiting and hiring practices to identify and hire candidates based on their ability to do the job, in addition to outreach to those from more traditional educational backgrounds.
Communities are expanding programs and access to training that links up with employer hiring needs using coding boot camps, new community college programs, online courses, and more to help people gain tech skills in months versus years.
Workforce development organizations and non-profits are working to expand the pool of available workers – raising local awareness of these programs and expanding offerings of supportive services like transportation, mentoring, and financial counseling. These efforts will ensure that people from all backgrounds have access to tech training as a pathway to the middle class.
Civic innovators are supporting the inclusive growth of local tech ecosystems by creating new engagement programs and getting the word out about existing local tech community gatherings and startup co-working spaces, meet-ups, hack-a-thons, solution summits, and more.
In the coming months, the TechHire network will expand to include more cities, states, and rural communities with ambitious, executable, and community-supported plans to fill the open tech jobs locally. Your city should be one of them.
Megan Smith is the U.S. Chief Technology Officer
Ryan Burke is a Senior Policy Advisor and Director of TechHire at the National Economic Council
Albrey Brown also contributed to this piece
Popular in the Community