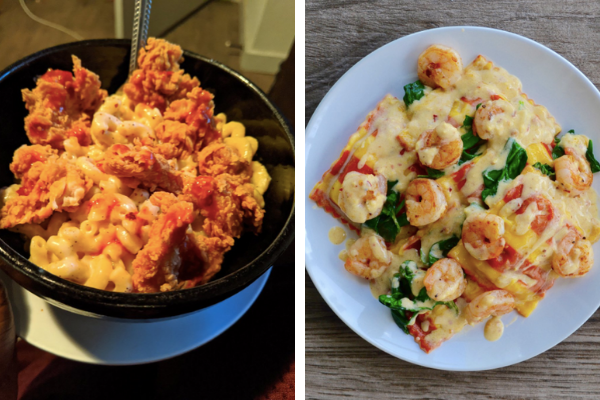 Like many of you, I've been practicing extreme social distancing as the specter of an invisible threat looms outside. Because of the coronavirus, I'm not going to bars or restaurants, I'm certainly not hosting any dinners for my friends, and my trips outside have become short, anxiety-riddled affairs devoid of any human contact, if I can help it.
The problem is, this new lifestyle is antithetical to the one I lived a week ago, when the self-quarantining began in earnest here in New York City. My well-being revolves around the meals I enjoy in the company of people I know, and I've grown accustomed to having the outlet of food and friends available to me 24/7 (yes, I am spoiled, both emotionally and calorically). But much of the city's social privileges were canceled overnight, and now we're all staying indoors. For needy people like me, this is not ideal.
The self-care substitutes I'm left with are a fridge full of food ― thanks to an ill-advised fit of panic shopping ― and social media, the only place to unload emotional baggage onto my peers now that a global crisis has interrupted my dinner party plans.
So I cook at home, I post photos of my meals and I seek out inspiration from real home cooks because I have no idea how to put all these new ingredients together on my own. You all seem to be doing the same ― I've seen a lot more of your home cooking on Twitter since this isolating pandemic began, and your posts are truly helping to treat my social withdrawal.
So I asked you, the readers, to send me more of the meals you're cooking from your new life under self-quarantine. I kicked the exercise off with the fancy grilled cheese sandwich I made, using kimchi, scallions and some leftover pulled pork:
Did I mention I'm an average cook with the palate of a stoned teenager? Luckily, I got some much-needed inspiration from your responses, which ranged from adorable Pinterest-ready family meals to unholy gray matter that looks like it may well outlive us in an apocalypse. I loved them all.
A good number of you are making tacos, which is a tried and true response to having a variety of produce and (in my case) no idea what to do with it:
Some of you are doing what I did by cooking down bigger cuts of meat first to use in several meals. In my case, I threw a pre-smoked pork shoulder in the sous vide machine for 24 hours, preparing for a dinner party that was quickly and rightly canceled over coronavirus fears. You all seem more prepared:
Others are opting for hearty soups, which I would like to re-create myself, but I'm too intimidated.
Yours look pretty dang good, though:
Next up are the kitchen warriors I most identify with; those who opened the fridge, grabbed anything and everything they could find, and threw proteins and veggies on top of some starch with maybe some cheese or soy sauce.
You folks are out there experimenting and innovating when some of us don't have the guts. I, for one, salute you for these creations:
Last but not least come the comfort foods. We all know we're about to pack on a few pounds in the quarantine, and that's OK!
You folks are leaning in, baking and frying using lots of butter and sour cream, and I want you to know that I support you:
Popular in the Community