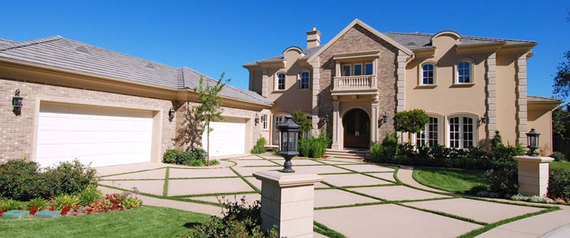 Act now! This property will not last. An absolutely charming 3 bedroom, 2 bath Victorian style dream home that's perfect for any family looking to begin a journey of bitterness and resentment together.
At nearly 4,000 square feet, this enviable treasure has almost too many amenities to list. The master bedroom includes floor-to-ceiling windows that afford breathtaking views of your neighbor's increasing success and full head of hair.
You'll also find a spacious master bath with Italian tile flooring and 10 jet jacuzzi tub, perfect for those days when you need to unwind. Dip in and drift away under recessed ceiling lights that help calm the senses and splash warm luminance onto every single one of your husband's revolting flaws. Plus, his and her sinks!
Continue on to the open floor living room which boasts a dramatic fireplace built from local granite. Nestle in front of the flames on chilly nights and slip comfortably into the winter of your discontent, every winter for the rest of your lonely existence.
The perks don't stop there, though. A detached dining room offers a cozy space for any family looking to spend time together smashing plates and screaming about sacrifices. Or, if it's a quiet moment alone you want, nestle into the breakfast nook to sip coffee and fantasize about what life would have been like if you married someone else.
Enjoy a quick pit stop in the charming and sophisticated media room, which comes complete with vaulted ceilings and reclaimed wood beams. The cutting edge design of this "chill zone" boasts theater-grade acoustics that will amplify your wife's sullen silence into a near deafening cacophony of passive aggressive hostility. Movie nights will never be the same again!
Your journey through homeowner's paradise crescendos in the kitchen. Designed by Martha Stewart's apprentice, this temple of cuisine features stainless steel refrigerators and bountiful custom oak cabinetry, so you'll never run out of things to slam shut during an argument about mortgage payments.
But, the true crown jewel is the kitchen island, complete with marble countertops and "farmhouse" style sinks. This component is an absolute must for anyone who wants to begrudgingly prepare family meals or silently weep while washing dishes. Granite backsplashes and premium appliances come standard.
The home sits on a full acre lot; replete with lush fruit trees that never blossom, gorgeous grass that constantly needs to be cut, and a delightful water fountain that requires endless maintenance. Within the spacious backyard, you'll discover an area for the kids to play and an outdoor kitchen with BBQ where dad can drink too much and accuse mom of undermining him in front of friends.
The fun extends to the intimate and brilliantly landscaped garden, where you can take a stroll through manicured shrubs to discover a private spot for contemplation and aggressive cigarette smoking, despite having "quit" years ago.
As far as convenient neighborhoods go, this one can't be topped. With an easy five-minute drive into downtown, you can spend the weekends shopping at artisanal stores, enjoying lunch at one of the many fine dining establishments, or committing adultery with a travelling salesman at the local pub.
All of this, plus award-winning schools just blocks away. Rest easy knowing your kids are safe and learning to abuse controlled substances to cope with the traumatic experience of living with you. Great public transportation as well.
This dream domicile can be yours for the low price of an eternity slaving away at a miserable job. Call today and seize the chance of a lifetime!
This post originally appeared on Medium.