Starting Jan 22, 2018, depending on the state that you live in, you may need a passport or other TSA approved ID to travel domestically. Your state ID or driver's license may not be enough to board the plane! Wondering why? You can thank the Real ID Act of 2005. While this change makes flying even harder, it was initiated over 10 years ago as a counterterrorism measure proposed by the 9/11 Commission. In 2005, this commission gave state governments stricter criteria for State ID and driver's licenses. Despite the now 11-year grace period to improve ID standards, not all states have adjusted their ID to meet the more robust criteria.
The Real ID Act legislation deems that some State ID's are "Non-compliant" because people can get driver's licenses and identification without proof of citizenship or residency. So, travelers from these noncompliant states now have two options. You can use your passport when you fly or you can apply for an Enhanced Driver's License. According to the Department of Homeland Security, states and other jurisdictions have made significant progress in enhancing the security of their licenses over the last number of years. As a result, approximately 70-80% of all U.S. drivers hold licenses from jurisdictions: (1) determined to meet the Act's standards; or (2) that have received extensions. Individuals holding driver's licenses or identification cards from these jurisdictions may continue to use them as before.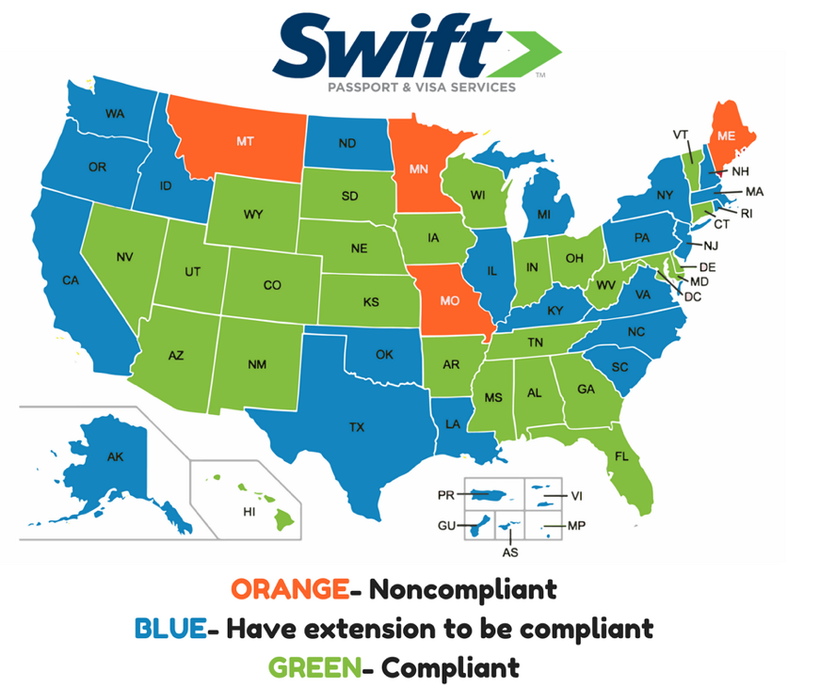 Assuming noncompliant states do not meet this deadline, there will be a mad rush for people to obtain US passports at the end of 2017 and the beginning of 2018. Peak passport application season is January through August and the problem is further exacerbated by the fact that The U.S. State Department has issued warnings about a huge increase in passport applications from 2016-2018. According to the State Department, "In 2007, we experienced an unprecedented surge in passport applications, issuing over 18 million passports as a result of the Western Hemisphere Travel Initiative (WHTI). Nearly ten years later, those passports are beginning to expire, and we have been experiencing increased demand for passport renewals. We issued over 15.5 million passports in fiscal year 2015 and the increased demand is expected to continue through 2018."
Current passport processing times are listed as 6-8 weeks, with this influx of applications, it is expected that it could take even longer than 8 weeks to for your passport to be issued by mail. If you need it faster than that, you have 3 options.
1) You can pay an extra $60 to expedite the passport by mail and get their passport in about 3 weeks. Any problem with the application will cause a 1 week delay or more.
2) You can pay an extra $60 to expedite a passport in person at a Regional Passport Agency. Processing will take 1 to 8 business days, but the exact turnaround time will depend upon which Regional Passport Agency you visit, and the facility's ability to accommodate your travel needs. To get your passport expedited at a Regional Passport Agency, you may also need to make an appointment and/or show that you are traveling in two weeks or less.
3) Use a third party passport expediting service. These services can get a passport in as little as 1 business day. In addition to the $60 government expediting fee, these services also have a service fee ranging from $100-$400.
In conclusion, if you live in a non-compliant state, or even a state with an extension, and you plan to travel in the next 2 years, get a passport or other TSA approved ID now. Please be sure to check back with the US Department of Homeland Security for all updates on the compliance status of your state, as this information is very fluid and subject to change. There will be a lot of unhappy travelers who can't get ID in time, but remember, this is a preventable problem that does not need to negatively impact your travel plans! Take care of it now, and happy travels, wherever life may take you!
Calling all HuffPost superfans!
Sign up for membership to become a founding member and help shape HuffPost's next chapter
This post was published on the now-closed HuffPost Contributor platform. Contributors control their own work and posted freely to our site. If you need to flag this entry as abusive,
send us an email
.