'Twas the month of December
And e'r'where you looked
There was stuff to get done--
You were way overbooked.
If only you had
Someone else who'd pitch in,
An amiable guy
With some skills
And a grin.
You once had a husband,
But he was no help.
In holidays past
You toiled all by yourself.
Just as your stress level
Cranks up to high,
You spot a wee sprite
On the shelf right nearby.


It's that elf that your kids like
To play with each year.
They move him about,
Spreading holiday cheer.
It's then that you get
An idea so swell,
It just might deport you
From Holiday Hell.
To somewhere way nicer,
With mirth and some glee,
Where you'll still have to work,
But much more happily.
The gimmick you've struck on
Will not do your chores,
Like cooking or cleaning
Or shopping in stores.
But that's not a big deal
In the grand scheme of things.
What matters is mood
And yours needs a swing.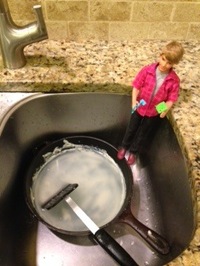 So quick as a reindeer
You dash down the hall,
Straight for your kid's room,
Dodging toys and a ball.
You frantically look
All over the place.
It's quite a relief
When you come face-to-face,
With the Ken doll your daughter
Outgrew years ago.
He's there in that box
With the dried up Play Dough.
You grab him and lift him
Right up to the light.
You think to yourself,
He's much more than all right.
You give him a name--
Same as your ex hubby.
Then the real fun begins
When he starts getting grubby.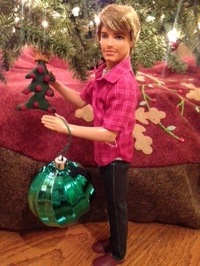 With food prep and dishes
And trimming the tree.
Gift wrapping and laundry
And bathrooms to clean
Elf on the Shelf
Is fine for the young.
Tracking his movements
Is plenty of fun.
But when you're divorced
You need something more.
And there's nothing like seeing
Your ex doing chores.
So put him in charge
Of your least favorite tasks,
No matter how gross.
You don't have to ask.
You've reached a great place--
He can't offer opinions.
There's much to get done
And now he's just your minion.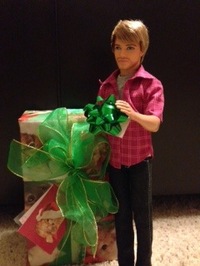 So put him to work.
Go ahead, make your day.
But don't dare forget
There are limits at play.
Where work is concerned
It's still all down to you.
So don't ever expect
Him to really come through.