Kyle Wong is the cofounder and CEO of Pixlee, a tech company that leverages the trove of visual brand endorsements available on the web today. The startup is capitalizing on the behavior of millions of people, especially millennials, who share hashtagged photos of their favorite teams, stores, and products on social media on a regular basis. Pixlee helps brands see this opportunity to better connect with consumers, using authentic user photos from social media sites as endorsement and marketing channels for big name companies -- unlike it's ever been done before. Kyle and Pixlee are changing the game for e-commerce companies, lifestyle businesses, sporting and sponsored events, live performances, and travel.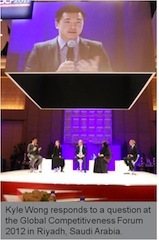 Kyle speaking at a 2012 NFTE forum on Global Competitiveness, in Saudi Arabia.
We at NFTE are so proud of Kyle, one of our own alums, who has already raised over $1.5 million in seed funding and partnered with over 75 companies. Kyle is working with a team of 15 people, including several talented engineers and a seasoned tech executive with deep expertise in rich media.
Steve Mariotti: Can you explain what your company does? Kyle Wong:
By using Pixlee, companies no longer need to hire models to pose with their product, searching for a way to reach out to their target demographic. Regular people who drink Coke or wear North Face -- just two of Pixlee's big-name clients -- hashtag photos and get featured on the company's site. For Coke and Northface this means more exposure, better marketing, and ultimately increased conversion and engagement for the company. We take this one step further by bringing data to the table. Their platform has a rich set of analytics, aiming to:
engage with visual brand advocates,
identify the best photos to reuse, and
measure the impact of having consumer photos on the site.
This data is going to become more and more important as customers use Pixlee beyond galleries and product pages, to personalize the entire site experience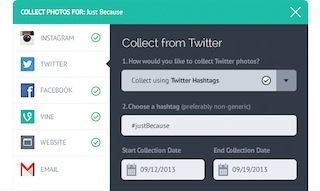 The Pixlee Platform (https://www.pixlee.com/product)
SM: As a young company, what was your strategy in building this team?
KW: We pride ourselves on having some of the best engineers and designers in Silicon Valley. We think that a great engineering team leads to a great product, and a great product leads to happy customers. With that said we also believe in building a "full-stack" team with complementary skill sets both on the engineering and business team. By having a nice combination of experience and talent on both teams we think we have a great foundation for growth.
SM: What is Pixlee's competitive advantage?
KW: Pixlee is differentiated from competition because of its unique ability to aggregate visual content and use the data behind the photos.
One of the benefits of being a young company is that we were built on the thesis that the problem with user-generated photos isn't quantity; it's relevancy and quality. While a lot of other companies are focused on social aggregation based on hashtags, we think that the real value is in the data. We've built sophisticated photo algorithms to help companies deliver personalized visual content at scale.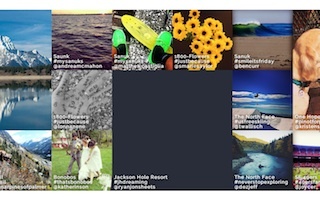 A few of Pixlee's customers
SM: What are two key practices in succeeding as a startup?
KW: I believe as an entrepreneur one of the keys to success is to know what you don't know. It's important to surround yourself with a talented team with complementary skill sets. You don't need to know everything to be successful, but you need to know how to ask the right questions.
The second important practice is to manage your emotions. Finding ways to manage your emotions and deal with the stress of running a startup is incredibly important. It's important to realize that building a successful startup is a marathon and your team is depending on you to set the pace.

SM: What is it like being a young entrepreneur and how do you play off the strengths of your teammates?
KW: It's always beneficial as an entrepreneur to have insights on the space that you're entering. While the founders don't have a formal marketing background, prior to Pixlee we have created businesses that are directly related to this space. When it comes to user-generated photos, we understand what has changed in the market because our friends and age group are the ones that are led to the massive growth in photo sharing.

Through Pixlee, Kyle Wong and his cofounders -- Awad Sayeed, Miraj Mohsin, and Jeff Chen -- are changing the way customers and companies connect. The team is pioneering the industry, disrupting the experience of marketing to something intimate, and personal. Best of luck to Pixlee as they continue to grow, spread and innovate their software!
Special thanks to Maya Horgan and Lauren Bailey for assistance crafting this article.