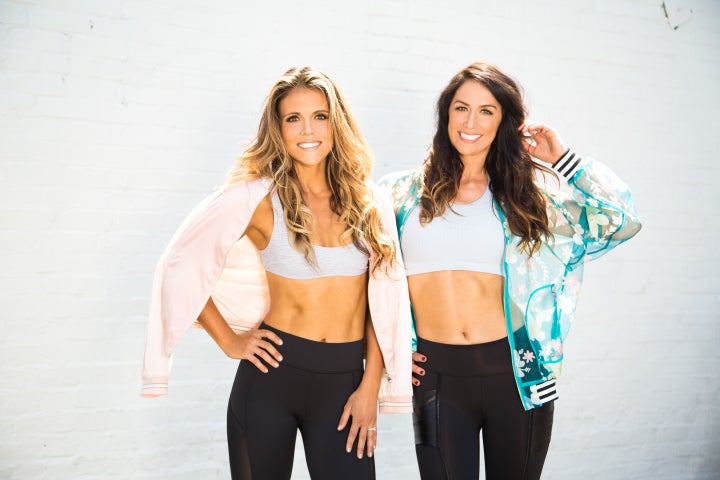 Somewhere between pool days and pumpkin spice lattes, it became clear: fall has officially arrived. But just because it's time to pack away your beach towels doesn't mean your summer workout routine has to disappear right along with them. I enlisted Karena Dawn and Katrina Scott, co-founders of Tone It Up, the company taking the fitness industry by storm and featured by the likes of Forbes, Elle, Self and Glamour. Here are five of their top tips to make this your fittest fall yet.
1. Get in the zone (or create your own).
Studies show that when people designate specifics areas for activities, they sleep better, work harder, and the same applies to exercise.
"Make an area in your house or apartment your space," Scott says. "Set up some dumbbells, a yoga mat, resistance bands and whatever else you need in order to complete your workouts. Having your own area already setup will reduce the amount of time each morning it takes to workout."
Speaking of a few extra minutes snuggled under the covers each morning…
2. Dress for success (and save time doing it).
Think back to grade school, when you might've laid out your school clothes each night. Even if the only classes you're attending this fall are at the gym, you can still prep your outfits the night before to earn back a few extra minutes of your day.
Dawn says, "I also like to lay out my workout clothes the night before, or even sleep in them. It helps ensure you're extra prepared so you're more likely to get your morning workout in."
3. Hit your reset button.
Summers are often jam-packed with barbecues, beach days and boat outings, which can leave little time to rest in between. Spending less time on-the-go as the weather gets cooler can actually be the perfect opportunity to reset and recharge.
"Fall is synonymous with change, and change can be a really good thing! With the changing season, give yourself a day of 'R&R,' because you deserve it. Giving your mind and body a little break will help you approach everything with a fresh state of mind," Dawn says.
4. Pick your treat over trick-or-treat.
With the holidays right around the corner, fall can be a tempting time of year when it comes to indulgences. But there are lots of healthy alternatives to traditional holiday desserts. Instead of fighting your cravings, work with them by using healthy ingredients that still satisfy.
Scott says, "We totally believe in indulging in a glass of wine or a fun fall treat here and there, but for the rest of the time it's important to find a healthy alternative. We've found a lot of ways to get our sweet tooth fix while still working toward our fitness goals. I mean, have you seen our new pumpkin spice donut hole recipe featured from our 31 Day Meal Plan? It tastes like the real deal while still being good for you! And we've created a new pumpkin spice flavor of our Perfect Fit Protein. There are ways to savor the season healthfully for sure."
5. Choose your challenge.
Fall is the beginning of new classes, courses and programs -- why not get into the spirit of starting fresh with a new workout regimen or fitness challenge? Scott and Dawn are launching a fall fitness challenge that anyone can join starting Oct. 1, 2016.
Dawn says, "We created the 31 Day Challenge and meal plan to fit everyone's lifestyle. The 31 Day Challenge is free for everyone to participate in. It includes daily workouts, lifestyle tips and nutrition challenges. The 31 Day Meal Plan has everything you need to know about what to eat, how to boost your metabolism with food, and weekly grocery lists and recipes."
Fall into Your Year-Round Routine
Just because summer has ended doesn't mean that fall isn't the perfect time of year to stay healthy or get even stronger. Set yourself up for success by creating spaces and habits that fuel your commitment to a healthy lifestyle, and consider adding a new regimen or two. You just might find that the challenges you commit to during fall will carry you to the strongest, fittest version of yourself next summer.
Related
Popular in the Community