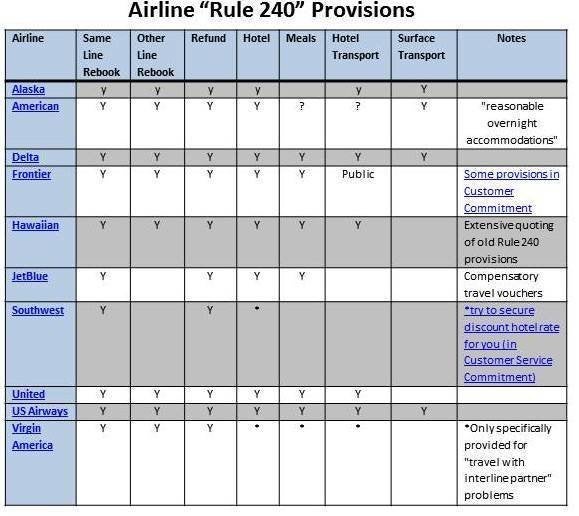 We all know that air travel is never a sure thing. Many flights are delayed or cancelled, for a variety of reasons. But if your flight is cancelled, what do you do? What are your rights?
There was once an FAA rule, Rule 240, which required airlines to book you on other airlines' flights in the event of cancellations. However, as the FAA tells us, the term "refers to a rule that existed before airline deregulation. There is no longer an actual Rule 240. The term, as it is now used, refers to each airline's 'conditions of carriage' policy. You would need to contact the airlines to obtain this."
Each airline has its own policies about what it will do for delayed passengers waiting at the airport; there are no federal requirements. If you are delayed, ask the airline staff if it will pay for meals or a phone call. Some airlines, often those charging very low fares, do not provide any amenities to stranded passengers. Others may not offer amenities if the delay is caused by bad weather or something else beyond the airline's control.

Contrary to popular belief, airlines are not required to compensate passengers whose flights are delayed or canceled. As discussed in the chapter on overbooking, compensation is required by law only when you are "bumped" from a flight that is oversold. Airlines almost always refuse to pay passengers for financial losses resulting from a delayed flight. If the purpose of your trip is to close a potentially lucrative business deal, give a speech or lecture, attend a family function or connect to a cruise, you might want to allow a little extra leeway and take an earlier flight.

In other words, airline delays and cancellations aren't unusual, and defensive planning is a good idea when time is your most important consideration.
A FlyersRights member wrote to me last week about his son's good fortune when his family faced a cancellation recently. Rather than storming up to the counter, his son politely requested passage on another airline under the provisions of Rule 240. Luckily, the airline's contract of carriage apparently contained provisions for this, and they rebooked the family on another airline.
As the DOT says, there is no longer a legal requirement to do so, and some airlines provide very little for stranded passengers, but it's certainly worth a try. The key, of course, is to use honey instead of vinegar. As our FlyersRights member noted, many gate agents aren't familiar with the nuances of this, and citing the rule may motivate them to help you.
The following table compares major airlines' current commitment to Rule 240 provisions. It is current as of January 15, 2012 and is subject to change. As you'll see, provisions vary by airline, and are sometimes spread between their Contract of Carriage and customer commitment documents.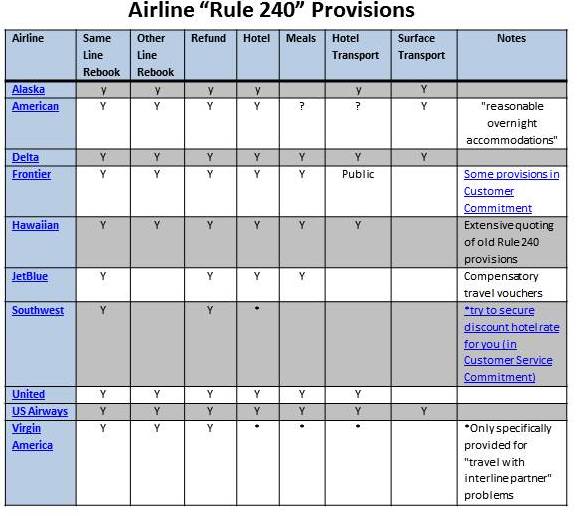 FlyersRights believes that the provisions of the old Rule 240 need to be a part of the next DOT rulemaking. While cancellations are sometimes unavoidable -- and sometimes not the airlines' fault -- neither are they our fault, and airlines must make every effort to accommodate us on other companies' flights. The disparity of commitment between the various airlines highlights the need for a standard approach.
Related