I see this all the time in my coaching business and mastermind groups. My clients spend a lot of time on the pre-planning and on-site work -- for prospect presentations, trade shows, conferences, networking events and on and on. Here's where they fall short: It's all about the follow-up people!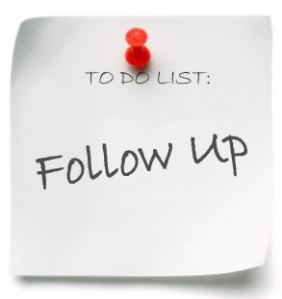 Woody Allen once said the key to success is in "showing up." I think that's a fraction of what it takes to stand out, make a positive impression and/or seal the deal.
Don't get me wrong, showing up counts -- for a lot. It's one of the most important things to do in our fast-paced, high-tech, low-touch world that matters. Preparing for those face-to-face opportunities is also crucial and as the saying goes "luck is when preparation meets opportunity." Getting ready or preparing for a face-to-face meeting is essential, as is knowing what to wear, what to bring and what to say.
So, here's my question: Why, after investing in preparing and showing up for an opportunity, would you drop the ball on the follow-up? If you've succeeded in the first two steps (preparation and showing up) by all means complete the process and follow-up! Recently, I had a client attend two tradeshows. She collected business cards, made notes about what should be done after the conferences and guess what -- she's done nothing and four weeks have passed.
Her reasoning is simple and one myself and so many other small business owners can relate to -- lack of "bandwidth." It's a lack of people to help enter the data in the Customer Relationship Management (CRM) system, write the emails, deliver on promises of information that would be passed on after the conference, etc. Talk about a missed opportunity, people!
Allow me to help save you thousands of dollars and a ton of your time by suggesting you simply "pass" on these opportunities if you're not committed to the follow-up and follow-through. If on the other hand, you are committed to the three phases of maximizing your time at these often critical networking opportunities, here are some suggestions on the final phase of follow-up.
1.Write notes on the back of business cards you collect to jog your memory about what you need to send or get back to this person on. It may even be a request to interview them for an article you're writing for your website, trade publication, etc.
2.Hire a virtual assistant versed in your CRM program if you don't have the staff to do so. You are only as good as your list my friends. Make notes on what you learned about the person and what action steps need to be taken when you return from the show.
3.Deliver on what you promised. If you said you'd send them something, refer them to someone, or share a resource -- do it. It shows you have integrity and are interested in cultivating a meaningful business relationship for each of you.
4.Continue to keep in touch in meaningful ways -- regardless of whether or not you get an immediate response from them -- it's important to stay engaged. This can easily be input into your CRM program as a reminder to reach out again. Ask them if they'd like to receive your e-zine (electronic newsletter), an article you just wrote, etc. Be a resource, not a pest -- it's the best way for a relationship to grow.
Related
Popular in the Community