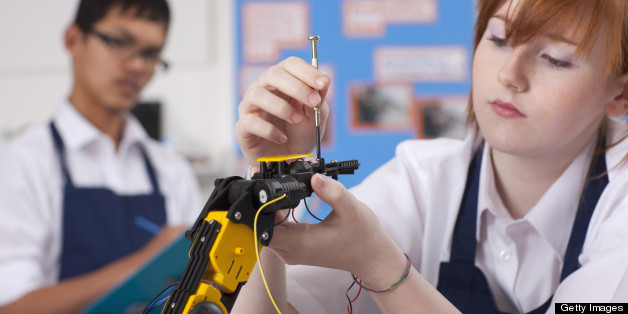 When I was a young girl growing up in a small seaside town in England, my recently-widowed mother of four girls always told me that I had better learn how to DO something, so that if I was ever left in the same situation as she had been, I could be financially independent. Practical advice from a practical lady. The other bit of advice that mum gave me was to always have my own money, in my own account, whether I was married, single, in love or out. Again, starkly pragmatic and way before her time. To this day, I can't thank my mum enough for her practical wisdom.
This is the advice I now give to students I mentor as part of my work with the UCLA Anderson School of Business, and it's my advice to just about anyone who'll listen when it comes to finding our place not only in today's volatile economy, but in the widening world. Having work which rewards you is powerful, and makes you powerful -- not only because you have somewhere to go, but you have something to DO. We are called to do it, and this is why it's called our vocation.
In the past half-century, America's concept of work has changed radically. "Desk jobs," office jobs, indoor suit-and-tie jobs became the sort of postwar ideal that guaranteed a bright future. However, not all work requires a suit, or a four-year college degree (or a more advanced degree after that). There is all sorts of work in this world, and it all needs to be done by trained professionals who care about what they DO. Because someone has to be up and on their feet well before dawn to bake bread for the morning rush. Someone has to care for children when their parents work elsewhere. Someone has to cut hair and care for skin. Someone has to possess the skill and training to know how to fix the household plumbing or electrical outage. And, I tell my mentees and students, that someone could be you.
Vocational work almost always revolves around service, and it requires receiving hands-on, technical skill set training, whether the individual aspires to become a professional chef, a landscaper or a licensed professional skin therapist like myself. When performing vocational work, there is usually a great deal of human interaction involved and a sense of pride when using these hard-earned skills. My hardworking widowed mother was able to put food on the table and support herself and four daughters while she was employed as a registered nurse. I began my own career and learned the importance of financial independence at age 13, sweeping up hair cuttings from the floor at the local salon every Saturday. This was my introduction to the professional salon industry where I have built a career in providing education and training for future licensed professional skin therapists. I have seen firsthand the possibilities that a vocational skill set can provide, which can quite literally change the course of someone's life.
Vocational work often becomes a pathway to entrepreneurial success, and this is especially true in the professional salon industry. A trained professional skin therapist can go on to open their own skin care center just as a trained chef can open their own restaurant. Whereas if you work for a large corporate conglomerate -- while I hope there is opportunity within that setting for you to thrive and grow in terms of your own professional development -- in most cases you have to stick to the script. Big, successful companies are generally running on a proven template, which is flexible only in degrees. A small business, especially when you own it yourself, is another story. You're free to make your own mistakes. That's the risk. The huge plus is that the success belongs to you in a way which is unique to entrepreneurs.
Working in the professional salon industry for the past 30 years has allowed me to see the doors that open for women when they are able to use their vocational skills to start their own business -- they are not only able to gain their financial independence, but have the means to provide for their families and contribute to the communities at large. Interestingly, women own 64 percent of the salon businesses in the USA, as compared to 31 percent of businesses in any other sector. This has been the basis for what inspired us to launch our company's global social impact women's economic initiative, FITE (Financial Independence Through Entrepreneurship), which has so far helped fund the businesses of more than 50,000 women entrepreneurs worldwide. We have also added a further empowerment piece called the 'FITE Future Entrepreneurs' program, which provides vocational training to women who wish to pursue a career, and possibly start a business, within the salon industry. The program was recognized this past September at the annual Clinton Global Initiative in New York, where Secretary Hillary Clinton personally announced the new FITE commitment.
Granted, not everyone is an entrepreneur by nature. But for those who do not find fulfillment in crunching numbers at a desk or climbing the corporate ladder, a vocational career may still hold the answer. Vocational work is all about receiving training on a transportable, vital skill that opens doors to new opportunities, provides financial independence and allows direct interaction with people. In short, it allows you the ability to DO something.
Calling all HuffPost superfans!
Sign up for membership to become a founding member and help shape HuffPost's next chapter