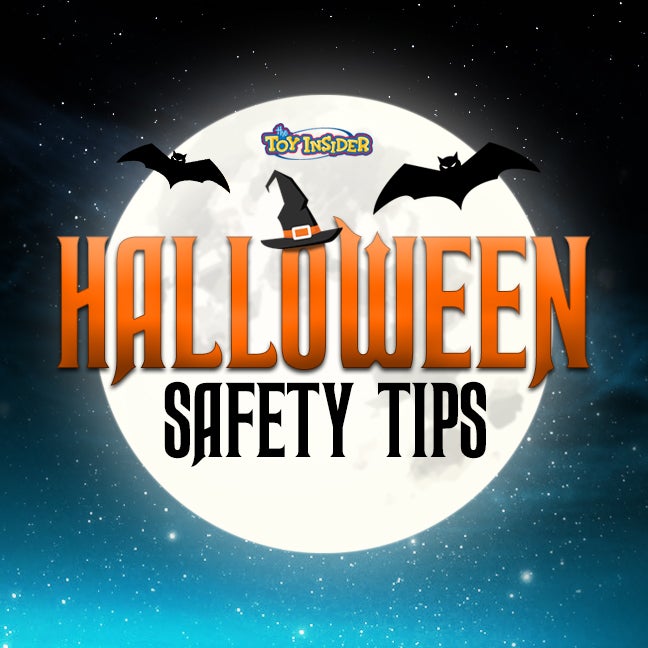 Pumpkins and candy and costumes, oh my!
No matter how old you are, it's always fun to get in the Halloween spirit! For one night, kids get the chance to become their most idolized superhero, pop singer, or movie star, and adults get to watch their kids' faces light up as they eagerly traipse through the neighborhood. Let's take bets—how many Wonder Woman trick-or-treaters will we see this year?
That said, it's easy for parents to get caught up in the Halloween hoopla, buying every additional accessory, candy bag, and costume embellishment in order to make their kid's night complete—but it's important to keep in mind a few Halloween 101 tips.
I had the chance to chat with the Toy Safety Mom, Joan Lawrence, of The Toy Association, and she schooled me on Halloween safety. Thanks to her safety feedback, and with a little help from Rubie's Costume Co. and Jakk's Pacific's Disguise Halloween costume lines, we can make this year's festivities fun AND safe for all!
Q: What are some safety precautions families should take this Halloween?
JL: With families getting ready for a fun holiday of dressing up, trick-or-treating, and spooky parties, there are definitely a few things parents should keep in mind. Making sure that Halloween is both fun and safe for little ones involves a bit of extra planning and supervision to be sure that very young kids don't come into contact with choking hazards, and that older kids understand how to properly use costume props and accessories.
Q: Let's talk about choking hazards. What are they, and how can parents avoid them?
JL: Halloween trinkets, small toys, and candies given out at parties or found in goody bags may present a choking hazard to kids under three (or one who still mouths objects). Carefully look through anything your child receives to make sure it's appropriate for their age. I often tell parents to consider getting a small parts tester (available on Amazon and in the baby-proofing section of many toy stores), which is an effective and easy-to-use tool to test whether an object might be a choking hazard.
Batteries are another potential hazard. From spooky door buzzers to flashing skeletons, lots of Halloween decorations take batteries, and they can be very dangerous if accidentally swallowed. Be sure to keep any decoration (and other common household items that use batteries) away from kids—and never leave batteries within their reach. That said, toys for kids under 8 are required by law to have a locking compartment to prevent children from accessing batteries.
Q. What are some safety concerns related to costume props and accessories?
JL: From light sabers and wands to swords and masks, props are a big part of dressing up and can be a lot of fun, but be sure that they are appropriate for your child's age and abilities. Once you've brought everything home, show your child how to safely and appropriately play with their costumes. And, as always, be sure to supervise your children while they role-play and interact with siblings and friends.
Q. What's the best thing to do with costumes once Halloween has come and gone?
Already worn costumes are a great addition to the toy box! Kids love to role play all year long, so it makes sense to hang onto any Halloween gear that they might want to play with down the line.
If you want to give away or donate your gently used Halloween costumes and accessories, make sure that they are clean and in good working order. Likewise, if you get a hand-me-down costume from a friend, check that it's in good shape (for example, no loose buttons or snaps, fits well to avoid trip hazards, etc.) and that it hasn't been recalled (at recalls.gov).
Q. Do you have anything else to add?
JL: These tips are specific to Halloween, but I have tons more guidance for parents at playsafe.org, which focuses on toy and play safety year-round. It's a comprehensive, free resource that includes detailed tips on small parts, how to follow age-grading on toy packaging, the importance of parental supervision during play, and much more.
Laurie Schacht, also known as The Toy Insider Mom, has covered the toy industry for more than 20 years. The Toy Insider is a year-round resource for parents, grandparents and other gift-givers looking for the best toys for their kids. The Toy Insider also produces an annual holiday gift guide featured in Family Circle magazine. Visit thetoyinsider.com for the latest toy news, reviews, giveaways, and more.
Calling all HuffPost superfans!
Sign up for membership to become a founding member and help shape HuffPost's next chapter
This post was published on the now-closed HuffPost Contributor platform. Contributors control their own work and posted freely to our site. If you need to flag this entry as abusive,
send us an email
.