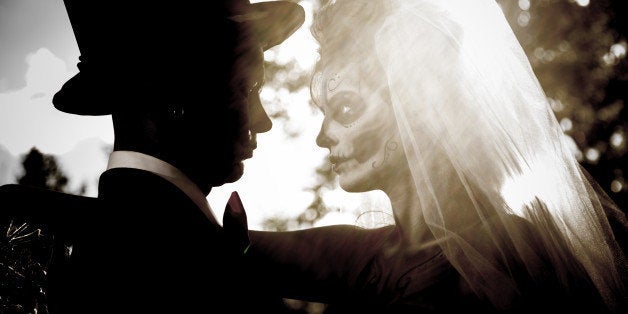 Having your wedding on a holiday means twice the fun. The special date gives you creative license to think outside the bridal box in terms of your décor. For all of the brides out there getting married on or near Halloween -- and wish to include elements of this holiday into their big day details -- consider these ideas to infuse a bit of chic spookiness into your celebration.
Color
The easiest way to include Halloween, while still maintaining a luxury feel to your reception, is through your color scheme. Think black and white (or ivory), gold and orange, maybe a hint of green -- these hues will send a holiday vibe without being over the top.
Centerpieces
Use pumpkins, squash and gourds to dress up your tables, either in lieu of (or in addition to) flowers. These details will create more of a fall feel while still being festive.
Texture
Fabrics like lace, satin, taffeta and tulle can add on-theme texture to your décor. You can drape lace over your tablecloths (or over pumpkins) for a holiday-appropriate luxe feel without being macabre. Drape the walls of your venue space with black or midnight blue taffeta or tulle for a "finished" look that can give the room a slightly eerie, yet still stylish, vibe.
DIY
We've seen chalkboards all over DIY weddings lately, and you can have a bit more fun with this trend for Halloween. Draw a spider web in chalk, then write the announcements or directions over it -- you could even drape some tulle around the sides of the board and the look will still be interpreted as "bridal" not cheesy.
Metallics
Glitter is another popular DIY for weddings right now -- surely you've seen wine bottles, votive holders and the like dipped in gold and silver shimmer. Try that same idea, but with pumpkins to add some on-theme glam. Position your dressed-up pumpkins to anchor your ceremony space with piles of fall colored leaves underneath, or lean them on one another on your tables along with golden acorns and pine cones as accents. Another way to use metallic is at the ceremony: On top of your bridal "canopy" at the altar, drape harvest gold and green leaf garlands in place of traditional florals.
The Bar
Want just a hint of Halloween? The bar is the perfect, appropriate place to have a little fun. Offer orange cocktails that "steam" (with dry ice), or ask your bartender to wear a costume. You would even dress up the bar itself by using opaque plexiglass for the top with a steaming cauldron as an accent piece.
Popular in the Community