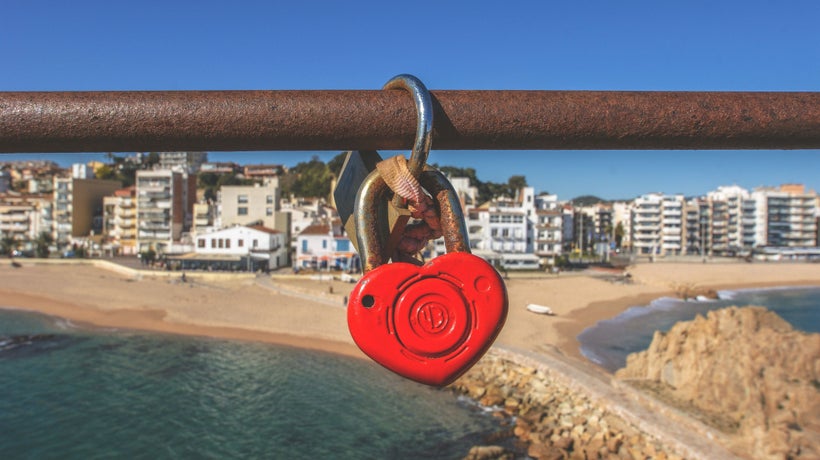 Not everyone will resonate with today's video. And that's okay, I wouldn't have either for a time.
You see, I haven't talked much about my experiences in romantic relationships over the years, at least not super publicly. I'm not necessarily doing that today either, but I am talking about how I closed my heart recently and some of the big realizations I've had around that in the last several days and weeks.
The short: our hearts don't need us to protect them.
I know it seems like they do. Believe me, I know.
This life is tragic and hard and so many levels of gut-wrenching at times, and it will break us open over and over again. Loss. Tragedy. Heartbreak. Trauma. We will ALL experience these in our lifetime, and I know it starts feeling easier to just shut our hearts down completely... to wall them off and keep them safe.
But we're wired to love, and love is everything beautiful and nurturing and life giving. Love is at the core of our purpose-driven work, it's who we're here to be. Love is healing, but love can't heal if it's been closed off and shut down. It doesn't work that way, and it certainly doesn't help us grow.
In today's vlog I'm sharing what I know to be true about our hearts as I begin to do the work of opening my own after a very challenging period.
I'm not saying any of this is easy... it's not. It's hard and it hurts and it stretches our souls past the points we believe we're capable of surviving. But our hearts were made to be open, they were made to be broken, AND they're designed to grow stronger and more capable of deeper love in the aftermath.
If we're willing to feel it all fully. To stay open, no matter how much it hurts.
As Louise Erdrich says so eloquently, "you are here to risk your heart."
Click below to start watching...
Stephenie Zamora is an author and life coach, business and marketing strategist, and founder of CallOfTheVoid.tv. Here she merges the worlds of personal development, energy healing, intuitive coaching, writing, and mixed media art to help individuals rise up and come back from the darkest, hardest chapters of life. She guides her clients through the challenging process of re-orienting to their lives, relationships, and work in a way that's fully aligned with who they've become in the aftermath of loss, trauma, depression, and big life changes. After struggling with PTSD, grief, and anxiety from a sudden and traumatic loss, she navigated her own difficult healing journey, and has set out to help others find the purpose of their own path using The Hero's Journey as a framework.
Stephenie is the founder of Stephenie Zamora Media, the author of Awesome Life Tips®, creator of Journey Mapping Sessions™, and is currently working on a second book, Unravel. Her work has been featured on The Huffington Post, Yahoo Shine, Elite Daily, Positively Positive, and many other publications over the years. Connect with her on Facebook, Instagram, YouTube, or at www.CallOfTheVoid.tv.
This post was published on the now-closed HuffPost Contributor platform. Contributors control their own work and posted freely to our site. If you need to flag this entry as abusive,
send us an email
.